POI Pulse October 17, 2016 PUBLISHED BY PROMOTION OPTIMIZATION INSTITUTE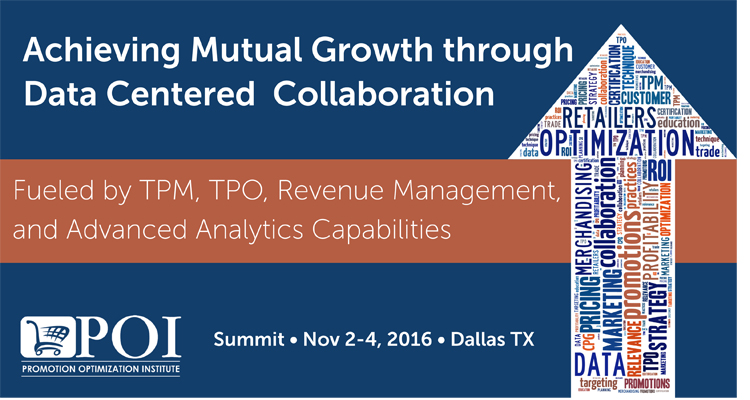 View the near final agenda with Beiersdorf, Unilever, Mondelez, Blue Buffalo, Sunny Delight, Kellogg Co.,Henkel, Meijer, J&J,Georgia Pacific, Chicken of the Sea, Plated.com, etc. here, and Register Today!
Unilever: No sacred cows with Zero-Based Budgeting
Source: (Marketing Week October 13, 2016)

The company is about to start implementing the strategy and has looked at every aspect of the business, from brand and marketing investment to point-of-sale materials. Alongside ZBB, Unilever is also implementing its net revenue management and 'Connected 4 Growth' programmes, which aim to make the company "more agile and responsive" to market needs. 

Learn more

Morrisons 12 Pledges to its Suppliers
Source Int'l Supermarket News Oct 14)

The commercial Director of Morrisons, Darren Blackhurst told that the buyers should also listen, show mutual respect and to act with honesty and integrity. The 12 commitments which titled "The way We Work with Suppliers "are as follows: Customers first, always. Learn more

Registration Today!  POI Fall Summit Nov. 2-4

Achieving Mutual Growth through Data Centered Collaboration, Dallas TX. Make your plans now, as we are building another world-class agenda, including Henkel, Meijer, Chicken of the Sea, Blue Buffalo, Georgia-Pacific, Johnson & Johnson, Plated.com, and more.

Attendees also registered include:

California Olive Ranch, Farmer John, Sunny Delight, Maple Leaf Foods, Henkel, Beiersdorf, Windsor Foods, Palermos Pizza,  Cabot Creamery, Edgewell, Deoleo, L'Oreal, ACH Foods, Meijer, General Mills, Colgate-Palmolive, Walgreen's, Galderma, Sargento, Hormel, Red Bull, Hain Celestial, Unilever, Dean Foods, Constellation Brands, Blue Buffalo, Energizer, Ventura Foods, Reynolds, Diageo, MillerCoors, Edgewell, Borden Dairy,  Hershey's, Bellisio Foods, Bimbo Bakeries,  AAFES, Mondelez, Mars, PepsiCo, Starbucks, Pinnacle Foods,Coca-Cola, Nestle, Kimberly Clark, Red Gold, DPSG, Johnson & Johnson, Perfetti Van Melle, Kellogg's, JM Smucker, Church & Dwight, Busch Bros.,Topco, Keurig Green Mountain, Musco Family Olive, ConAgra,  Ainsworth Pet Nutrition, Del Monte, Rich Products,  and many others.  B

y now you should have received your invitation

. If not, reach me today at 

mkantor@p-o-i.org  Learn more Â

How Target & Amazon Are Changing Rules of Retailing
Source: Knowledge@Wharton October 14, 2016)

The retail business is witnessing two potentially game-changing strategies: Retail chain Target is opening smaller stores in urban locations to attract younger customers, betting big on that "flexible-format," as is apparent from a Manhattan store opening

announcement

in October. Also diversifying its mix is online retailer Amazon, which plans to expand its

grocery business

with convenience stores and curbside pickups. 

Learn more

Join us at the POI Fall Summit on Wednesday, November 2nd 3pm-5pm for a

workshop on Digital: Moving to Digital Trade Management while keeping an Eye on Traditional Trade Management:

Defining what exactly is digital?

How does it complement and fit with how we currently execute promotions through retail?

What does the future collaboration of consumer/retailer/manufacturer look like?

Identifying the key competencies that we need to begin mastering today to ensure success?

Contact

mkantor@p-o-i.org 

to reserve your place at the table

Ex-P&Ger Leading Unilever Talks Industry Disruption
Source: (Cincinnati Enquirer October 14, 2016)

"It's better to be part of the disruption than to be disrupted," Polman, the UC alumnus and former P&G employee, told The Enquirer. Polman has run Unilever since 2009, but spent 27 years of his career at P&G. Polman left P&G to become chief financial officer at Nestle in 2006.  Polman said Dollar Shave Club gave the company a foothold in the razor market where it will compete with P&G's Gillette brand.

The POI Annual TPx and Retail Execution Survey

All results will be reported in the aggregate; please see additional details on the research goals via the link. Preliminary results will be presented at the Dallas Summit, where attendees will get a first -view.

Companies Lag in Digital Marketing Efforts
Source: (Baseline Mag October 14, 2016)

Organizations need to have integrated technology systems and processes, along with the ability to centrally analyze data from customer interactions. However, a

survey

of 700 marketing professionals from a range of industries, mostly based in the United States and Canada, concluded that the companies had an overall rank of "intermediate" for digital marketing maturity, suggesting room for improvement.

Learn more

Poster Sessions are Back for POI Dallas!

Get involved, and submit a poster,  Students at SJU will do most of the work with you to develop materials. Do you have a story to tell but don't have the time to prepare for a 45-minute presentation?  Why not submit a poster to be included for the 2016 POI Fall Summit in Dallas, TX Nov 2 – 4  A poster is a simple way to share an interesting topic or experience and stimulate discussion with Summit Attendees.  Posters should demonstrate a business problem or opportunity related to TPM, TPO, Revenue Management, Collaboration or Analytics capabilities. At POI Chicago, Mondelez, Red Bull, and Rich Products submitted posters.  Posters will be on display throughout the Summit.  Contact Mike Kantor (mkantor@p-o-i.org) for more information

Enroll Today and Become Certified as a Collaborative Marketer

 w/ POI at Saint Joseph's University

Source: (POI-Next Orientation is December 15-16, 2016)During this 16-week self directed program, expert faculty expose participants to the key management levers that drive organizational success. The program begins by exploring how organizations develop and implement strategy.

Then, core functional areas of business are explored – from sales to marketing, to supply chain and finance -teaching candidates a solid understanding of each function and how it contributes to trading partner collaboration success. 

Learn more and enroll today

Diageo: Data is Good but Culture is Key

Source: (Marketing Week Oct. 14, 2016)

Data presents huge benefits and opportunities when sat alongside a cultural awareness and long-term strategy for your brand. A wonderful aspect of the modern world is that we now have the ability to merge data with a deep understanding of culture. The best marketers, whether they be old or new, are those that can appreciate and apply both to their work.

Learn more

Achieving Mutual Growth through Data Centered Collaboration

The most advanced, meaningful agenda centered on trade promotion, Retail Execution, and Collaboration is near complete.  As a manufacturer or retailer, join us November 2-4 in Dallas TX. Make your plans now, as this next world-class agenda, including Henkel, Meijer, Chicken of the Sea, Mondelez, Georgia-Pacific, Kellogg Co., Johnson & Johnson, Plated.com, plus a leading workshop on Digital Trade and more is critical for your success.

 Learn more, and register here

If you are still making the business case to attend the upcoming POI Summit in Dallas, here is where you will achieve a solid return on your time, and your company's investment now:

1. You will network around leading research, and best practices with processes, skills, and technology with over 250 likeminded peers in Consumer Goods and Retail

2. The agenda is focused, and deep on the subject matter that drives revenues and profits today, and into the next 3 years

3. Preconference workshops will provide additional opportunities for learning, and growth opportunities

Here are a few examples of what you will experience at the POI Fall Summit in Dallas, November 2-4

 

Innovations in Offline Data Capture, Analytics, and Insights
Retailers can now tap into a growing number of offline data sources in order to better understand and target their customers. Sources as disparate as video feeds, wi-fi and mobile app usage, and purchase receipts can yield consumer insights previously unavailable to businesses. Companies are getting more data on areas such as foot traffic, dwell times, traffic flow and purchase intent. In this session, experts in this field will discuss how to best combine offline and online data to optimize.
Presented by: Jared Schrieber, CEO, InfoScout
David Newman, Chief Insights Officer , Crossmark, Inc.

 

Achieving Promotion Optimization when Serving the Anytime, Anywhere Customer
Trading Partners still need to engage with customers on the customers terms, whether physically in the store or through multiple technology-based interactions. These experiences have and will continue to happen best when the right product is offered (at the right price) and available to the right customer at the expected time.  Opportunities for real growth exist, yet require consistent alignment from HQ strategy to planning, linked to measured execution and advanced analytics.
Moderated by:  Michael Gorshe, Partner, Accenture
Panelists:
Mike Gamage, Director Customer Analytics and Promotions, Blue Buffalo Co.
Mike Ziltzer, Fmr Director Customer Development Information & Analytics | ETS, Unilever

 

Preconference Workshop for Consumer Goods Executives: Moving to Digital Trade Management while keeping an Eye on Traditional Trade Management (advanced reservation required, contact mkantor@p-o-i.org)

Defining what exactly is digital?
How does it complement and fit with how we currently execute promotions through retail?
What does the future collaboration of consumer/retailer/manufacturer look like?
Identifying the key competencies that we need to begin mastering today to ensure success?
Facilitated by:  Dale Hagemeyer, Partner, Promotion Optimization Institute, LLC

 

Future Proofing Your Revenue Management and TPx Capabilities
Presented by: Ed Johnson, Principal, Deloitte Consulting

Kellogg's Journey Towards Optimizing Revenue Growth Management
Presented by: Craig DeSimone, Director, Global Revenue Growth Management, Kellogg Company

How Pricing and Promotions are Affecting the Global Market Place
Presented by:  Rick Hall, Global Head, Sales Effectiveness, Nielsen

 

Optimize Promotion Effectiveness through Teams, Processes, and Technology
Presented by: Darren Parsons, VP Trade Marketing, Chicken of the Sea International

 

Leveraging Competitive Market and Media Data to Understand Your Marketing Performance 
Presented by: Martin Böhm, Global Head of Marketing/Sales Technology & Analytics, Beiersdorf GmbH

 

How Analytics Will Drive Better Internal and External Collaboration 

Presented by: Tim Barnes, Fmr Director, Net Revenue Management, Unilever


Committing to eCommerce for Insights and Brand Growth
Presented by: Sri Rajagopalan, VP, eCommerce, Johnson & Johnson

Have a sensational Week!


POI Pulse is read by over 4,500 Retail Merchandising and CPG Marketing Executives.
Sponsors of this week's issue of POI Pulse –
To advertise, reach us at: mkantor@p-o-i.org or call 914-319-7309
Next classes begin December 15-16, 2016. Enroll now!
 Career Opportunities
If you have a relevant opportunity, list it in POI Pulse, reach us at
info@p-o-i.org
Church & Dwight
Manager, Pricing Analytics
The successful candidate will support the development of a best practice approach to maximizing profit/sales across the Church & Dwight portfolio through price analyses and recommendations that will achieve identified objectives by Brand. The Manager, Pricing Analytics will work internally across C&D functional groups to support the development of a sustainable model for Pricing Excellence. Learn more
Upcoming Events
A Revolutionary Approach to Trade Management – Webinar
Date: Tuesday, October 25, 2016
Time: 02:00 PM Eastern Daylight Time
Building on their "Spirit of CAPRIS (CRM) initiative, Henkel is driving for further excellence in management of their volume and trade spend while simplifying the key account manager's daily work. Understand the business drivers behind Henkel's investment in both processes and tools, while they enhance their overall collaborative business planning methodology and trade investment.
Learn more