Solution Provider Services
(Software & Consulting)
Hi Pam,

I am glad we did the deep dive. It was eye opening and presents a ton of opportunity. I am organizing an internal meeting with product, delivery, and commercial to regroup and review the facts and recommendations. This will likely drive changes in our roadmap to align more closely with market dynamics and competitive direction.

Thanks again, the team was injected with a renewed sense of urgency.

Leading solution provider email response after a POI advisory deep dive….Oct '22
Who's helping you on your journey?
At POI, we are uniquely positioned to offer advisory services for our Solution Provider partners. Our advisors have decades of experience across business functions and have unique knowledge of industry technology platforms and differentiators. We understand best practices, industry change, process improvement, and enabling capabilities that can ensure your organizations and solutions evolve as the business evolves. POI can expedite your organization's path to its next level of growth and effectiveness. We are committed to excellence in the industry as we work together to develop new strategies and capabilities to optimize people, processes, and technology.
POI Advisory Provides Value For You And Your Consumer Goods Clients By:
Bridging the chasm between what vendors are trying to sell and what manufacturers are trying to accomplish.
Focusing vendors on the differentiators that matter to consumer goods manufacturers
Helping to create and validate messaging to keep up with fast-moving CG and Retail trends
POI Solution Provider Advisory Offerings Include:
Business Lead Development: POI will provide client lead opportunities, deep insights on Consumer Goods Prospects, (who are moving to new processes and solutions, when, and why), and provide advice during sales cycle as priorities and competitors change.
Standard Deep Dive Advisory Session (3 hours per session): A POI advisor meets with the vendor team virtually in an advisory capacity. Deep dives are strategic conversations and open discussion around topics of interest to the vendor (e.g., Enterprise Planning, RGM, TPx, Advanced Analytics, Competitive Intelligence, Own Platform Evaluation, Whitespace, CPG Industry Trends, Own Marketing etc.).
Each Deep Dive session is designed to focus on a clear statement of work that is set between POI and the vendor and outlines the topics of discussion to be reviewed in the advisory session. Standard Deep Dive Session Topic Examples:
Real-time platform review with advisory input on current & future innovation roadmap
Verbally relay and define your platforms "true differentiators"
Oral discussion on competitive market landscape
Real-time roadmap discussion around emerging trends and manufacturer needs
Once our agreement is formalized, the POI advisor and the vendor team will meet to outline discussion topics and set advisory deep dive session timing.
Deep dives are only available to POI members.
Advisory Briefing (1 hour): Regular virtual connect call to discuss strategy, prospect insights, opportunities, industry advancements.
Teleconferences- Ad-hoc JIT Interactions (Typically, 15 min): Vendor needs JIT input on client, strategy or acquisition/partnership.
POI is open to discussing advisory customization options that best fits your business needs. For example, if you desire additional advisory briefings vs. a Standard Deep Dive, we can work together to create a custom package. Any element of a higher-level sponsorship may be added at an additional cost (e.g. Additional deep dive sessions, user group keynote/presentations, etc.).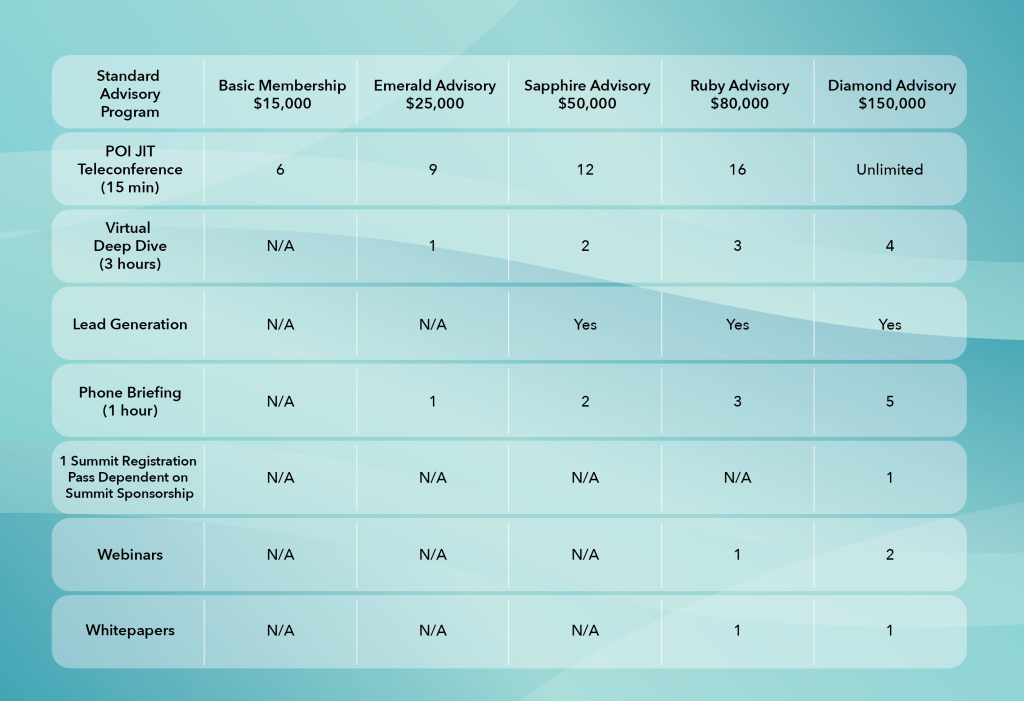 *One attendee at a POI Summit of your choice
To inquire about POI Advisory and more information about the program complete the below form.