POI Annual State of the Industry Report
As with our previous surveys, the 2022 Promotion Optimization Institute (POI) Enterprise planning (EPx) and In-Store Retail Execution (RetX) Benchmarking Survey focused on the intersection of the people, processes, and technologies required to be a suitable collaboration partner in the promotion and distribution of consumer products.
Throughout 2021 our CPG industry began digitally transforming in our new reality. New levels of leadership and strategy emerged and are being demonstrated from all levels in the organization. As we enter into 2022, Supply Chain, Enterprise Planning, Omni-Channel balance, and finding areas of efficiency with people, process, and systems are critical to future growth. Digital, blockchain, crypto, and artificial intelligence are no longer "coming," they are impacting the global CPG industry today and are in the early stages of revolutionizing the global market akin to what computers and the birth of the world wide web did in the mid-to-late 1980's.
If you are investigating new Holistic Enterprise Planning solutions and want to know what's possible across EPx (TPM-TPO-ROI), RGM, and the RetX space, you can review capabilities and vendor offerings in the POI EPx and Retail Execution Vendor Panoramas at:  https://poinstitute.com/membership
Please don't hesitate to reach out and connect on strategic or tactical aspects for which you need support. Having led manufacturer sales teams, sales operations & strategy, BI Analytics, IT projects across the global enterprise, and POI manufacturer, retailer, and vendor advisory, I have a unique background to support your needs. At POI we also have a network of partners and can connect you with expertise & resources as needed.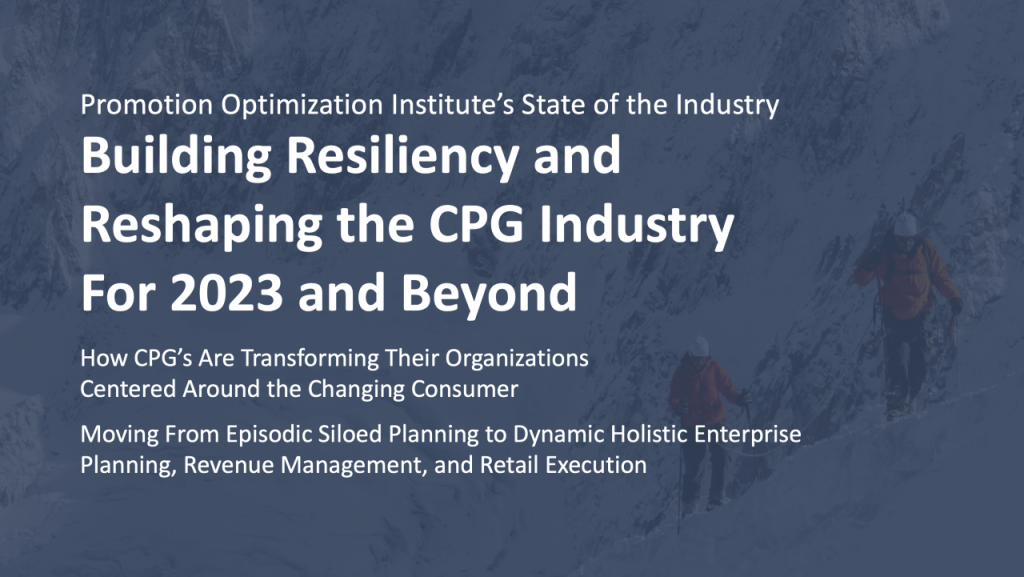 POI State of the Industry Report: Transformation in the New Reality 2022