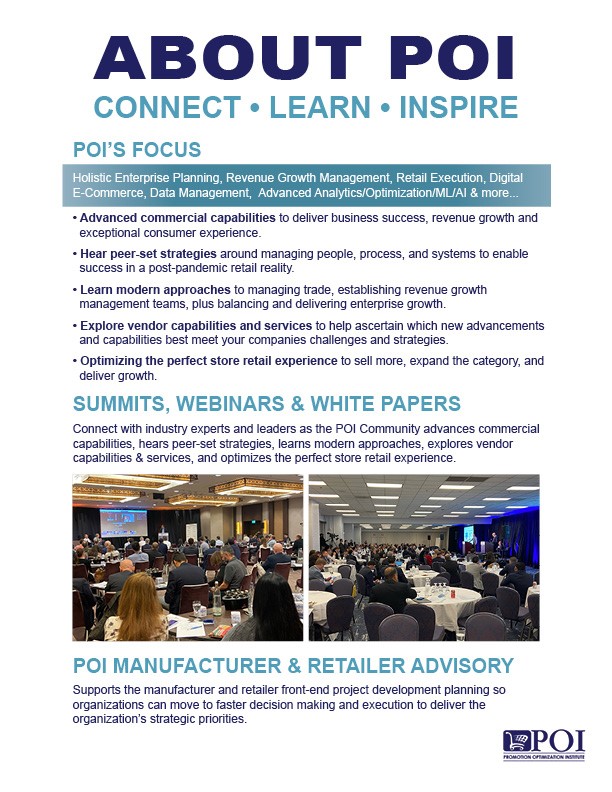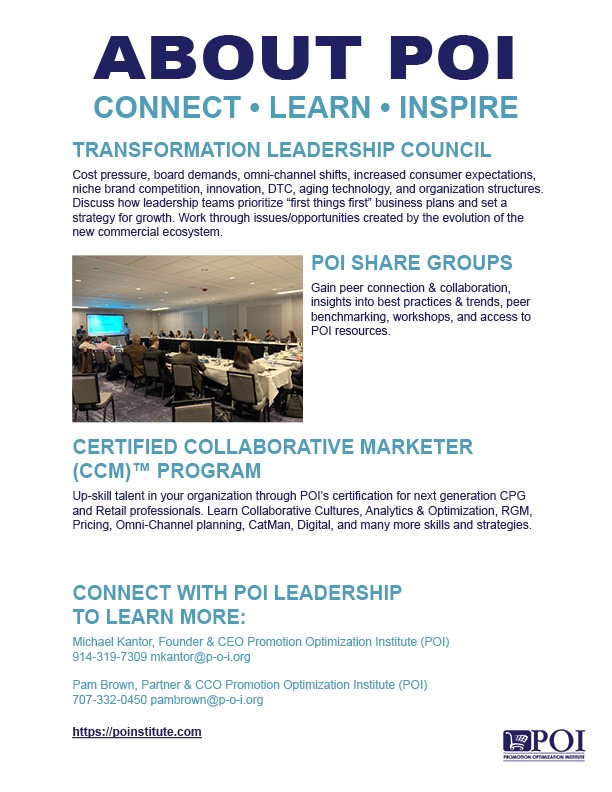 POI brings together manufacturers, retailers, solution providers, analysts, academics, and other industry leaders with the specific objective of collaboratively improving Enterprise planning and the promotion & distribution of consumer goods. Members of POI share cross-functional best practices in both structured and informal settings. Additionally, members benefit through our industry alliances, the Certified Collaborative Marketer (CCM)™ program, and industry-leading summits around the globe.
This industry-wide effort of POI produces a roadmap on how trading partners can continuously improve their approach and profitability through real-time, relevant promotions.
POI aims to instill a financial and metrics-based discipline not typically found with other trade groups. The goal of our innovative approach is collaborative Enterprise planning and promotion optimization. The focus is on the consumer/shopper through sales, marketing, and merchandising strategies. The POI executive advisory boards keep us apprised of industry needs and help us provide desired outcomes for members, sponsors, and academia.
Join POI today and have access to a network of peers who are focused on making a difference in the CPG industry. Also have access to collateral and tools that will help you on your organization's journey to increased efficiency, effectiveness and profitable growth.
POI Leadership
Michael Kantor
CEO and founder of the Promotion Optimization Institute, LLC.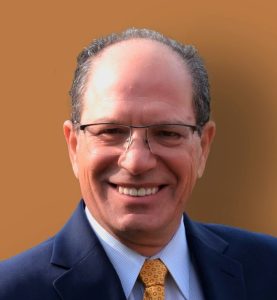 He is the visionary for Collaborative Marketing, who has created and is executing with a brilliant, committed group of retail, CPG, and academic leaders the Certified Collaborative Marketer (CCM)™ curriculum and certification for how to collaborate with trading partners. As CEO and founder of POI, Michael and his team continuously produce the best industry events on marketing effectiveness and collaborative price/promotion optimization around the globe.
Mr. Kantor has spent his career creating retail and brand price/promotion optimization programs, and analytics that drive improved loyalty and profits. Mike co-chaired and developed with Gartner, Inc. and leading CPG executives the industry's first standard set of trade promotion definitions/metrics; and pioneered efforts to define and document trade promotion management in food service.
Mike began his career in retail advertising and operations as senior vice president, Drug World Pharmacies. He has written for numerous industry publications, executed primary research defining trade promotion optimization, redesigned the NYC Hospice delivery model, guest lectures at Saint Joseph's University, and speaks at industry events. He holds an undergraduate degree from Western Connecticut State University, and an MBA from the Saint Thomas Aquinas College.
Pam Brown
Chief Commercial Officer Promotion Optimization Institute, LLC.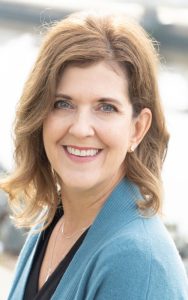 As Chief Commercial Officer of POI, Pam creates and executes POI strategy, advisory, research, plus elevates practices and CPG & Retailer relationships. Prior to joining POI, Pam was the Director of IT Governance for Del Monte Foods. In her role she led IT Governance and the PMO. In her previous role as the Director of Sales Operations, she led: Sales Strategy & Operations, Sales Systems and BI Analytics. She drove collaborative solutions and change across the organization based on corporate strategy and with the support of cross-functional partnerships. Prior to joining Del Monte, Pam worked for Unilever and quickly progressed through numerous retail, key account and leadership sales positions of increasing responsibility. She then joined Kayser-Roth and became the Western Division Sales Director for all Retail CPG business west of the Mississippi. Pam has 28 years of Sales & Systems experience and demonstrates a passion for creating a competitive advantage through high-performing teams. Pam earned her BA in Business Administration from the University of California at Riverside. She also serves in a broad array of community and industry leadership roles, including the Network of Executive Women & Deloitte Advisory –Women to Watch Program. Outside the industry, she is a wife of 27 years, mother of three children, globally award winning children's author, and coaches youth soccer.