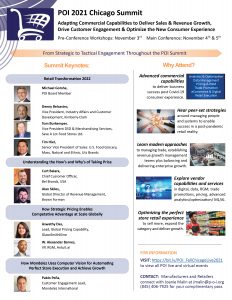 We're Getting Back Together!
Make Plans to Join us for the POI Chicago Summit,
November 3 – 5, 2021
Hybrid: Hilton Chicago and Virtual via the Proven POI Platform
About the POI Spring Hybrid (Live/Virtual) Summit:
Attendance is complimentary for CPG Manufacturers and Retailers
As a growing global community, we are continuing to adapt, and lead through challenging times and together move through the pandemic, to improve our commercial capabilities, plus emerge successfully with our teams, families, communities, and customers. As we evolve, and the role of consumer goods companies and retailers (healthcare, and others included) has never been more critical, the POI team maintains consistent communication with Members and industry, remaining connected and committed to help you thrive in the emerging new reality.
The POI Fall Hybrid Summit takes education and live F2F networking to a new level and will deliver strategies and tactics specific to global and local markets, including regional content and live, meaningful networking.
Advancing to a New Reality: It thrills POI to announce that the POI Fall Summit will be live at the Hilton Chicago November 4-5, 2021, with the pre-summit workshops on November 3. POI has worked closely with the hotel and City of Chicago on the steps/timing for reopening.
CHICAGO IS 100% OPEN WITH NO RESTRICTIONS!!
All of the POI staff cannot wait to greet the attendees in Chicago in November.
In Person Attendance:
All Main Stage and Breakout Sessions
Pre-conference and Day 2 Workshops
Live Q&A plus meeting with presenters
Taste of Chicago – Cocktail Reception
1:1 Meetings with Peers
Virtual Attendance:
Mainstage Sessions only
Virtual Sessions
Table Chat
In-session Q&A
Beyond the live summit experience, the proven (as described by past attendees) POI Virtual Engagement Platform is intuitive, supported by our experienced team with virtual events, and will guide you through the experience:
– Live Q&A sessions maximize your learning and engagement.
– In-app chat allows you to ask or vote for meaningful questions in real-time.
– Live interaction in real-time just by joining a table.
– Real-time, face-to-face interaction that makes your virtual networking feel natural
As you have always experienced at POI, you will learn whether Live or Virtual detailed sessions around the most current practices, research, proven strategies, and actionable advice (TPx, RetX, RGM, Data/Advanced Analytics, Omnichannel, CX, D2C, etc.) including strategies to navigate past COVID-19 challenges across distributed teams, and channels.
For our many global members and constituents who supply life-sustaining goods — food, general merchandise, medications, and supplies we remain strategic and relevant with actionable practices, (including the 2021 successful POI Spring Virtual Engagement Summit) to provide the critical level of support that is needed to adapt and thrive in these or any conditions. We are proud to serve the people and organizations around the globe that are providing vital supplies and we will succeed. We will continue to lead with you, serving and responding with focused effort, energy, compassion, plus commitment to do whatever it takes to support our members and communities.
We'll deliver relevant subject matter and best practices for today's challenges across RGM, Omnichannel, AI, eCommerce, Trade Promotion, Data and Analytics, and Customer Experience, plus leadership examples from our peers who are advancing post-pandemic with strategies for success in New Reality.
Please register to join us for the POI Fall Summit, live or from your desk, on November 4-5, 2021
Some of the companies who've attended POI Summits include: P&G, Nestle, Unilever, General Mills, Meijer, AAFES, Tyson Foods, PepsiCo, Albertson's,Maple Leaf Foods, Wells Enterprises, Mars, Red Bull, Wakefern, Hershey, Colgate, Church & Dwight, Clorox, Utz Foods, Bush Bros., Kellogg's, GSK, Walgreens, MillerCoors, Kind Snacks, NBTY, Frito-Lay, JDE, Jumbo, Wrigley, Signature Brands, Organic Valley, Mead Johnson Nutrition, Starbucks, Revlon, Energizer, EJ Gallo, J&J, Nomad, Kroger, Post Foods, Kraft Heinz, Chewy.com, McCormick & Co, Campbell Soup, Delhaize, 7-Eleven, Coca-Cola, Sargento, Schreiber Foods, Mondelez, Danone, KDP, Ocean Spray, Hormel, ConAgra Foods, JM Smucker, Whirlpool, Moen, Continental Mills, Rich Products, Musco Olive, Mckee Foods, Cliff Bar, SJU, Pfizer, Welch's, Georgia-Pacific, Philips, Heineken, Mrs. T's Pierogies, Seventh Generation, Nomad Foods, Ferrero, JBSS, Simply Good Foods, Goya, Henkel, Fleet Farm, Carlsberg, and many others.
You'll leave this Summit networking around and knowing:
1. A clear understanding of how RGM, AI Machine Learning, TPM, and Predictive Analytics drives trading partner results in times of certainty and uncertainty!
Global and Local strategies to thrive past the Covid-19 health crisis
2. How to support your organization, consumers and retailer partners though personal and business disruption with processes, skills and digital tools
3. How the accelerated speed of change affects demand models and how best to respond to an extremely dynamic landscape
4. eCommerce and Omnichannel strategies to reach shoppers now with targeted offers where they want to be reached in any economic condition
5. Effective Revenue Growth Management strategies refined through better use of data across channels
6. How to integrate mobile marketing, sales effectiveness, and insights into your promotional results plus shopper loyalty 7. To what extent a shared responsibility on retail execution improves mutual results through and post-pandemic, including Customer Experience
8. How trading partners can succeed with Virtual Joint Business Planning strategies and the benefits of execution
9. Insights on how pricing and RGM teams can prepare revenue strategies that address coming uncertainties
10. New relationships with Industry Peers to advance your company and personal goals
Subject matter includes: What a post COVID-19 Retail Landscape Resembles, eCommerce and Omnichannel Strategies, Trade Promotion Management and Optimization, Planning and Forecasting to adapt to Covid-19 Challenges, Revenue Growth Management Predictive Analytics and AI: Leveraging Data and Insights Merchandising & Assortment Strategies, including the Digital Shelf Customer Experience Sales & Operations Planning (Demand Planning) Integrated Business Planning: Sales, Customer, & the Supply Chain, Basket Building Strategies Joint Business Planning Strategy/Execution, and navigating the TPx, Advanced Analytics, RetX, and RGM Solutions Landscape!
POI Members can reach Joanie Malin for their complimentary pass at jmalin@p-o-i.org