POI CPG Manufacturer and Retailer Membership Details:
Experience the Value of Your Organization Becoming a POI Member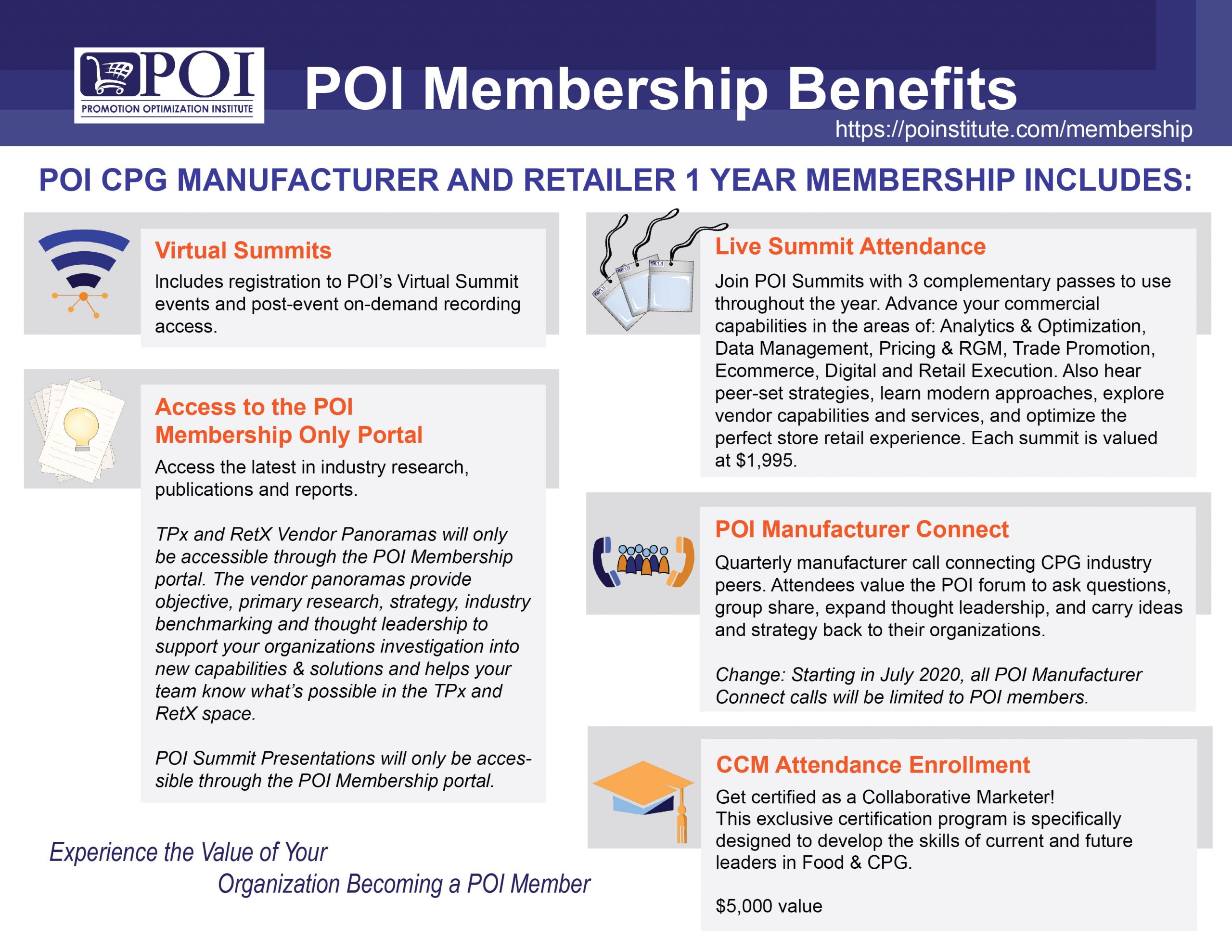 Click here for a guided tour of the new POI website

POI 1 Year Membership Includes:
Virtual Summit — Includes registration to POI's Virtual Summit events and post-event on-demand recording access for three months.
Live Summit Attendance – Join POI Summits with 3 complementary passes per summit the entire year. Advance your commercial capabilities in the areas of: Analytics & Optimization, Data Management, Pricing & RGM, Trade Promotion, Ecommerce, Digital and Retail Execution. Also hear peer-set strategies, learn modern approaches, explore vendor capabilities and services, and optimize the perfect store retail experience. Each summit is valued at $1,995. Click here for POI Events.
Access to the POI Membership Only Portal – Access the latest in industry research, publications and reports on the POI Resources page.
Change: Future forward the TPx and RetX Vendor Panoramas will only be accessible through the POI Membership portal. The vendor panoramas provide objective, primary research, strategy, industry benchmarking and thought leadership to support your organizations investigation into new capabilities & solutions and helps your team know what's possible in the TPx and RetX space.
All POI Summit Presentations will only be accessible through the POI Membership portal.
POI Manufacturer Connect – Bi-monthly manufacturer call connecting CPG industry peers. Attendees value the POI forum to ask questions, group share, expand thought leadership, and carry ideas and strategy back to their organizations.
Change: Starting in July 2020, all POI Manufacturer Connect calls will be limited to POI members.
Advisory Briefing Call – Gain value through one, 2-hour call specific to your manufacturer/retailer with a POI industry expert, equipped to guide your organization from an objective perspective. The 2-hour advisory briefing call is a $3,500 value. (Team Membership Only)
Please reach out to Joanie Hampton-Malin jhampto@p-o-i.org to learn more about the POI Team Membership values and investment.
Full Membership Value
POI May Virtual Summit – $199 per attendee
Live Summits – $1995 per attendee per summit
POI Member Portal Access – Unlimited insights and value: Research & Best Practices. TPx/RetX Panorama value, $1495 per report
POI Manufacturer Connect – Unlimited insights and value: Sharing, Best Practices, Strategic and Tactical ideas
Advisory Briefing Call – $3500 value (With Team Membership Only)
Manufacturer/Retailer Value: Min $8,189 to unlimited potential…
POI Individual Membership Investment: $499
For more information on the POI Membership programs, or to learn more about the POI Team Membership values and investment, please reach out to the POI leadership team. POI has created a team bundle that has over a $10,000 value for our CPG partners. Connect with us to learn more.
Michael Kantor Founder and CEO, mkantor@p-o-i.org
Pam Brown Chief Commercial Officer, Partner pambrown@p-o-i.org
Joanie Hampton-Malin Marketing Director, jhampto@p-o-i.org
Enroll Now For Instant Access.
Experience the Value of Your Organization Becoming a POI Member