POI Pulse August 15, 2016 PUBLISHED BY PROMOTION OPTIMIZATION INSTITUTE
Visit www.POInstitute.com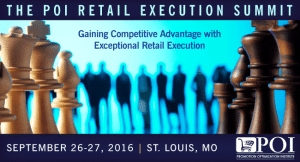 Registration is open for Retailers, Manufacturers, and Distributors!
Pepsi's First '#Promoted Sticker' Campaign on Twitter

Source: (Ad Age

August 15, 2016

)

Twitter has introduced its first "#Promoted Stickers" campaign, with Pepsi as its inaugural customer. Starting

Monday

, Pepsi-themed stickers will be available for consumers to slap on their photos and tweet out.

Learn more

Asda's New Boss to Focus on Price
Source: (Express August 14, 2016)

ASDA'S new chief executive Sean Clarke is expected to launch a price war at its half-year results

on Thursday

, in a bid to claw back lost market share.  Figures from BRC and Nielsen show that in July shop prices in July were 1.6 percent lower. 

Learn more

Register now to join Coca-Cola, Mondelez, Kimberly-Clark, Cargill and Others to Gain Competitive 

Advantage with Exceptional Retail Execution at POI Summit

September 26-27

, Saint Louis, MO.

Join your peers, and invite your sales force enablement, merchandising, pricing execution, retail marketing, and Distributor colleagues to join POI in Saint Louis, MO. at the Retail Execution Summit on

September 26-27

.  Leaders joining us include:

Pinnacle Foods, Hershey's, Colgate Palmolive, Acosta, Evolution Fresh, Rich Products, Diageo, Nestle Purina, Edgewell, Mondelez, 7-Eleven, Energizer, Mars, Cargill, Starbucks, Kellogg, ABInbev, Coca-Cola, Deoleo, Kimberly-Clark, RB, P&G, Biscotti Bros. Schnucks Grocery, PepsiCo, and more.

View the preliminary agenda here, and register today




Metro Drives Sales Gains Amid Shift to Discount
Source: Supermarket News August 12, 2016)

Eric La Fleche, CEO described the competitive environment as "promotional and intense" but also "rational." LaFleche said price inflation over the first six months of the year in Canada drove a higher consumer awareness on price, shifting traffic from conventional to discount store, "But we're well positioned to perform well in that kind of environment."

Learn more

Instagram Now Linking Consumers with Brands

Source: Marketing Week,

August 15, 2016

)

Instagram is also expanding the data it provides to advertisers. Its new Insights tool will give brands and marketers more information about the personality of their followers and advice on which type of posts will resonate best with their core audience.  They're also adding a 'Promote' tool for brands.

Learn more

Access the free webinar from 7 13

 to review the key insights from the POI 2016 Retail Execution Panorama.

View Now

SUPERVALU's Winners-Master Marketer Competition
Source: (Grocery HQ August 12, 2016)

This award recognizes best-in-class marketing efforts by independent grocery retailers served by the company's wholesale distribution business. Judging is based on the creativity, clarity and effectiveness of the stores' marketing efforts.  The full list of store winners by category is here. 

Learn more

Registration is open!!  POI Fall Summit – Achieving Mutual Growth through Data Centered Collaboration, Dallas TX. Make your plans now, as we are building another world-class agenda, including Meijer, Bimbo Bakeries, Georgia-Pacific, Johnson & Johnson, Plated.com, and more.  Learn more  

POI continues to lead with TPx – Learn About 25 Trade Promotion Technologies 2016 – Summary

The ability to execute mutually profitable trade promotions continues to be one of the greatest challenges in the industry. There has been some progress made in recent decades, however, many indicators point to a worse situation on some fronts as retailers feel the encroachment of new formats, such as Amazon, on their bottom line. Nevertheless, Trade Promotion is still highly relevant. It is also becoming more important in emerging markets like Latin America and parts of Asia where modern trade is on the rise. Consumer goods companies tell us at the Promotion Optimization Institute (POI) that they are not satisfied with their ability to manage trade promotions. Specifically, responses to the Promotion Optimization Institute 2015 TPx and Retail Execution Survey, published in January of 2016, made this very clear.

Market requirements have remained relatively constant over the last 5 years. However, we note some signs of imminent change, including the following market trends:

–         More solution options exist than ever before. There has not been any significant consolidation among vendors in the last year. In this inaugural Panorama we will be evaluating 25 TPx vendors that offer many different ways to meet your needs.

–         Despite the availability of many TPx options, we still see an abundance of spreadsheets used to support the underlying TPx solution. Examples include utilizing spreadsheets for allocating funds, performing post event analytics, communicating /highlighting a metric to a colleague, and obtaining custom aggregations.

–         There are no longer any examples around developing home-grown solutions. The market is relatively mature (especially for TPM) and the various vendors offer solutions-plus-services such as asset management, monthly pay-by-user arrangements as opposed to lump sums up front, best practices baked in from years of experience with multiple manufacturers, and more attractive upgrade paths.

–         Deeper analytics, better user experience, and capabilities for optimizing promotions through predictive models are key differentiators that are highly sought after.

–         Post event analysis has often manifested itself as an overlooked afterthought when considering the entire trade promotion cycle. However, we have seen this addressed more and more recently as either something requiring a specialty tool or as having higher weight in the selection process.

Receive a complimentary copy of the report, and register here to learn more with Dale Hagemeyer from our pre-recorded

Have a sensational Week!

POI Pulse is read by over 4,500 Retail Merchandising and CPG Marketing Executives.
Sponsors of this week's issue of POI Pulse –
To advertise, reach us at: mkantor@p-o-i.org or call 914-319-7309


Career Opportunities
If you have a relevant opportunity, list it in POI Pulse, reach us at
info@p-o-i.org
Business Analyst
Sequoya Group, Inc.
Develop and document the project scope, objectives, and research approach for large-scale, custom research studies based on interviews with managers and subject matter experts, secondary research, and an evaluation of the business situation
Establish research methodology, study specifications, procedures, timelines, and necessary tools for effectively and efficiently meeting research objectives. Learn more

Nestlé Waters North America


Trade Promotion Optimization Manager
In order to optimize NWNA trade spend efficiency we are looking for managers who will support the financial analyses at the pack, account, and channel level. Data from a variety of sources is fed into an Excel-based Trade Spend Optimization tool and will require analytical insight and recommendations on optimizing efficiencies. Managers will work primarily in Excel to develop insights and recommendations and will develop strong relationships with the Sales Finance team and Sales Account Managers to ensure positive optimal performance of Trade Spend.
Learn more
Upcoming Events
"Gaining competitive advantage through exceptional retail execution"