POI Pulse August 8, 2016 PUBLISHED BY PROMOTION OPTIMIZATION INSTITUTE
Visit www.POInstitute.com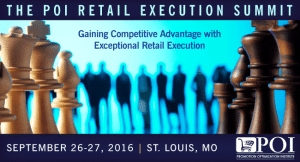 Registration is open for Retailers, Manufacturers, and Distributors!
Amazon Japan Suspected of Antitrust Practices
Source: (Business Insider August 8, 2016)

Amazon Japan is suspected of imposing conditions on retailers such as forcing them to sell products at a lower price if they were also advertising on other online shopping sites, the Nikkei said, citing sources with knowledge of the case.

Learn more

Hear How Coca-Cola, Mondelez, Kimberly-Clark, Cargill and Others are Gaining Competitive 

Advantage with Exceptional Retail Execution at POI Summit

September 26-27

, Saint Louis, MO.

Join your peers, and invite your sales force enablement, merchandising, pricing execution, retail marketing, and Distributor colleagues to join POI in Saint Louis, MO. at the Retail Execution Summit on

September 26-27

.  Leaders joining us include:

Rich Products, Diageo, Nestle Purina, Edgewell, Mondelez, 7-Eleven, Energizer, Mars, Cargill, Starbucks, Kellogg, ABInbev, Coca-Cola, Deoleo, Kimberly-Clark, RB, P&G, Biscotti Bros. Schnucks Grocery, PepsiCo, and more.

View the preliminary agenda here, and register today

Forces Fueling the Healthy Snack Segment
Source: (Food Biz News August 3, 2016)

Between 2011 and 2015, the healthy snack segment achieved a compound annual growth rate (CAGR) of 4.7%. The growth skyrocketed in the past two years in particular, fueled by double-digit growth in the meat snack and trail mix categories in 2014 and growth in granola and snack bar sales in 2015. Packaged Facts projects the segment's sales will continue to grow, achieving a CAGR of 5.7% in the next four years and reaching sales of $25.4 billion by 2020.

Learn more

 

Festival Foods A Hit with Millennials
Source: (Grocery HQ August 1, 2016)

By creating a customized format store with unique departments and features, strong community involvement and a product assortment custom-tailored to its targeted shoppers, Festival has quickly endeared itself to Madisonites since its April opening.

Learn more

The POI 2016 Retail Execution Vendor Panorama – Report

Source: (Promotion Optimization Institute)

POI today released its POI 2016 Retail Execution Vendor Panorama, a detailed analysis of the Retail Execution market and the technology vendors that support it. The POI also identified eleven best in class vendors across eleven functional areas that are helping Retailer and CPG executives improve their in store execution. 

Learn more and access our webinar from July 13

 

A 5-Day Plan for Solving Tough Problems
Source: (Knowledge@Wharton Aug 4, 16)

How to Solve Big Problems and Test New Ideas in Just Five Days, a new book by Jake Knapp with John Zeratsky and Braden Kowitz, partners at Google Ventures, offers a plan for identifying the best solution to a problem, developing a prototype and testing it with customers. Learn more

Access the free webinar from 7 13

 to review the key insights from the POI 2016 Retail Execution Panorama.

View Now

Walgreens Shuts Down drugstore.com and Beauty.com

Source: (Drugstore News August 1, 2016)

"Over the past year, we have been focusing on building new omni-channel capabilities on Walgreens.com with initiatives that improved assortment and website user experiences, enhanced our digital coupon capabilities to provide more customer value and added digital tools into our stores to elevate our shopping experiences.

Learn more

Wegman's CEO Talks About Grocery Business
Source: (Richmond Dispatch August 6, 2016)

"I think the traditional supermarket business is changing and, in fact, we believe that so much that our store will certainly be quite different from anybody's in the market," Danny Wegman, CEO said. "Because we believe that people will want us to do more and more. And that's why we make a lot of meals in our stores for our customers."

Learn more

Learn About the Top Retail Execution Technologies 2016

Key Insights

–        Planning the right product assortment and a strong lineup of promotions means little if plans don't get executed correctly and field sales personnel don't have the right tools to understand what the issues are and to address them appropriately.

–        "Winning at the shelf" is not just relevant in the modern trade. Execution with the traditional trade is a significant opportunity in emerging markets because of the amount of growth therein.

–        Technology is only one component of addressing opportunities around promotion and distribution of consumer goods. Other factors include change management, providing best practices, and having appropriate support available in local markets.

Recommendations

–        Prioritize functionality above delivery method. The lines between SaaS, managed services, hosted private cloud, and public cloud are blurrier than ever. Your first decision is whether you will want to do customization to the solution that will take it out of the upgrade path. In the POI 2015 TPx and Retail Execution Survey we were surprised that only 21% of respondents said that the "[a]bility/willingness to do customization (write code) that would make [a] solution very tailored but turn it into a unique instance that would be out of the upgrade path" is not an important option. The question made it quite clear what customization entails, but the overwhelming majority felt that customization was important. You can customize your solution and run it on premise or in some sort of cloud, but if you customize then multitenant SaaS is, in the vast majority of cases, not an option. You just need to decide where the solution will reside.

–        Prioritize capabilities that will help users to be more effective, i.e. to "sell more." Otherwise, why spend the money? These capabilities include retail activity optimization (RAO), image recognition, guided selling, social selling, gamification, voice recognition and in-flight analytics. Each of these is described in the Product Assessment section below. Our 2015 survey showed that about 80% or respondents do not have the "sell more" capabilities, so they give a significant competitive advantage to those who attain them.

–        Don't neglect the needs of non-field users. This means managers and office-based personnel. We find that some solutions are quite mature for field users but can have significant limitations for those who have other roles. The same can be said for system administration tools and related personnel.

Ask for best practices from your vendor. The POI 2015 Survey found a wide disparity between expectations for best practices and what was actually delivered. Don't just ask for best practices but also find out the background(s) of those who are expected to deliver them. Then, document precisely the sorts of best practices you are looking for and make this part of the scope of work.

Receive a complimentary copy of the report, and register here to learn more with Dale Hagemeyer from our pre-recorded

Have a sensational Week!

POI Pulse is read by over 4,500 Retail Merchandising and CPG Marketing Executives.
Sponsors of this week's issue of POI Pulse –
To advertise, reach us at: mkantor@p-o-i.org or call 914-319-7309


Career Opportunities
If you have a relevant opportunity, list it in POI Pulse, reach us at
info@p-o-i.org
Business Analyst
Sequoya Group, Inc.
Develop and document the project scope, objectives, and research approach for large-scale, custom research studies based on interviews with managers and subject matter experts, secondary research, and an evaluation of the business situation
Establish research methodology, study specifications, procedures, timelines, and necessary tools for effectively and efficiently meeting research objectives. Learn more

Nestlé Waters North America


Trade Promotion Optimization Manager
In order to optimize NWNA trade spend efficiency we are looking for managers who will support the financial analyses at the pack, account, and channel level. Data from a variety of sources is fed into an Excel-based Trade Spend Optimization tool and will require analytical insight and recommendations on optimizing efficiencies. Managers will work primarily in Excel to develop insights and recommendations and will develop strong relationships with the Sales Finance team and Sales Account Managers to ensure positive optimal performance of Trade Spend.
Learn more
Upcoming Events
"Gaining competitive advantage through exceptional retail execution"