POI Pulse January 9, 2017 PUBLISHED BY PROMOTION OPTIMIZATION INSTITUTE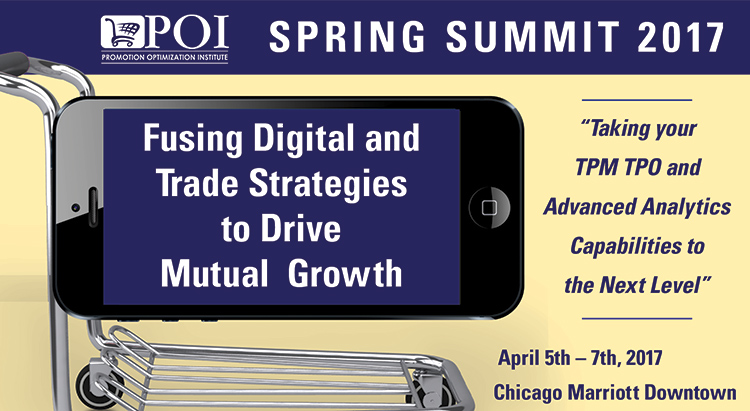 Last Year's Spring Summit was Sold Out – Reserve Your Spot Now!
L'Oréal Reveals Innovation – Smart Hairbrush

Source: (MarketingWeek January 4, 2017)

L'Oréal's Kérastase brand is focusing on data with its latest innovation, the world's first smart hairbrush, which it says will allow the beauty brand to communicate directly with consumers and provide "much more personalized marketing".

Learn more

One Woman's Vision Is Shaking Up the CPG Industry
Source: (Forbes January 6, 2017)

We shoppers take for granted the plethora of new products that line the shelf as we shop. Nicky Jackson does not. She knows that behind each of those products is a supplier with an amazing story to tell and she intimately knows just how difficult it is for these product suppliers to grab the attention of buyers at key retailers.

Learn more

Look for your invitation from Joanie this week to join over 300 of your CPG and Retailer Peers

at the next progressive

POI Spring Summit in Chicago at the Downtown Marriott.

 Teams already registered include:

Hy-Vee Stores, Bic Consumer, Johnsonville Sausage, Tyson, DPSG, Morton Salt, Newell Brands, Clorox, Organic Valley, Califia Farms, Schreiber Foods, Windsor Farms, SC Johnson, Bayer, Goya Foods, Kroger, Colgate Palmolive, Mondelez, Kraft-Heinz, Starbucks, Wells Enterprises, ConAgra, Dean Foods, Mondelez, Walgreen's, JM Smucker, Del Monte, Church & Dwight, Kellogg, Rich Products, Red Bull, Bimbo Bakeries, MillerCoors, Topco, Constellation Brands, Coca-Cola, L'Oreal, Johnson & Johnson, Shopko, Energizer, Musco Family Olive Co., Windsor Foods, Hormel, PepsiCo, Kimberly-Clark,Hy-Vee Stores,  Edgewell, Eagle Family Foods, Ainsworth Pet, Pinnacle Foods, Unilever, Meijer, Fernandez Markets, and more.  The POI 2015 Spring Summit was sold out,

please register early

, as we'd love to see you advance with us!

Amazon Innovates in Ways Google and Apple Can't

Source: (Vox News January 1, 2017)

Bezos has worked to create a culture at Amazon that's hospitable to experimentation. A key factor in making this work, Ries says, is that experiments start small and grow over time. Amazon creates a small team to experiment with the idea and find out if it's viable. Learn more

The End of Conventional Industry Sectors
Source: (Strategy&Business Jan 3, 2017)

You can avoid this trap by taking on an outcomes mind-set. Instead of thinking of your company as providing a particular type of product or service – electric power, health records management, or automobile components – think of it as a producer of outcomes.

Learn more

Smithfield Foods Acquires Clougherty Packing


Source: (FoodBizNews January 4, 2017)

"With this one acquisition, we've created a more efficient supply chain coast-to-coast and expanded our operations, product portfolio as well as our customer and consumer base." Clougherty Packing's Farmer John operation harvests about 7,400 hogs per day and reported sales of about $500 million in fiscal 2016, according to Hormel Foods. Learn more



New Year's Resolution – Advance Your Skill Set Now


Enroll Today and Become Certified as a Collaborative Marketer  w/ POI at Saint Joseph's University

Source: (POI-Next Orientation is

February 15-16, 2017

)

During this 16-week self directed program, expert faculty expose participants to the key management levers that drive organizational success. The program begins by exploring how organizations develop and implement strategy.

Then, core functional areas of business are explored – from sales to marketing, to supply chain and finance -teaching candidates a solid understanding of each function and how it contributes to trading partner collaboration success. Ask us about our 2017 Scholarship Program 

Learn more and enroll today

Online Retailers Participate in SNAP Pilot
Source: Supermarket News Jan 5, 2017)

FreshDirect, Amazon, Safeway, ShopRite, Hy-Vee, Hart's Local Grocer and Dash's Market will take part in a two-year pilot that will allow SNAP beneficiaries in certain states to use their benefits when purchasing groceries online. The test will begin this summer.

Learn more

Pernod Ricard Innovates- Connected Cocktail Library
Source: (MarketingWeek, January 6, 2017)

Pernod Ricard is pushing further into the Internet of Things (Iot) by launching the world's first connected cocktail library, allowing consumers to put together shopping lists, learn cocktail recipes and order spirits online. Pernod Ricard says the aim is to transform the way consumers enjoy spirits and experience mixology at home. 

Learn more

Guest Column: Dale Hagemeyer, Partner, POI

The POI Mid-cycle Update, an Interim Publication Prior to Publication the 2017 TPx Vendor Panorama.  In the dynamic TPx market place we have found it necessary (given the advancements, and changes) to close out 2016 before we start the Panorama cycle over again. Here we update (in a report) based on the same criteria as before, and use the most up-to-date 2016/2017 POI research on TPx.

On TPx Capabilities: The 2016/2017 version of the POI TPx and Retail Execution survey is live in the market at this writing and actually shows that 85% of respondents are not satisfied with their ability to manage promotions so based on 67 responses this far, things have actually gotten worse. Furthermore, 5% now say that they are extremely dissatisfied and 44% are dissatisfied.

On Best Practices: This disparity has improved slightly, with only 21% of respondents saying that they did not receive best practices during their implementation. Nevertheless, 49% said that they only "Somewhat" received best practices so there is still room for improvement.  This should serve as a clarion call to action.

On Spreadsheets: The POI Survey Research currently underway indicates that nearly 90% of respondents rely on spreadsheets in addition to their TPM solution(s). We did not previously have quantifiable data for how significant this problem is.

Market Overview

 

On TPx Solutions Providers: We have not seen significant traction by any new entrants but are tracking some regional players that have been able to carve out a presence with local as well as multinational CG companies due to their specific, localized expertise.

Custom-Built Solutions: We have become aware of a custom-build TPM project by a services firm for a multinational food company. This is the first time we have seen this in at least a decade so we are watching it closely to glean information about cost and development time as compared to off-the-shelf software.

For the Mid-cycle Update all of the Evaluation Criteria remain the same. They would only change with the annual POI Vendor Panorama later in 2017. View the vendor updates in the complete report.

To receive a copy of the complete POI TPx Vendor Panorama 2016/2017 Mid-cycle Update complete with TPx Vendor ratings, write Mike Kantor at mkantor@p-o-i.org

Meet the vendors at the POI Spring Summits:  

April 5-7, 2017

in Chicago, IL and

May 9-11

, May in Amsterdam, The Netherlands.

Learn more

 Look for an invitation from Joanie to attend a POI Event complimentary, and resolve to experience the next evolution of Promotion Optimization!

Michael Kantor, CEO and Founder

 
Save the Date 9-11, May 2017 Amsterdam!
 Career Opportunities
If you have a relevant opportunity, list it in POI Pulse, reach us at
info@p-o-i.org
FedEx Careers
Revenue Management & Pricing Analyst
The Revenue Management and Pricing Analyst is expected to execute strategic plans, influence change and foster accountability to ensure the revenue and pricing goals of FedEx Custom Critical (FCC) are accomplished. The analyst provides meaningful analyses which guide the organization in maintaining and improving its competitive position in the marketplace while enhancing profitability and creates actionable reports to measure initiatives. 
Learn more
Church & Dwight
Manager, Pricing Analytics
The successful candidate will support the development of a best practice approach to maximizing profit/sales across the Church & Dwight portfolio through price analyses and recommendations that will achieve identified objectives by Brand. The Manager, Pricing Analytics will work internally across C&D functional groups to support the development of a sustainable model for Pricing Excellence.
Learn more