POI Pulse January 3, 2017 PUBLISHED BY PROMOTION OPTIMIZATION INSTITUTE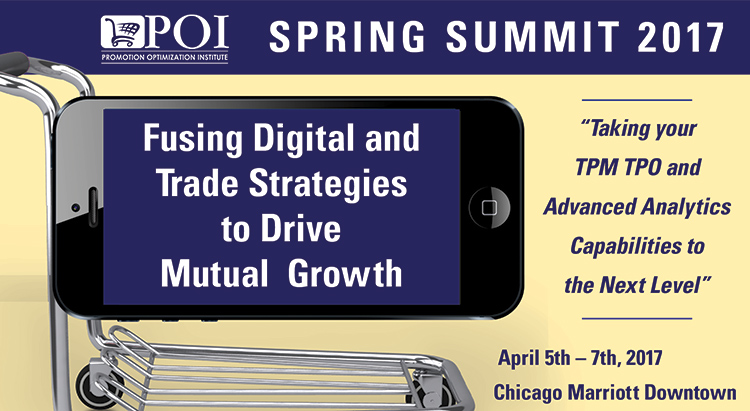 Last Year's Spring Summit was Sold Out – Reserve Your Spot Now!
The 10 Most Purchased Brands Globally
Source: (The Independent Dec. 30, 2016)

The ranking is based on how many households around the world are buying each brand and how often, a metric Kantar Worldpanel calls "Consumer Reach Points." The aim is to uncover local tastes, trends, and behaviors and how these manifest in actual shopper decisions, the report says. The analysis covers 300 billion shopper decisions across 74% of the world's population and 15,000 brands in 44 countries.

Learn more

Lisa Mann and PepsiCo's Health Strategy
Source: (AD Age December 28, 2016)

Ms. Mann has an influential role shaping the long-term strategy and innovation plans for the food and beverage giant's healthier brands, including Quaker, Naked and Tropicana.  In October, PepsiCo set new nutrition goals that includes seeking sales growth from "everyday nutrition products" by 2025 that outpaces "the rate of sales growth in the balance of PepsiCo's portfolio."

Learn more

Make plans now to join over 300 of your CPG and Retailer Peers

at the next progressive

POI Spring Summit in Chicago at the Downtown Marriott.

 Teams already registered include:

Tyson, DPSG, Morton Salt, Newell Brands, Clorox, Organic Valley, Califia Farms, Schreiber Foods, Windsor Farms, SC Johnson, Bayer, Goya Foods, Kroger, Colgate Palmolive, Mondelez, Kraft-Heinz, Starbucks, Wells Enterprises, ConAgra, Dean Foods, Mondelez, Walgreen's, JM Smucker, Del Monte, Church & Dwight, Kellogg, Rich Products, Red Bull, Bimbo Bakeries, MillerCoors, Topco, Constellation Brands, Coca-Cola, L'Oreal, Johnson & Johnson, Shopko, Energizer, Musco Family Olive Co., Windsor Foods, Hormel, PepsiCo, Kimberly-Clark,Hy-Vee Stores,  Edgewell, Eagle Family Foods, Ainsworth Pet, Pinnacle Foods, Unilever, Meijer, Fernandez Markets, and more.  The POI 2015 Spring Summit was sold out,

please register early

, as we'd love to see you advance with us!

5 Things That Could Make Amazon Stronger In 2017

Source: (Fortune December 30, 2016)Amazon is betting big on its Alexa investment, highlighted by Amazon CEO Jeff Bezos saying recently that 1,000 employees are working on the service. And his company is still hiring. You can expect Amazon to start making more deals to get Alexa into non-Amazon devices likes its recently announced 

partnership

 with 

GE 

to put Alexa in smart lamps.

Learn more

Pinnacle Foods Playbook Incl. Managing Mix & Price
Source: (FoodBizNews December 28, 2016)

Pinnacle Foods management has been effective in developing premium tiers for its brands during the past few years. Its Duncan Hines brand, for example, includes Perfect Size, which is a portion-controlled, convenient indulgence. The company also has created similar premium tiers within its Birds Eye and Wish-Bone businesses. Mark Clouse, CEO Pinnacle Foods said the company will continue along the premium path and focus on innovation that creates margin accretive innovation.

Learn more

Webinar – Win at the Shelf-Take Retail Execution to New Levels

On Demand NowMany consumer goods companies suffer from in-store execution challenges, which inhibit their sales growth and position them as less-than-optimal trading partners by retailers. Many have come to see retail execution as a cost of doing business instead of a competitive weapon that can deliver the desired sales growth. However, new capabilities have emerged across the spectrum of go-to-market models (DSD, van sales, warehouse delivered, and distributor management) that represent a new level in retail execution. 

See the On Demand Webinar today

QuickChek's 83% Lift In Store Traffic with Location-Based Targeting
Source: (Retail TouchPoints Dec. 30, 2016)

QuickChek also improved its ability to measure the effectiveness of its campaigns and understand the traffic patterns of customers. QuickChek developed a series of location data-powered campaigns with help from PlaceIQ to: Drive visits to its locations among brand loyalists; Gain market share from competitors; Attract new categories of customers; and, Accurately measure campaign success for promoting in-store visits.

Learn more

New Year's Resolution – Advance Your Skill Set Now


Enroll Today and Become Certified as a Collaborative Marketer  w/ POI at Saint Joseph's University

Source: (POI-Next Orientation is

February 15-16, 2017

)During this 16-week self directed program, expert faculty expose participants to the key management levers that drive organizational success. The program begins by exploring how organizations develop and implement strategy.

Then, core functional areas of business are explored – from sales to marketing, to supply chain and finance -teaching candidates a solid understanding of each function and how it contributes to trading partner collaboration success. Ask us about our 2017 Scholarship Program 

Learn more and enroll today

It is my pleasure to wish all of you a Happy New Year on behalf of the Promotion Optimization Institute team.

More projects were successfully initiated with POI's influence in 2016 – TPM, Pricing, TPO, Retail Execution, Analytics Enhancements, Retail Execution, Sales Force Enablement, Process Improvements, Education and Training, and other work with people and culture advancements. Because of the perseverence and enthusiasm of thousands of people across the globe, more TPx and Retail Execution initiatives came to life last year through POI than ever before.

This reality was unthinkable 8 years ago when we first had the idea for Promotion Optimization Institute. Since our launch in 2008, that dream of a more connected and informed CPG and Retailer world for Collaborative Marketing has become truer by the day. We're living in a very challenging, yet creative time where anyone with initiative, and a team focused on continuous improvement can bring TPx and Retail Execution excellence to life.

We are extreme optimists on the future of innovation. We see better access to data, and more opportunity for sales, marketing and merchandising executives than any time in history – through the Promotion Optimization Institute, and our research, events, and education/certification. More opportunity brings challenges – competition for attention chief among them – but circumstances are far better for manufacturers and retailers to collaborate and better serve consumers than what existed before.

At POI we have the freedom with our board to chart our own course, and raise the bar with you. We will continue to do so with enthusiasm and love for collaboration at our core.

To the manufacturers, retailers, and distributors of the world: POI is made for you. It was built to bring the right people together around your TPx and RE projects. It's supported by a team of enthusiastic fellow strategists, analysts and educators here at POI who are devoted to helping your ideas and initiatives come to life.

To the CPG and Retailer members, Solution Provider Sponsors, and Educators of the world: POI is powered by you. It was built to bring you together with amazing professionals with great skills and goals. And it's supported by a team of enthusiastic fellow team members here at POI who have backed 100's of projects (events, research, webinars, and educational sessions) of our own.

We exist to help people advance their skills, company, and bring their projects to fruition. This is what we've always been about and always will be about. Thank you for continuing being a part of it, and best wishes for a Happy, Healthy, and Successful New Year!

Have a sensational week!

 Look for an invitation from the POI Team in early January to attend a POI Event, and resolve to experience the next evolution of Promotion Optimization!

Michael Kantor, CEO and Founder

 
Save the Date 9-11, May 2017 Amsterdam!
 Career Opportunities
If you have a relevant opportunity, list it in POI Pulse, reach us at
info@p-o-i.org
FedEx Careers
Revenue Management & Pricing Analyst
The Revenue Management and Pricing Analyst is expected to execute strategic plans, influence change and foster accountability to ensure the revenue and pricing goals of FedEx Custom Critical (FCC) are accomplished. The analyst provides meaningful analyses which guide the organization in maintaining and improving its competitive position in the marketplace while enhancing profitability and creates actionable reports to measure initiatives. 
Learn more
Church & Dwight
Manager, Pricing Analytics
The successful candidate will support the development of a best practice approach to maximizing profit/sales across the Church & Dwight portfolio through price analyses and recommendations that will achieve identified objectives by Brand. The Manager, Pricing Analytics will work internally across C&D functional groups to support the development of a sustainable model for Pricing Excellence.
Learn more