POI Pulse October 10, 2016 PUBLISHED BY PROMOTION OPTIMIZATION INSTITUTE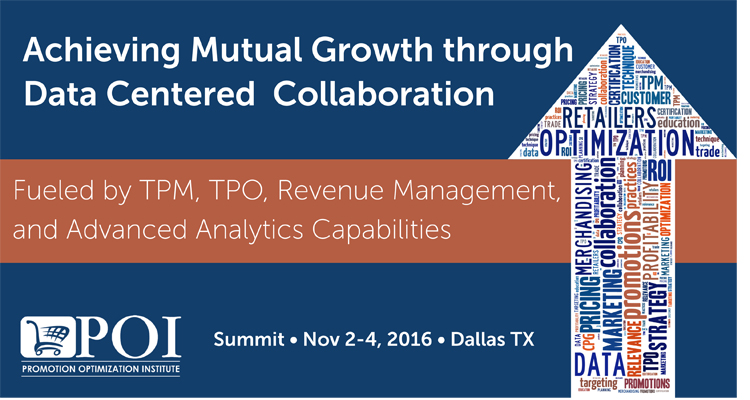 View the near final agenda with Unilever, Mondelez, Kellogg Co.,Henkel, Meijer, J&J,Georgia Pacific, Chicken of the Sea, Plated.com, etc. here, and Register Today!
Achieving Mutual Growth through Data Centered Collaboration

The most advanced, meaningful agenda centered on trade promotion, Retail Execution, and Collaboration is near complete.  As a manufacturer or retailer, join us November 2-4 in Dallas TX. Make your plans now, as this next world-class agenda, including Henkel, Meijer, Chicken of the Sea, Mondelez, Georgia-Pacific, Kellogg Co., Johnson & Johnson, Plated.com, plus a leading workshop on Digital Trade and more is critical for your success.  

Learn more, and register here

Steve Jobs, Ben Franklin – Leadership & Collaboration
Source: (Knowledge @ Wharton October 7 2016)

Any American business leader who practices collaborative leadership owes a great debt to Ben Franklin, according to Isaacson. "Franklin really helped invent … leadership based on collaboration and teamwork." Jobs said the best thing he ever did as an innovator and leader was to create a great team. Learn more

Registration Today!  POI Fall Summit Nov. 2-4

Achieving Mutual Growth through Data Centered Collaboration, Dallas TX. Make your plans now, as we are building another world-class agenda, including Henkel, Meijer, Chicken of the Sea, Bimbo Bakeries, Georgia-Pacific, Johnson & Johnson, Plated.com, and more.

Attendees also registered include:

Edgewell, Deoleo, L'Oreal, ACH Foods, Meijer, General Mills, Colgate-Palmolive, Walgreen's, Galderma, Sargento, Hormel, Red Bull, Hain Celestial, Unilever, Dean Foods, Constellation Brands, Blue Buffalo, Energizer, Ventura Foods, Reynolds, Diageo, MillerCoors, Edgewell, Borden Dairy,  Hershey's, Bellisio Foods, Bimbo Bakeries,  AAFES, Mondelez, Mars, PepsiCo, Starbucks, Pinnacle Foods,Coca-Cola, Nestle, Kimberly Clark, Red Gold, DPSG, Johnson & Johnson, Perfetti Van Melle, Kellogg's, JM Smucker, Church & Dwight, Busch Bros.,Topco, Keurig Green Mountain, Musco Family Olive, ConAgra,  Ainsworth Pet Nutrition, Del Monte, Rich Products,  and many others.  B

y now you should have received your invitation

. If not, reach me today at 

mkantor@p-o-i.org  Learn more Â

Unilever's CMO: 'Marketers Bluffing about Digital'
Source: (Marketing Week Oct. 5, 2016)

Unilever has increased its training budget and the number of days employees are given to train, introducing mandatory e-modules and workshops that start with basics programs on search, programmatic and websites, and then layer up.

Learn more

Join us at the POI Fall Summit on Wednesday, November 2nd 3pm-5pm for a

workshop on Digital: Moving to Digital Trade Management while keeping an Eye on Traditional Trade Management:

Defining what exactly is digital?

How does it complement and fit with how we currently execute promotions through retail?

What does the future collaboration of consumer/retailer/manufacturer look like?

Identifying the key competencies that we need to begin mastering today to ensure success?

Contact

mkantor@p-o-i.org 

to reserve your place at the table

The Cyber Sam Walton – Walmart's Online Baskets
Source: Supermarket News October 7, 2016)

Jet.com's breakthrough, he said, was to craft a technology that not only takes fulfillment costs into the equation, but builds baskets by making the process transparent to shoppers, showing them what the savings are of buying one product over another, and by also employing other incentives to save such as options on payment methods, shipping times or returns. Learn more

The POI Annual TPx and Retail Execution Survey

All results will be reported in the aggregate; please see additional details on the research goals via the link. Preliminary results will be presented at the Dallas Summit, where attendees will get a first -view.

Natural and Organic Market Hits $69 Billion
Source: (Grocery HQ Oct. 7, 2016)

Perhaps nowhere are these evolving drivers more inherently perpetuated than in the thriving market for natural and organic foods and beverages, finds market research publisher Packaged Facts in the brand new report Natural and Organic Foods and Beverages in the U.S., 5th Edition.

Learn more

Poster Sessions are Back for POI Dallas!

Get involved, and submit a poster,  Students at SJU will do most of the work with you to develop materials. Do you have a story to tell but don't have the time to prepare for a 45-minute presentation?  Why not submit a poster to be included for the 2016 POI Fall Summit in Dallas, TX Nov 2 – 4  A poster is a simple way to share an interesting topic or experience and stimulate discussion with Summit Attendees.  Posters should demonstrate a business problem or opportunity related to TPM, TPO, Revenue Management, Collaboration or Analytics capabilities. At POI Chicago, Mondelez, Red Bull, and Rich Products submitted posters.  Posters will be on display throughout the Summit.  Contact Mike Kantor (mkantor@p-o-i.org) for more information

Enroll Today and Become Certified as a Collaborative Marketer

 w/ POI at Saint Joseph's University

Source: (POI-Next Orientation is December 15-16, 2016)During this 16-week self directed program, expert faculty expose participants to the key management levers that drive organizational success. The program begins by exploring how organizations develop and implement strategy.

Then, core functional areas of business are explored – from sales to marketing, to supply chain and finance -teaching candidates a solid understanding of each function and how it contributes to trading partner collaboration success. 

Learn more and enroll today

Excerpt from the 2016 POIReport: The State of TPx and Retail Execution for Global Consumer Goods and Retail

Dale Hagemeyer, Partner, POI

Implication: There is too much focus on software/ solutions and not enough on best practices.

The best way to position this implication is to show the gap between what is expected from software/services provider and what is actually delivered. When asked how important it is to receive best practices as part of purchasing an application, our survey respondents said that the best practices component is quite important. Nevertheless, when we asked about the degree to which best practices were actually delivered, respondents' expresses the absence of best practices.

The gap is staggering. We suspected that this would be the case and hence why we asked the question in the survey. One would hope that best practices would be a part of what is delivered. However, there is a definite disconnect between the two.We can only surmise that user organizations across the broader marketplace want best practices but just aren't getting them. We assume that they expect and ask for them. However, in our experience, technology work is highly intangible in nature. Over-promising seems to be the norm for most software/services sales cycles. Therefore, we offer the following recommendations:

–        Check the credentials of the person(s) who are tasked with delivering the best practices. Make sure they have the industry experience and that they will be full-time on the project, not just checking in from time to time.

–        Specifically request examples of some best practices that your short-list of vendors has been able to provide during other implementations.

–        Check references carefully to understand the "additional value add" areas that were brought to bear in past deployments.

–        Budget sufficient time during implementation for a possible discussion about, "have you thought about doing it this way" as this is often when and how a best practice can be brought to the surface. However, if your timeline is overly aggressive or your project calls for merely getting the solution live based on an initial set of scoping requirements, you may lose the opportunity.

We anticipate answering your questions, and meeting with you to achieve goals . POI Members will receive the report.

Have a sensational Week!

POI Pulse is read by over 4,500 Retail Merchandising and CPG Marketing Executives.
Sponsors of this week's issue of POI Pulse –
To advertise, reach us at: mkantor@p-o-i.org or call 914-319-7309

 Career Opportunities
If you have a relevant opportunity, list it in POI Pulse, reach us at
info@p-o-i.org
Business Analyst
Sequoya Group, Inc.
Develop and document the project scope, objectives, and research approach for large-scale, custom research studies based on interviews with managers and subject matter experts, secondary research, and an evaluation of the business situation
Establish research methodology, study specifications, procedures, timelines, and necessary tools for effectively and efficiently meeting research objectives. Learn more

Nestlé Waters North America


Trade Promotion Optimization Manager
In order to optimize NWNA trade spend efficiency we are looking for managers who will support the financial analyses at the pack, account, and channel level. Data from a variety of sources is fed into an Excel-based Trade Spend Optimization tool and will require analytical insight and recommendations on optimizing efficiencies. Managers will work primarily in Excel to develop insights and recommendations and will develop strong relationships with the Sales Finance team and Sales Account Managers to ensure positive optimal performance of Trade Spend.
Learn more
Upcoming Events
A Revolutionary Approach to Trade Management – Webinar
Date: Tuesday, October 25, 2016
Time: 02:00 PM Eastern Daylight Time
Building on their "Spirit of CAPRIS (CRM) initiative, Henkel is driving for further excellence in management of their volume and trade spend while simplifying the key account manager's daily work. Understand the business drivers behind Henkel's investment in both processes and tools, while they enhance their overall collaborative business planning methodology and trade investment.
Learn more