POI Pulse October 3, 2016 PUBLISHED BY PROMOTION OPTIMIZATION INSTITUTE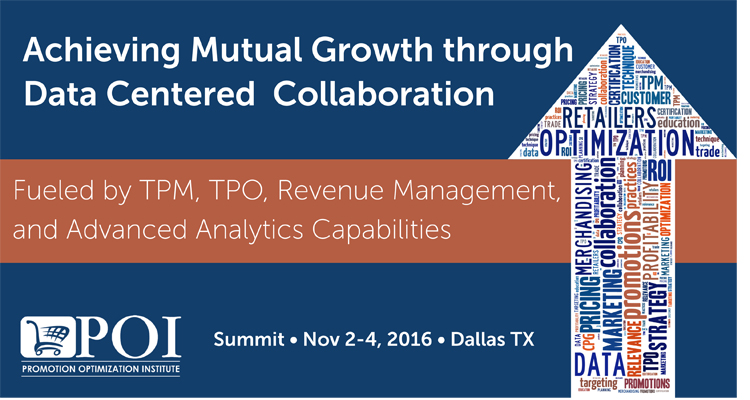 View the preliminary agenda with Henkel, Meijer, J&J,Georgia Pacific, Chicken of the Sea, Plated.com, etc. here, and Register Today!
Amazon Marketplace Shoppers Rebuff Emails

Source: (Fortune Mag Sept. 30, 2016)Sellers deluge often inboxes with requests for product reviews, inquiries about how the process went, and sales pitches for more stuff. Considering the comments on social media, feedback from friends and family, and in posts in Amazon.com's  

customer service forum

over the past two years, this problem is not getting any better.

Learn more

Nestlé's Take on 'Data-driven Marketing'

Source: (MarketingWeek Sept. 26, 2016)We are working very hard to make online shopping easier for consumers by leveraging 'buy now' technology on our digital properties. That is an example of removing friction. An example of adding service layers is Milo, a chocolate malt beverage product.

Learn more

Registration is Open!!  POI Fall Summit – Dallas!

Achieving Mutual Growth through Data Centered Collaboration, Dallas TX. Make your plans now, as we are building another world-class agenda, including Henkel, Meijer, Chicken of the Sea, Bimbo Bakeries, Georgia-Pacific, Johnson & Johnson, Plated.com, and more.

Attendees also registered include:

L'Oreal, ACH Foods, Meijer, General Mills, Colgate-Palmolive, Walgreen's, Galderma, Sargento, Hormel, Red Bull, Hain Celestial, Unilever, Dean Foods, Constellation Brands, Blue Buffalo, Energizer, Ventura Foods, Reynolds, Diageo, MillerCoors, Edgewell, Borden Dairy,  Hershey's, Bellisio Foods, Bimbo,  AAFES, Mondelez, Mars, PepsiCo, Starbucks, Pinnacle Foods,Coca-Cola, Nestle, Kimberly Clark, Red Gold, DPSG, Johnson & Johnson, Perfetti Van Melle, Kellogg's, JM Smucker, Church & Dwight, Busch Bros.,Topco, Keurig Green Mountain, Musco Family Olive, ConAgra,  Ainsworth Pet Nutrition, Del Monte, Rich Products,  and many others.  B

y now you should have received your invitation

. If not, reach me today at 

mkantor@p-o-i.org  Learn more  

Chobani Incubator Supports Food EntrepreneursSource: (The Drum Sept. 30, 2016)

Chobani founder, Hamdi Ulukaya, dreamed up the program, and is looking for companies who: – Do the right thing by creating delicious, nutritious, natural and accessible food – Are inclusive by being accessible and affordable – Are like-minded with the same heart and passion to deliver good food to more people – Are ready to grow, taking part in a six-month program from October through March

Learn more 

The POI Annual TPx and Retail Execution Survey

All results will be reported in the aggregate; please see additional details on the research goals via the link. Preliminary results will be presented at the Dallas Summit, where attendees will get a first -view.

Anheuser-Miller Merger Clears Final Hurdle 
Source: (Chicago Tribune Sept. 28, 2016)

Acquiring SABMiller, which makes Fosters and Miller and traces its roots to the former South African Breweries, gives AB InBev a large presence in Africa while increasing its business in South America and Europe. The combined company will control almost a third of the global beer market.

Learn more

Poster Sessions are Back for POI Dallas!

Get involved, and submit a poster,  Students at SJU will work with you to learn and develop materials. Do you have a story to tell but don't have the time to prepare for a 45-minute presentation?  Why not submit a poster to be included for the 2016 POI Fall Summit in Dallas, TX Nov 2 – 4  A poster is a simple way to share an interesting topic or experience and stimulate discussion with Summit Attendees.  Posters should demonstrate a business problem or opportunity related to TPM, TPO, Revenue Management, Collaboration or Analytics capabilities. At POI Chicago, Mondelez, Red Bull, and Rich Products submitted posters.  Posters will be on display throughout the Summit.  Contact Mike Kantor (mkantor@p-o-i.org) for more information

Enroll Today and Become Certified as a Collaborative Marketer

 w/ POI at Saint Joseph's University

Source: (POI-Next Orientation is December 15-16, 2016)During this 16-week self directed program, expert faculty expose participants to the key management levers that drive organizational success. The program begins by exploring how organizations develop and implement strategy.

Then, core functional areas of business are explored – from sales to marketing, to supply chain and finance -teaching candidates a solid understanding of each function and how it contributes to trading partner collaboration success. 

Learn more and enroll today

This year's POI Fall Summit in Dallas is wholly different than last year's summit.  This is reflected in more and new companies attending, the content geared for an evolving business environment, including the knowledge and tools providing take-aways necessary for your success.  Make your plans this week, as space is limited.  Here are examples of the learning and networking opportunities:

Committing to eCommerce for Insights and Brand Growth
To stay competitive, companies must move beyond experimenting with digital and commit to transforming themselves into a full digital business geared for ecommerce wins. Critical to success is a strategy that includes benchmarks and analytics to understand the impact of digital. Learn how the J&J team operates across multiple platforms and multiple regions, creating a view of the world and consumer behavior that is very different, in order to deliver actionable consumer insights, and growth opportunities across channels. 
Presented by: Sri Rajagopalan, VP, eCommerce, Johnson & Johnson


 

Kellogg's Journey Towards Optimizing Revenue Growth Management
3 Critical Phases of the Journey
Crawl –  Data harmonization  and cleansing
Walk –  Accurate & timely post event analysis
Run   –  Vision for Integration into joint business planning process for mutual growth
Presented by: Craig DeSimone, Director, Global Revenue Management, Kellogg Company

Next Generation of Collaboration in a Digital and Omni-channel World Omni Category Management

Moderated by: Peter Leech, Managing Partner, Retail Practice, The Partnering Group
Panelists:

Art Sebastian, Digital Shopping & eCommerce, Meijer

Byron Knight, Vice President Emerging Business at Georgia-Pacific

Prasad Pola, Chief Technology Officer at Plated.com

How Analytics Will Drive Better Internal and External Collaboration

Collaboration inside and outside your organization is a key ingredient to sustaining growth.  While not every goal will always be aligned across functions and companies, there are mutual interests that benefit greatly through collaboration.  One area that has the potential to unlock our collaboration efforts is analytics.  Analytics are evolving and enabling one version of the truth through greater access to data across multiple sources.  The process and time consuming "data crunching" is dramatically decreasing as tools, technology and machines are enabling the most complex analytics with speed.  All of this is combining to unlock collaboration efforts both inside and outside of your organization.  In this session we will discuss:

·      The key blocks to collaboration

·      How analytics enables better collaboration inside and outside your company

Presented by: Tim Barnes, Fmr Director, Net Revenue Management, Unilever

Workshop for Consumer Goods and Retailers: Moving to digital trade management while keeping an eye on traditional

Defining what exactly is digital?
How does it complement and fit with how we currently execute promotions through retail?
What does the future collaboration of consumer/retailer/manufacturer look like?
Identifying the key competencies that we need to begin mastering today to ensure success?

Facilitated by: Dale Hagemeyer

 

Have a sensational Week!

Michael Kantor, CEO and Founder,POI

POI Pulse is read by over 4,500 Retail Merchandising and CPG Marketing Executives.
Sponsors of this week's issue of POI Pulse –
To advertise, reach us at: mkantor@p-o-i.org or call 914-319-7309

 Career Opportunities
If you have a relevant opportunity, list it in POI Pulse, reach us at
info@p-o-i.org
Business Analyst
Sequoya Group, Inc.
Develop and document the project scope, objectives, and research approach for large-scale, custom research studies based on interviews with managers and subject matter experts, secondary research, and an evaluation of the business situation
Establish research methodology, study specifications, procedures, timelines, and necessary tools for effectively and efficiently meeting research objectives. Learn more

Nestlé Waters North America


Trade Promotion Optimization Manager
In order to optimize NWNA trade spend efficiency we are looking for managers who will support the financial analyses at the pack, account, and channel level. Data from a variety of sources is fed into an Excel-based Trade Spend Optimization tool and will require analytical insight and recommendations on optimizing efficiencies. Managers will work primarily in Excel to develop insights and recommendations and will develop strong relationships with the Sales Finance team and Sales Account Managers to ensure positive optimal performance of Trade Spend.
Learn more
Upcoming Events
A Revolutionary Approach to Trade Management – Webinar
Date: Tuesday, October 25, 2016
Time: 02:00 PM Eastern Daylight Time
Building on their "Spirit of CAPRIS (CRM) initiative, Henkel is driving for further excellence in management of their volume and trade spend while simplifying the key account manager's daily work. Understand the business drivers behind Henkel's investment in both processes and tools, while they enhance their overall collaborative business planning methodology and trade investment.
Learn more