POI Pulse October 31, 2016 PUBLISHED BY PROMOTION OPTIMIZATION INSTITUTE

See you in Dallas for the most progressive and actionable agenda!
Trends & Developments

Coca-Cola Shares its Formula for Growth

Source: (Marketing Week October 26, 2016)

"Good marketing on its own is not enough, it needs to be placed alongside better execution. When it comes to Western Europe, new European [bottling] partners came out of the stables earlier this year. But the formula will be the same – more and better marketing, a better focus on categories, innovation and pushing ahead." Learn more

Target Focusing on Deals, Value this Holiday Season
Source: (DSN October 26, 2016)

New this year is a broad promotion, beginning in mid-November, whereby shoppers can save $10 off a $50 purchase on a different product category each week, including grocery. In December, the promotion will be expanded, with the option to save $25 on purchases of $100 or more. Learn more

Registration Today! POI Fall Summit

Nov. 2-4

Achieving Mutual Growth through Data Centered Collaboration, Dallas TX. Last Chance to Regiter for this world-class agenda, including new sessions with ACH Foods, Sunny D, Eagle Family Foods, Topco, and more.

Attendees also registered include:

Starbucks, Eagle Family Foods, Snyders Lance, Nestle, AAFES, Colgate-Palmolive, California Olive Ranch, Farmer John, Sunny Delight, Maple Leaf Foods, Henkel, Beiersdorf, Windsor Foods, Palermos Pizza, Cabot Creamery, Edgewell, Deoleo, L'Oreal, ACH Foods, Meijer, General Mills, Colgate-Palmolive, Walgreen's, Galderma, Sargento, Hormel, Red Bull, Hain Celestial, Unilever, Dean Foods, Constellation Brands, Blue Buffalo, Energizer, Ventura Foods, Reynolds, Diageo, MillerCoors, Edgewell, Borden Dairy, Hershey's, Bellisio Foods, Bimbo Bakeries, Mondelez, Mars, PepsiCo, Starbucks, Pinnacle Foods,Coca-Cola, Kimberly Clark, Red Gold, DPSG, Johnson & Johnson, Perfetti Van Melle, Kellogg's, JM Smucker, Church & Dwight, Busch Bros.,Topco, Keurig Green Mountain, Musco Family Olive, ConAgra, Ainsworth Pet Nutrition, Del Monte, Rich Products, and many others. B

y now you should have received your invitation

. If not, reach me today at

mkantor@p-o-i.org Learn more

Mondelez Sees New Initiatives Driving Growth

Source: FoodBizNews October 28, 2016)

In the focus on volume-driven revenue growth, Ms. Rosenfeld said North America has contributed solidly, as has Europe and Asia Pacific. Mondelez is "expanding our routes to market," she said to further enhance growth opportunities."This includes a significant focus on e-commerce, which grew approximately 40% in Q3," Irene Rosenfeld, CEO said.

Learn more

3 CPG Manufacturer seats remain

to join us at the POI Summit this

Wednesday, November 2nd 3pm-5pm

for a

workshop on Digital: Moving to Digital Trade Management while keeping an Eye on Traditional Trade Management:

Defining what exactly is digital?

How does it complement and fit with how we currently execute promotions through retail?

What does the future collaboration of consumer/retailer/manufacturer look like?

Identifying the key competencies that we need to begin mastering today to ensure success?

Contact

mkantor@p-o-i.org

to reserve your place at the table

Pinnacle Foods Highlights Frozen Innovation

Source: FoodBizNews October 28, 2016)

"We remain confident that we can continue to apply our playbook on marketing and in-store execution, to effectively manage this entire portfolio, enabling us to continue to deliver strong consistent results including meaningful gross margin growth, solid top line performance and healthy share expansion, just as we did in Q3," Mark Clouse, CEO said. Learn more

The POI Annual TPM and Retail Execution Survey

All results will be reported in the aggregate; please see additional details on the research goals via the link. Preliminary results will be presented at the Dallas Summit, where attendees will get a first -view.

T-Pro Optimum ignites Trade Promotion Investment

T-Pro Solutions is excited to announce the release of T-Pro Optimum, an optimization enhancement to their T-Pro Analytics post-event and predictive analytics solution simplifying trade promotion planning with powerful constraint-based and prescriptive capabilities.

Learn more

Poster Sessions are Back for POI Dallas!

Posters will be on display throughout the Summit. Contact Mike Kantor (

mkantor@p-o-i.org

) for more information

Enroll Today and Become Certified as a Collaborative Marketer

w/ POI at Saint Joseph's University

Source: (POI-Next Orientation is

December 15-16, 2016

)During this 16-week self directed program, expert faculty expose participants to the key management levers that drive organizational success. The program begins by exploring how organizations develop and implement strategy.

Then, core functional areas of business are explored – from sales to marketing, to supply chain and finance -teaching candidates a solid understanding of each function and how it contributes to trading partner collaboration success.

Learn more and enroll today

P&G Reports Profit, and Beats Forecasts

Source: (Cincinnati.com

October 31, 2016

)

Organic sales growth was driven by a 2 percent increase in product volume, while pricing remained flat. Organic sales also surged to 3 percent growth in the U.S. and 2 percent growth in China, the company's two largest markets, according to P&G's chief financial officer Jon Moeller, who spoke with reporters in an early-morning conference call.

Learn more

POI Perspective

On Wednesday

of this week

we will welcome all of you who chose to take two days in this high-velocity world to join

us in the pursuit of education, information, promotion optimization, and growth in challenging times.

The POI Leadership, along with our Advisory Board, continuously strives to create

tremendous opportunities to engage manufacturers, retailers, academicians,

solutions providers and students, and to advance with critical knowledge and

ideas. Our objective at this POI Summit, with this world-class agenda, is to ensure

you and your companies are better able to innovate and adapt for continued success.

Two of the things POI does extremely well is build on capabilities, and support

leadership for all of our constituents. Our goal is to develop dialogue that will

change conventional knowledge of how you will achieve success with teams and

trading partners.

I continue to be impressed by you, your meaningful advancements, along with

the strength of this growing community, which makes up the POI. That growth

is demonstrated with a now global community who contribute to, and advance

through the POI experience. We are building on our success in Europe, plus our

success with the inaugural Retail Execution Summit in 2016 which was lauded

by attendees. Your European counterparts joined POI with our unwavering

commitment to Brussels, at the Summit this past May. Here, you'll experience POI's

latest research and benchmarking, through our research with Dale Hagemeyer,

and how we anticipate working closer with you around best practices.

The Certified Collaborative Marketer CCM™ is designed for continuing education,

including mastery of the collaborative skills necessary to succeed. Together with

the POI Board, we have again constructed for you the most advanced and relevant

program for your professional development, and your company's benefit. Each

consecutive POI Summit includes your requests and our collective vision for

collaboration and promotion optimization.

We thank every speaker, board member, and sponsor who is contributing their

time, experience, commitment and leadership. As you have in the past, please

make the time to personally engage with them throughout the Summit and create

at least 7-11 new relationships. I'd mostly

like to thank all of you for placing your

trust and support in POI and this amazing

team.

Let's enjoy Dallas!

Reserve your place at the Preconference Workshop for Consumer Goods Executives:

Moving to Digital Trade Management while keeping an Eye on Traditional Trade Management (advanced reservation required, contact

mkantor@p-o-i.org

)

Defining what exactly is digital?
How does it complement and fit with how we currently execute promotions through retail?
What does the future collaboration of consumer/retailer/manufacturer look like?
Identifying the key competencies that we need to begin mastering today to ensure success?
Facilitated by: Dale Hagemeyer, Partner, Promotion Optimization Institute, LLC

Take The POI Annual TPx and Retail Execution Survey

Save the date:

April 5-7

for the POI Spring Annual Summit – Fusing Digital and Trade Strategies to Drive Mutual Growth. Downtown Marriott, Chicago, IL

View more here

Have a Happy Halloween!

POI Pulse is read by over 4,500 Retail Merchandising and CPG Marketing Executives.
Sponsors of this week's issue of POI Pulse –
To advertise, reach us at: mkantor@p-o-i.org or call 914-319-7309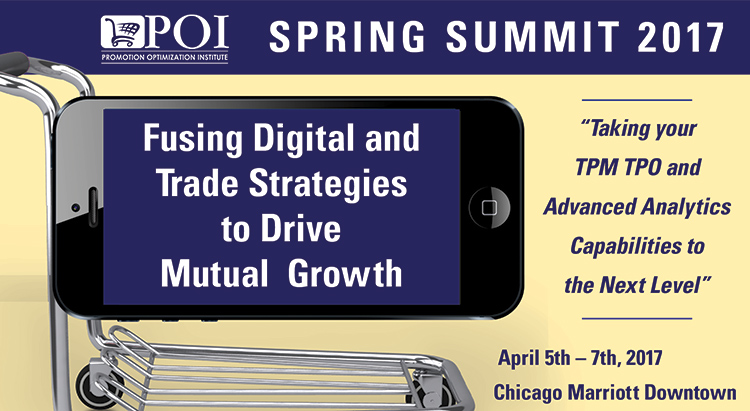 SAVE THE DATE – APRIL 5-7, 2017
Career Opportunities
If you have a relevant opportunity, list it in POI Pulse, reach us at
info@p-o-i.org
Church & Dwight
Manager, Pricing Analytics
The successful candidate will support the development of a best practice approach to maximizing profit/sales across the Church & Dwight portfolio through price analyses and recommendations that will achieve identified objectives by Brand. The Manager, Pricing Analytics will work internally across C&D functional groups to support the development of a sustainable model for Pricing Excellence. Learn more
Upcoming Events
A Revolutionary Approach to Trade Management – Webinar
Date: Tuesday, October 25, 2016
Time: 02:00 PM Eastern Daylight Time
Building on their "Spirit of CAPRIS (CRM) initiative, Henkel is driving for further excellence in management of their volume and trade spend while simplifying the key account manager's daily work. Understand the business drivers behind Henkel's investment in both processes and tools, while they enhance their overall collaborative business planning methodology and trade investment.
Learn more