POI Pulse November 7, 2016 PUBLISHED BY PROMOTION OPTIMIZATION INSTITUTE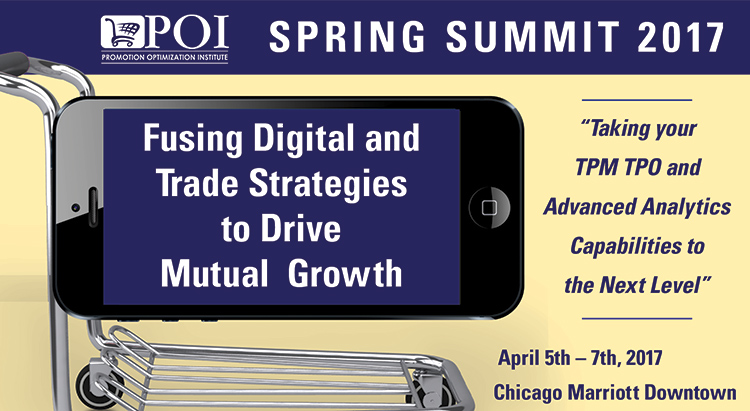 Last Year's Spring Summit was Sold Out – Reserve Your Spot Now!
Why Unilever, P&G are Backing Off Price Promotions
Source: (Marketing Week November 2016)

While John Moeller CFO, P&G admitted there are many cases where investing in price promotion is an effective use of P&G's funds, it is also looking to redirect its spend to other elements of the marketing mix. Meanwhile, Unilever's head of investor relations Andrew Stephen admitted the company is taking a closer look at its spending after the UK saw a "revised spate" of price promotions.

Learn more

Walmart, Kroger Top Kantar PowerRanking Survey
Source: (DSN November, 2016)

One major retailer noted: "PepsiCo has embraced the data and has brought new insights and analytics. They have really transformed the conversation [between our companies]." One retailer commented: "Coke is building the interest of consumers with their new 'Share a Coke' campaign. The customers are excited to look for their names or favorite songs on the bottles."

Learn more

Enroll Today and Become Certified as a Collaborative Marketer  w/ POI at Saint Joseph's University 

Source: (POI-Next Orientation is

December 15-16, 2016

)During this 16-week self directed program, expert faculty expose participants to the key management levers that drive organizational success. The program begins by exploring how organizations develop and implement strategy.

Then, core functional areas of business are explored – from sales to marketing, to supply chain and finance -teaching candidates a solid understanding of each function and how it contributes to trading partner collaboration success. 

Learn more and enroll today

Mall of America Goes Digital – Virtual Reality, Robots

Source: (Chicago Tribune November 2, 2016)Now besides virtual reality, its executives are exploring robots and – perhaps sometime soon – augmented reality.  So far, the mall is using robots to mainly advertise some store promotions.

Learn more

The POI Annual TPM and Retail Execution Survey

All results will be reported in the aggregate; please see additional details on the research goals via the link.  Preliminary results will be presented at the Dallas Summit, where attendees will get a first-view.

Alibaba's Singles Day Provides  Lesson's in Retail and CG Throughout
Source: Forbes, November 6, 2016)

It is the future of digital innovation: Alibaba is featuring an augmented reality game to allow people to chase black cats (the Tmall mascot) like Pokémon GO. The company has also unveiled for the sale a virtual reality shopping experience that allows consumers to connect their smartphones with a VR headset and make purchases as if they were in a physical store in New York City. And there are mobile apps that enable shoppers to digitally see how they look in clothes and cosmetics. It is an emerging channel for global interaction. Already, some 10% of the purchases on Singles' Day are from overseas brands.

Learn more

Kraft Heinz in 2017, Tackling New Products, Problem Categories

Source: (Pittsburgh Gazette November 4, 2016)"We still have an opportunity to turn around several problematic categories," Bernardo Hees, CEO said. Those include cold cuts, food service and nuts. "We've seen different directions depending on the category," COO George Zoghbi said. "It's hard to call where it's going to be in the future. We're better at managing the outcome than trying to forecast it."

Learn more

Goals were achieved by all at that attended the POI Fall Summit last week in Dallas! 

 

At POI we stated that our objective at this POI Summit, with this world-class agenda, is to ensure you and your companies are better able to innovate and adapt for continued success.

There was an excitement, and enthusiasm for where CPG Manufacturers and retailers were making progress today, and how their pragmatic initiatives are translating to results.  The lessons shared from pre-conference workshops through educational sessions, to neworking and new relationships created an environment filled with opportunity and optimism about how to get projects, processes, and enabling tools in place to drive profitable growth.

Here is some of what attendees told us:

"This was my first POI Summit experience, and it well exceeded my expectaions.  I am confident I will be taking a lot of new knowledge back with me to help improve our current processes."

"Terrific learning experience and opportunity to network. I particularly enjoyed the thinking around digital, and brainstorming with peers on ways to incorporate.  Overall, I highly recommend the POI Summit, as the Institute has prvided me with strong learnings' and take-aways to share with my team."

Meaningful presentations demonstrated both high-level issues, the tools, and I could relate to everything that was explained.  It was highly relevant!"

"I really enjoyed, and gained a lot from the conference.  Keep up the great work!"

"Thank you! This has helped me in my journey of learning how to better enable my sales and marketing teams!"

"I really liked the cutting edge manufacturer and retailer presentations on e-commerce. Nice job as always"

"Great mix of general sessions and breakouts.  Sometimes there were two good sessions at the same time, making it difficult to choose -next time we will bring more team members so we can split up, then compare notes.  Good that you bring newer trends into the mix of topics, as the mix of CPG and Retailer attendees fed the great discussions." Great Event!

At POI we are very proud of what we do, and our passion has us continuing to create the resources, and build the next great agenda/forum for all to advance.  We will be out to you to secure your place at the next POI Summit, which will improve on these results as well.

Take The POI Annual TPx and Retail Execution Survey

Save the date:

April 5-7

for the POI Spring Annual Summit – Fusing Digital and Trade Strategies to Drive Mutual Growth. Downtown Marriott, Chicago, IL

View more here

We salute, and honor our Veterans!

POI Pulse is read by over 4,500 Retail Merchandising and CPG Marketing Executives.
Sponsors of this week's issue of POI Pulse –
To advertise, reach us at: mkantor@p-o-i.org or call 914-319-7309
 Learn more, and enroll now for the next orientation –  

December 15-16, 2016
 Career Opportunities
If you have a relevant opportunity, list it in POI Pulse, reach us at
info@p-o-i.org
Church & Dwight
Manager, Pricing Analytics
The successful candidate will support the development of a best practice approach to maximizing profit/sales across the Church & Dwight portfolio through price analyses and recommendations that will achieve identified objectives by Brand. The Manager, Pricing Analytics will work internally across C&D functional groups to support the development of a sustainable model for Pricing Excellence. Learn more
Upcoming Events