Guest Column
Michael Gamage, Dir Consumer Sales & Trade Promotion, General Mills – Blue Buffalo 
POI Board Member
Found: The Biggest Obstacle to Sales Reporting
Did you ever wonder why your new reports are not used? I have found the main reason visualized, real time, integrated reporting doesn't work is not the system but the people. Training a sales person to not rely on excel or e mail can be difficult as it's breaking a well-used and reliable habit. I have twice had a team implement Tableau reporting to provide system integrated reporting that pushes customized sales reporting straight to the persons desktop, email and phone. Despite this the requests for ad hoc reports that were available with a couple of clicks never ended.
The key to unlocking success in reporting became clear after we did some digging in that it's the Organizational Change Management that is required. When I became frustrated with the lack of use of what myself and my team saw as amazing work we decided to interview our users and find out why they were not using it. The answer was clear and universal "I don't want to have to click or go someplace to get my reports". We all thought this seemed odd as they had to click and go someplace to get the reports anyway so what was the real obstacle.
We had to find a better path forward to overcome the lack of use and to put the investment in the system and reporting to work. We knew we had a great product to help the sales people but needed to find a new path forward.
We decided we needed a champion for our cause. We elicited the SVP a person who was admittedly challenged when it came to technology but willing to try. We showed him the value in the tools we built and how if his team used them the entire organization would be better informed and make better decisions. Once he was on board and started requiring his people to use the tools and show him data and reports from it the world changed. The sales team pivoted and moved (with some additional assistance) to using the tools provided and the impact was felt immediately.
So, despite our initial observation that we were going to have to train the sales people to use a mouse we found a better path.
Organizational Change Management is hard; it requires work and teams willing to do something that they may or may not be trained in. This often-overlooked discipline is rarely taught in business school and requires leaders to not only invest in it but focus on it.
I wanted to share my observations, hopefully this helps some of you that are struggling to get the organization to move forward. I don't sell software nor do I do OCM work but after many conferences hearing the same frustrations I wanted to share one way my team found a way around the obstacles.
Industry News
Hershey Blends Digital, Physical Elements Source: (Candy Ind May 17, 2018)
 "Our report outlines Hershey's commitment to putting the shopper first," said Doug Straton, chief digital commerce officer, The Hershey Co. "As we deepen our understanding of when, where and how people search for snacks, we're building a stronger muscle for advising our retail partners in an environment where shoppers seamlessly move between digital and physical retail. Learn more
Nestlé and Starbucks Prove Complimentary Value Source (Int'l Supermarket News May 18, 2018)
Nestlé has consolidated its position as the leading coffee player in emerging markets, where the majority of coffee profits will be generated over the decades to come. Learn more 
Walmart Sees Momentum in Online Sales Source: (Food Biz May 18, 2018)
"We delivered a solid first quarter, and we're encouraged by the continued momentum across the business," said Doug McMillon, president and chief executive officer of Walmart. "We're transforming to better serve customers. We are changing from within to be faster and more digital, while shaping our portfolio of businesses for the future." Learn more
Kroger Unveils Alliance with UK Digital Grocer Ocado Source: (Cincinnati.com May 17, 2018)
"We are actively creating a seamless digital experience for our customers – our partnership with Ocado will speed up our efforts," Kroger CEO Rodney McMullen said. Learn more
Target's Beauty Aisle Goes Digital Source: (DSN May 16, 2018)
 In an effort to streamline how its customers navigate its cosmetics offering, Target is testing an augmented reality solution. Target Beauty Studio, a solution that merges AR, AI, and real-time facial mapping technology to enable customers to virtually try on makeup. Learn more
POI Webinar Series – Setting the Right TPM Foundation:
Case Study with California Olive Ranch
This session will review:
– Review Industry challenges in core TPM capabilities
– Understand the California Olive Ranch business situation prior to the TPM Foundation implementation
– Review the benefits post go-live
– Discuss the lessons learned
View Details, and register complimentary today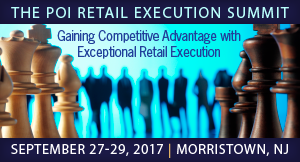 Don't miss the next POI Summit!  
"Congratulations on another terrific and successful event! POI has become one of the industry's leading events that truly makes a difference and can impact what CPG manufacturers need to do today! I found all of the sessions I attended to be very informative and overall very well done."
Denny Belcastro, VP, Kimberly-Clark
Presentations from the Recently Concluded POI Spring Annual Summit are available  at: https://poinstitute.com/events/past-events/
Campbells Soups Up its E-Commerc e Strategy Source: (Dig Commerce May 15, 2018)
Campbell Soup Company's e-commerce strategy is simple: Win the consumers in digital, says Shakeel Farooque, VP, Head of Digital and E-Commerce for Campbell. Learn more
Walmart is Beating Amazon at its Own Game Source (AOL May 16, 2018)
Walmart's US e-commerce growth has outpaced Amazon's, and that trend likely continued in the first-quarter of 2018. Learn more
How Can Global Brands Overcome Ramadan as a Tickbox Exercise? Source: (The Drum May 15, 2018)
Many brands seem to freak out about getting involved in Ramadan or are reticent due to risks of Islamophobia or hardline backlashes. But while brands may feel stuck in a quandary, Coca-Cola Kenya which runs both Christmas and Ramadan ads has masterfully shown a brand can navigate this rock and a hard place confidently. Learn more
Lidl Promotes Brands and New US President Source: (FoodDive May 19, 2018)
Lidl is also running promotions centered heavily on national brands like Coca-Cola and Kettle Chips, an unusual move for a company that prides itself on a portfolio that's roughly 90% private label products. Learn more