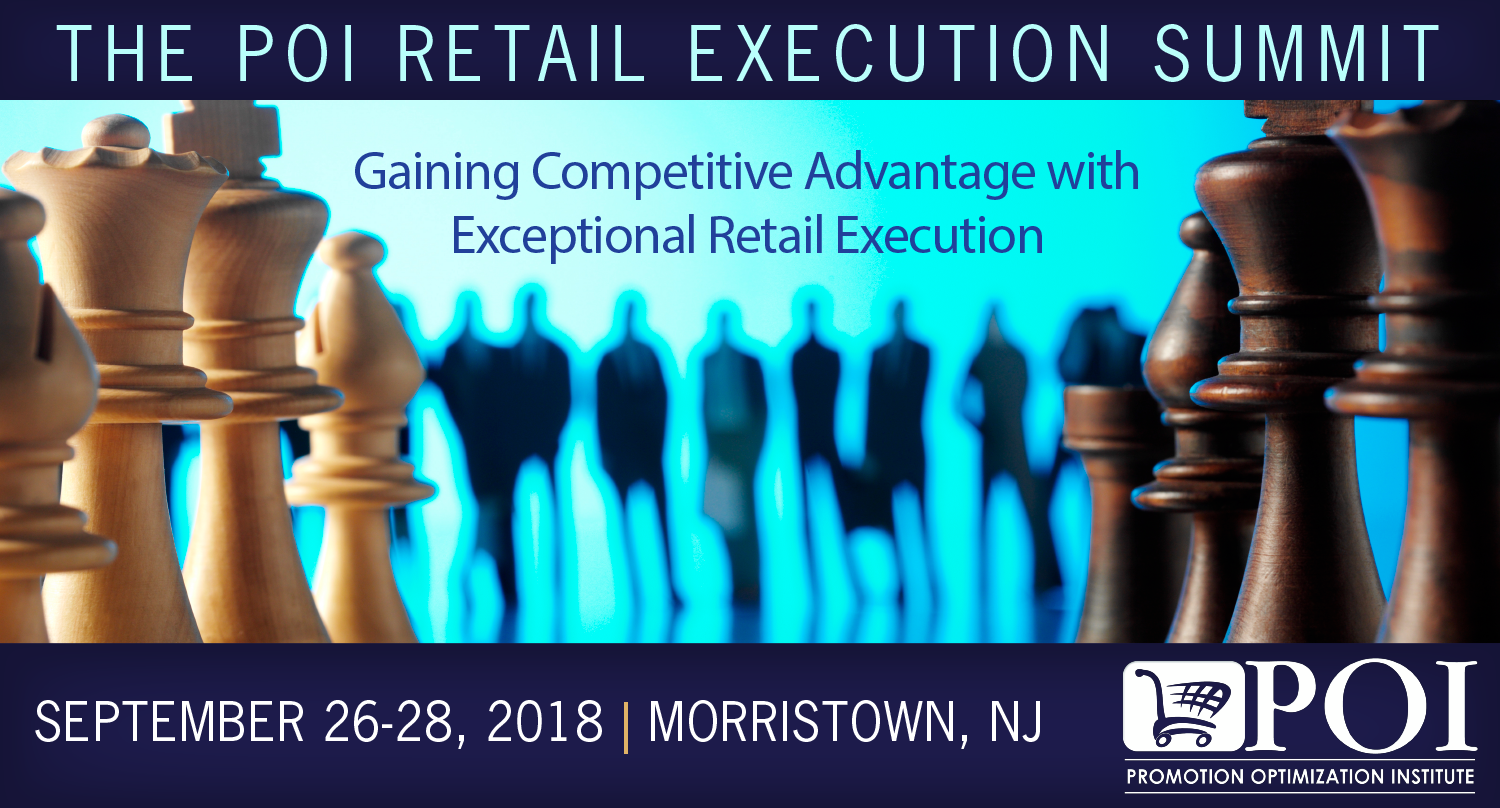 We are once again thrilled to piece together the agenda for the Retail Execution Summit 
http://bit.ly/POIReSummit2018
. It comes at an absolutely critical time because our 2018 POI Survey and research on the State of TPx and Retail Execution indicate that:
* Overall satisfaction with the ability to execute at retail declined by 3 percentage points from the prior year. Only 60% express some satisfaction, of which two thirds say they are only "somewhat satisfied."
* 81% of respondents have challenges finding tools that enhance Retail Execution worker productivity. This is 5 percentage points worse than last year.
* 90% of respondents say they have challenges moving capabilities from transactional to analytical.
* Many Retail Execution solutions being used today do not enable field-based users to make appropriate decisions at the store level. Only 13% feel strongly that they have the tools they need to make such decisions. Some of this is due to a lack of off-line capabilities.
Only 35% of survey respondents say that their off-line needs are being met and this figure declined by 16 percentage points from prior year.
* Among office-based users, only 22% are fully satisfied that their analytical needs are being met. This impedes users from generating insights and managing field-based personnel.
This data points to a sort of "perfect storm" given how aggressive eCommerce players like Amazon, Alibaba, and Taobao have become. Hence, being able to execute at retail has never been more critical, regardless of your route to market. The rewards are huge for those companies who can get it right, and that is the impetus behind this report.
Here, at the RE Summit, we will identify, and share best practices from your CPG and Retailer or implementation partners. The POI 2018 Survey found that only 13% felt strongly that they received best practices in combination with their solution. You will find out the background(s) of those who are expected to deliver them. Then, document precisely the sort of best practices you are looking for and make this part of the scope of work both in physical retail and eCommerce. 
Learn more, and access the complete report
Understand how these capabilities fit in, avoid unnecessary hype, and begin to prepare for their adoption based on their ability and proclivity to do so. These include:
Voice recognition
Artificial intelligence
Predictive modeling
Virtual reality
Advanced gamification (compensation-based Monte Carlo simulation)
Industry News
Kroger Launches Digital Shopper Insights for Brands Source: (PR Newswire May 30, 2018)
 Kroger will introduce a new self-service marketing platform next week called Boosted Products in Search that will allow brands to reach digital shoppers through promoted, hyper-relevant search results across Kroger's digital channels. Suppliers who use the platform will also be able to view performance metrics in real-time. 
Learn more
New Strategies Help Campbell Soup Heat Up Source: (Wharton May 30, 2018)
Campbell Soup also faces a threat from the omnipresent Amazon. Both companies have entered the market for ready-to-cook meal kits, and Campbell Soup is up against "very aggressive" pricing from Amazon in this space, said Riis. 
Learn more
Local Emphasis Central to Mondelez's Global Strategy Source: (Food Biz News June 1, 2018)
 Top-line growth will come from a decentralized go-to market strategy and a more agile innovation process, including the local consumer (Dirk Van de Put, CEO Mondelez), said. "While we feel that the world is more connected than ever, the differences between consumer behaviors and what they really want are bigger than ever. And they're driven by online and the availability of any product at anytime, anywhere said Dirk Van de Put, CEO Mondelez. 
Learn more

POI Webinar Series – Setting the Right TPM Foundation:
Case Study with California Olive Ranch
This session will review:
– Review Industry challenges in core TPM capabilities
– Understand the California Olive Ranch business situation prior to the TPM Foundation implementation
– Review the benefits post go-live
– Discuss the lessons learned
View Details, and register complimentary today
Nestlé Social Media Campaign – #ChooseWater Source: (Food Dive May 30, 2018)
 Nestlé Waters is hoping to boost awareness for its #ChooseWater initiative by partnering with WWE, which comes with a niche but extensive viewership and social media following.  
Learn more
Candidates include Nestlé, Keurig Green Mountain, M & M Mars, Topco, InnovAsian Cuisine,  Johnson & Johnson,
Anjimoto Windsor Foods, Sprout Organic, Constellation Brands, Best Market and others.  Your next chance to becoming a Certified Collaborative Marketer (CCM) begins 
June 13 – 14
at Saint Joseph's University in Philadelphia, PA.
Don't miss the next POI Summit!
"Congratulations on another terrific and successful event!
 POI has become one of the industry's leading events that
truly makes a difference and can impact what CPG manufacturers need to do today! I found all of the sessions
I attended to be very informative and overall very well done."
Denny Belcastro, VP, Kimberly-Clark
When Sales & Marketing Don't Align, Both Suffer Source: (Harvard Bus. Review June 1, 2018)
Marketing and sales departments often set their strategies, and goals, separately from each other. Our research on B2B sales management found that in particular, a common problem is lack of alignment around product pricing and sales force compensation strategies.
 Learn more
Walmart Launches Order-By-Text Service Source: (CNBC May 31, 218)
 "Our eCommerce strategy has been focused on three elements: nailing the fundamentals, leveraging our unique strengths to play offense and innovating for the future," Marc Lore, said about Jetblack. "Powered by conversational commerce, the future of retail will bring convenience and high-touch personalization to the forefront for consumers everywhere."
 Learn more