CPG Manufacturers/Retailers: Click Here to Access your POI Complimentary Pass to the Fall Dallas Summit. 
Download the POI November 2022 summit Fact Sheet here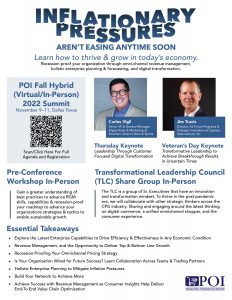 View the Completed Agenda/Program Guide from the April 2022 POI Summit Here
About the POI Fall Hybrid (Live/Virtual) Summit:
 You've experienced the overwhelmingly successful in-person and Hybrid POI Chicago, Berlin, and Canada Summits in communities 2022.  As first movers plus a growing global community, we are continuing to adapt, and lead through shifting economies and Consumers and together move through the challenges brought on by inflation, supply chain constraints to improve our commercial capabilities. We're succeeding with our teams, families, and customers.  As we evolve, the POI team maintains consistent communication with Members and industry, remaining connected and committed to help you thrive in the emerging new reality.
The POI Fall Hybrid Summit takes education, best practices, and in-person networking to a new level and will deliver strategies and tactics specific to global and local markets.
Advancing to a New Reality through any economic condition: It thrills POI to announce that the POI Fall Hybrid Summit will be live at the Westin Galleria Dallas, November 9-11, 2022, with the pre-summit workshop and Transformation Leadership Council on November 9.
All of the POI staff cannot wait to greet the attendees once again in Dallas in November. 
You'll leave this Summit networking around and knowing:
A clear understanding of how RGM, AI Machine Learning, TPM, TPO, and Predictive Analytics drives trading partner results in times of certainty and uncertainty, including Global and local strategies to recession-proof your business.

How to support your organization, consumers, and retailer partners though personal and business disruption with processes, skills and digital tools.

How the accelerated speed of change affects demand models and how best to respond to an extremely dynamic landscape.
eCommerce and Omnichannel strategies to reach shoppers now with targeted offers where they want to be reached in any economic condition.
Effective Revenue Growth Management strategies refined through better use of data across channels.
How to integrate mobile marketing, sales effectiveness, and insights into your promotional results plus shopper loyalty.
To what extent a shared responsibility on retail execution improves mutual results through and post-pandemic, including Customer Experience.
How trading partners can succeed with Hybrid Joint Business Planning strategies and the benefits of execution.
Insights on how pricing and RGM teams can prepare revenue strategies that address coming uncertainties.
New relationships with Industry Peers to advance your company and personal goals.
In-depth view of the latest technologies via Demo Sessions (New for POI Dallas)!
To view testimonials, please click here
If you would like to view the completed agendas for the past POI Summits, please click here
POI Members can reach Joanie Malin for their complimentary pass at jmalin@p-o-i.org