POI Pulse December 12, 2016 PUBLISHED BY PROMOTION OPTIMIZATION INSTITUTE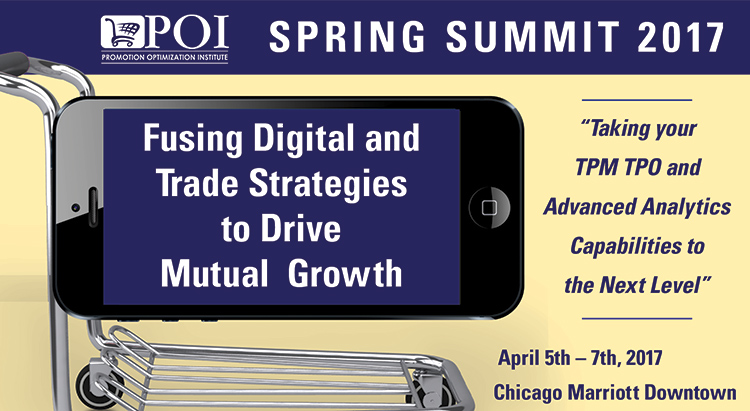 ast Year's Spring Summit was Sold Out – Reserve Your Spot Now!
Click here to register today – All Registrants receive a recorded copy
Pernod Further Expands in Craft Spirits
Source: (Reuters December 9, 2016)

With small, independent distillers popping up and taking market share worldwide, spirits giants such as Pernod Ricard and Diageo have responded with premium products that tout small batch production and local credentials.  This investment illustrates perfectly our strategy of partnering with rising entrepreneurs sharing the same passion for authentic, high-quality brands," said Pernod Ricard CEO Alexandre Ricard. 

Learn more

Four Business Models for the Digital Age

Source: Strategy + Business Dec. 8, 2016)Opportunities for companies in every industry are occurring on two critical dimensions: knowledge of the end customer and business design, i.e., breadth of product and service offerings. These dimensions combine to form four business models for creating value (see exhibit): Suppliers, Multichannel Businesses, Modular Producers, and Ecosystem Drivers.

Learn more 

Make plans now to join over 300 of your CPG and Retailer Peers

at the next progressive

POI Spring Summit in Chicago at the Downtown Marriott.

 Teams already registered include:

Kroger, Colgate Palmolive, Mondelez, Kraft-Heinz, Starbucks, Wells Enterprises, ConAgra, Dean Foods, Mondelez, Walgreen's, JM Smucker, Del Monte, Church & Dwight, Kellogg, Rich Products, Red Bull, Bimbo Bakeries, MillerCoors, Topco, Constellation Brands, Coca-Cola, L'Oreal, Johnson & Johnson, Shopko, Energizer, Musco Family Olive Co., Windsor Foods, Hormel, PepsiCo, Kimberly-Clark,Hy-Vee Stores,  Edgewell, Eagle Family Foods, Ainsworth Pet, Pinnacle Foods, Unilever, Meijer, and more.  The POI 2015 Spring Summit was sold out,

please register early

, as we'd love to see you advance with us!

5 CPG Responses Needed for The POI Annual TPx and Retail Execution Survey

All results will be reported in the aggregate; please see additional details on the research goals via the link. Thank you in advance for completing the survey.

PepsiCo Launches Premium Water Bottle Lifewtr
Source: (The Drum December 9, 2016)

"Lifewtr is a huge priority for us and an exciting global big bet, and we've worked hard to make a premium bottled water experience that combines the right mix of a clean, pure taste with eye-catching packaging and an authentic connection to the consumer said Brad Jakeman, president of PepsiCo's global beverage group. We can't wait to bring this brand to consumers around the world, beginning with the United States."

Learn more

View the Full Calendar of POI Events for 2017, and Make Plans Early

The Promotion Optimization Institute International Events for 2017 are:

>POI Spring Annual Summit Chicago.

April 5-7

>European Summit, Amsterdam. 9-11, May

>POI Retail Execution Summit, NY/NJ

Sept. 26-28

>POI Fall Annual Summit, Dallas,Westin

Nov. 1-3

.

Millennials Demand More from Holiday Shopping
Source: (USA Today December 9, 2016)

Whether it's demanding unique gifts or paying heed to charity, Millennials are putting their own distinctive stamp on the holiday retail experience.  A Nielsen survey found that by Nov. 23, 70% of shoppers between the ages of 18 and 34 who'd already begun their gift buying purchased something online. That's compared with 34% of that age group who shopped in a department store and 64% overall.

Learn more

General Mills New Global Organizational Structure
Source: (FoodBizNews December 2016)

General Mills will establish a new global revenue development group, including the functions of strategic revenue management and e-commerce, which will report to Mr. O'Grady. The company plans to name a new global chief marketing officer and marketing innovation leader, who will report to Mr. Harmening.

Learn more

Ahold Delhaize Update on Combined Strategy
Source: (Supermarket News Dec. 7, 2016)

"So how to create also the excitement in the U.S. with smaller stores is still something we're working on, but we still believe these are our areas of new growth and new opportunities in a changing environment of our customer, where the demand is more convenience," he said.

Also in the U.S., Ahold Delhaize has begun the process of negotiating with vendors, with 35% of national brand deals closed so far and a completion target for all national brand deals of 1Q 2017, said Frans Muller, deputy CEO and chief integration officer. Negotiations will include 240 national-brand suppliers, 30 fresh suppliers and 130 own brand suppliers. 

Learn more

Webinar – Win at the Shelf-Take Retail Execution to New Levels

December 14th

, 

10:00-11:00AM

Pacific Time (UTC-8)Many consumer goods companies suffer from in-store execution challenges, which inhibit their sales growth and position them as less-than-optimal trading partners by retailers. Many have come to see retail execution as a cost of doing business instead of a competitive weapon that can deliver the desired sales growth. However, new capabilities have emerged across the spectrum of go-to-market models (DSD, van sales, warehouse delivered, and distributor management) that represent a new level in retail execution.

Register today

Celebrating POI's 8th Anniversary Today…92 to Go!

Exactly eight years ago, a handful of highly dedicated professionals, founding members and sponsors, plus industry leaders decided to join me in founding the Promotion Optimization Institute (POI). Looking now at the adversity we continue to overcome, it makes sense that we were born in the heart of The Great Recession to advance the practices of Trade Marketing, Merchandising, and Trading Partner Collaboration.

Since then, our now globally connected community has grown to exceed 6,700 individuals who represent some of the world's greatest Brands, Banners, and  talent in Retail and CPG Sales, Marketing, Finance, Supply Chain, Merchandising, Retail execution, and Information Technology focused on continuous improvement.

We are extremely proud of our many achievements over the past years, and humbly recognize that our success is testament to our membership's deep commitment to profitable and mutual growth.  Together, we continuously improve on the critical needs for the highest quality education, practices, research, advisory, and focused events at POI. We are thankful to everyone who has contributed their time, energy and resources to help the POI achieve so many successes, both internally and externally, by supporting the Certified Collaborative Marketer, responding to research requests, networking at our leading events, as well as numerous peer to peer mentoring and outreach activities around RFI's and RFP's.

We also recognize that the POI has become more than a trusted resource for our members; with the addition of Dale Hagemeyer, Partner, POI, we remain a leading authority for advice on process, skills, and technology to advise all members for their best success on their journey across trade promotion, retail execution, and collaborative promotion optimization.

This anniversary also gives us an occasion to formally acknowledge the loyalty and support of the hundreds of companies responsible for our success over the past decade. Through your commitment, the POI continues to be the standard-bearer for advancing pricing, and promotion excellence. We appreciate your ongoing support by sharing our story with your friends, and co-workers, to attend a POI Summit, and consider becoming a member of the POI.

Join us in celebrating this important milestone throughout 2017, as we highlight numerous POI projects (including the current POI TPx and Retail Execution study), people who lead by example, webinars, and events that honor, and celebrate their tremendous accomplishments across teams and trading partners. Plan now to join us in Chicago, IL, Amsterdam, NE, Teaneck, NJ, and Dallas TX (at the Westin Galleria) for the next great steps, learnings, and accomplishments in the ever-changing world of CPG and Retail.

So many have expressed to me that they can't imagine the world before the POI, yet it seems that the years have quickly flown by. With so much to look forward to in the coming decade, we appreciate your help, and active role in keeping the POI a relevant, vibrant, and active community, and we sincerely invite you to share your thoughts with us by dropping us a note at

mkantor@p-o-i.org

, or

dhagemeyer@p-o-i.org

Sincerely,

Michael Kantor, and the entire POI Team

Have an outstanding week!

Happy Holidays, and Merry Christmas!

Michael Kantor, CEO and Founder,POI
Save the Date 9-11, May 2017 Amsterdam!
 Career Opportunities
If you have a relevant opportunity, list it in POI Pulse, reach us at
info@p-o-i.org
FedEx Careers
Revenue Management & Pricing Analyst
The Revenue Management and Pricing Analyst is expected to execute strategic plans, influence change and foster accountability to ensure the revenue and pricing goals of FedEx Custom Critical (FCC) are accomplished. The analyst provides meaningful analyses which guide the organization in maintaining and improving its competitive position in the marketplace while enhancing profitability and creates actionable reports to measure initiatives. 
Learn more
Church & Dwight
Manager, Pricing Analytics
The successful candidate will support the development of a best practice approach to maximizing profit/sales across the Church & Dwight portfolio through price analyses and recommendations that will achieve identified objectives by Brand. The Manager, Pricing Analytics will work internally across C&D functional groups to support the development of a sustainable model for Pricing Excellence.
Learn more