POI Pulse December 19, 2016 PUBLISHED BY PROMOTION OPTIMIZATION INSTITUTE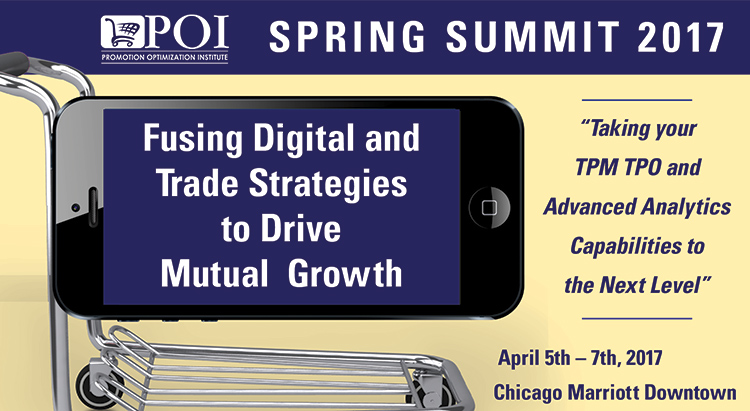 Last Year's Spring Summit was Sold Out – Reserve Your Spot Now!
World's Future Home For Digital Commerce Growth

Source: (Forbes December 14, 2016)

Already South Korea has become a leading online grocery market as the long-held tradition of visiting supermarkets declines in popularity. In 2015, 10% of all groceries were bought online with one-third of all rice, pasta and noodles and 45% of all baby food sold online. 

Learn more

Global Supermarket sales are over $2 trillion annually
Source: (International SN December 16, 2016)

As per First Research's industry profile released in November, global grocery store and supermarket sales total over $2 trillion annually, with the leading 15 retailers accounting for more than 30% of worldwide sales.  The report titled Grocery Stores & Supermarkets Industry Profile, includes Industry Overview, Trends & Challenges, Industry Forecast, Quarterly Industry Update and Business Challenges. 

Learn more, view report 

Make plans now to join over 300 of your CPG and Retailer Peers

at the next progressive

POI Spring Summit in Chicago at the Downtown Marriott.

 Teams already registered include:

SC Johnson, Bayer, Goya Foods, Kroger, Colgate Palmolive, Mondelez, Kraft-Heinz, Starbucks, Wells Enterprises, ConAgra, Dean Foods, Mondelez, Walgreen's, JM Smucker, Del Monte, Church & Dwight, Kellogg, Rich Products, Red Bull, Bimbo Bakeries, MillerCoors, Topco, Constellation Brands, Coca-Cola, L'Oreal, Johnson & Johnson, Shopko, Energizer, Musco Family Olive Co., Windsor Foods, Hormel, PepsiCo, Kimberly-Clark,Hy-Vee Stores,  Edgewell, Eagle Family Foods, Ainsworth Pet, Pinnacle Foods, Unilever, Meijer, Fernandez Markets, and more.  The POI 2015 Spring Summit was sold out,

please register early

, as we'd love to see you advance with us!

Online Shoppers View Supermarkets for Stock-Ups
Source SN December 13, 2016)

The study compared online orders for the same week from 19 multichannel supermarket banners that offer traditional and online grocery service and found that more than half generated online baskets of between $120 and $180. That's considerably larger than the average online order size reported for FreshDirect ($105) and Amazon Fresh ($84), in a separate study. Learn more

3 CPG Responses Needed for The POI Annual TPx and Retail Execution Survey – Reserve Your Copy

All results will be reported in the aggregate; please see additional details on the research goals via the link. Thank you in advance for completing the survey.

View the Full Calendar of POI Events for 2017, and Make Plans Early

The Promotion Optimization Institute International Events for 2017 are:

>POI Spring Annual Summit Chicago.

April 5-7

>European Summit, Amsterdam. 9-11, May

>POI Retail Execution Summit, NY/NJ

Sept. 26-28

>POI Fall Annual Summit, Dallas,Westin

Nov. 1-3

.

New products from Kellogg, Utz – Snack Report
Source: (FoodBizNews December 16, 2016)

"Just as pumpkin spice is paired with fall, cinnamon is the perfect complement to the holiday season; which is why our Utz Holiday Cinnamon Pretzel Sticks are eagerly anticipated by our consumers," said Jeff Martin, executive vice-president of sales and marketing for Utz. "Our consumers will love this delicious treat, and they'll also have an easy-to-follow recipe on the back of the bag for white chocolate-dipped Cinnamon Pretzel Sticks that we believe no one can resist." said Jeff Martin, executive vice-president of sales and marketing for Utz

The Kellogg Co.'s Pringles brand is serving a sweet seasonal flavor: Sugar Cookie. The new holiday snack joins Pringles' other seasonal flavors, which include Pecan Pie and Salted Caramel. 

Learn more

Webinar – Win at the Shelf-Take Retail Execution to New Levels

December 14th, 

10:00-11:00AM

Pacific Time (UTC-8)

Many consumer goods companies suffer from in-store execution challenges, which inhibit their sales growth and position them as less-than-optimal trading partners by retailers. Many have come to see retail execution as a cost of doing business instead of a competitive weapon that can deliver the desired sales growth. However, new capabilities have emerged across the spectrum of go-to-market models (DSD, van sales, warehouse delivered, and distributor management) that represent a new level in retail execution. See the On Demand Webinar today

 Promotion Optimization Institute (POI) – A Year in Review

This year marked an impressive milestone for POI – our 8th anniversary.

It is truly incredible to look back at the progress we have made as an Association and as an

industry over the past years.

This year, POI has grown to encompass a global network of more than 4,700 industry professionals, with our membership today taking on, and achieving more today than in the previous two decades.

These changes, due in part to technological advancements, increased regulation, and changing consumers have affected distribution channels, trading partner relationships, and, in many instances, helped spur competition.

While we are proud of recent progress, we have not lost focus on the future.

As you are well aware, our industry continues to face strong headwinds – market pressures,

constant cost cutting, and an uncertain political landscape in the U.S. and Europe.

 Acknowledging this reality, the POI is working to build an even more engaged and impactful organization that can continue to effectively advocate, educate and communicate necessary trends, and needed advancement for Sales, Marketing, and Merchandising Executives.

2016 Accomplishments included The POI Inaugural TPx and Retail Execution Survey and Report, used by POI Members to benchmark their efforts, and identify areas for improvement.  The POI Spring 2016 Summit in Chicago was sold out, with more Manufacturers taking on new projects than ever before. The POI European Summit in May, in Brussels, BE was a tremendous success with our growing community in the face of extreme adversity. The POI Webinar Series reached over 2500 unique professionals across the globe.  The Inaugural POI Retail Execution Summit was a success, with engaged professionals lauding the focus, takeaways, and new ways to collaborate across teams and trading partners.  This included a deep dive on On Shelf Availability and the Substantial ROI for improved capabilities.  2016 was also the year of POI Poster Sessions!  These micro projects, and integration with leading universities provided additional thought leadership, innovation, and engagement with peers.  These efforts are especially important now as trading partners work to implement and harmonize new global systems, adjust to an evolving retail landscape, and set the stage to address challenges from Online Retailers that could directly and fundamentally impact our industry. 2016 is also the year of the POI TPx and Retail Execution Vendor Panoramas', where Consumer Goods companies now rely on these documents when considering technological advancements with their TPM, TPO, and Retail Execution capabilities.  Look for an update from the POI Team in early January here.

The POI's recent efforts on each of these topics, and more (including reports, and presentations, may be found, and are described in detail on

the POI Website here.

 The upcoming Holidays' present a great opportunity to catch up, and read through the wealth of POI Resources to prepare for a successful 2017!  Reach us with your thoughts, and needs.

As our year, and 8th anniversary comes to a close, I want to thank each of you for your support and dedication to making POI the leading voice of the global CPG and Retail industry focused on the distribution and promotion of Consumer Goods (TPM, TPO, Retail Execution, and Collaborative Marketing).

With your continued guidance, I am confident we can work together to build an even stronger, more

connected POI Community that will advance the interests of our industry now and for years to come. We  wish you all a Merry Christmas, Happy Hanukkah, and our best wishes for every success (work, family, health) in 2017!  See you in Chicago, Amsterdam, New Jersey, and Dallas!!

Sincerely,

Michael, Dale, and the entire POI Team

Michael Kantor, CEO and Founder,POI
Save the Date 9-11, May 2017 Amsterdam!
 Career Opportunities
If you have a relevant opportunity, list it in POI Pulse, reach us at
info@p-o-i.org
FedEx Careers
Revenue Management & Pricing Analyst
The Revenue Management and Pricing Analyst is expected to execute strategic plans, influence change and foster accountability to ensure the revenue and pricing goals of FedEx Custom Critical (FCC) are accomplished. The analyst provides meaningful analyses which guide the organization in maintaining and improving its competitive position in the marketplace while enhancing profitability and creates actionable reports to measure initiatives. 
Learn more
Church & Dwight
Manager, Pricing Analytics
The successful candidate will support the development of a best practice approach to maximizing profit/sales across the Church & Dwight portfolio through price analyses and recommendations that will achieve identified objectives by Brand. The Manager, Pricing Analytics will work internally across C&D functional groups to support the development of a sustainable model for Pricing Excellence.
Learn more