POI Pulse December 5, 2016 PUBLISHED BY PROMOTION OPTIMIZATION INSTITUTE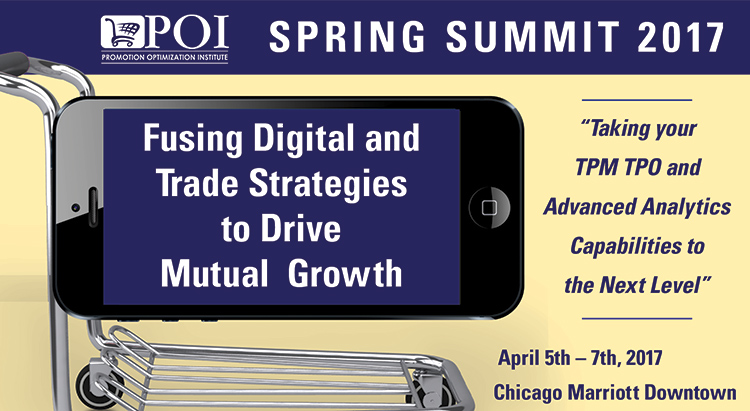 Last Year's Spring Summit was Sold Out – Reserve Your Spot Now!
Piggly Wiggly – Master of Invention

Source: (Grocery HQ

Dec. 1, 2017

)

"Cost Plus is a concept that has really taken hold in the South," says David Bullard, president and CEO of Piggly Wiggly Alabama Distributing Co. Bullard says there are 35 Cost Plus, around 10 to 15 percent of his store base. 

Learn more

Make plans to join over 300 of your CPG and Retailer Peers at the next progressive

POI Spring Summit in Chicago at the Downtown Marriott.

 Teams already registered include:

Starbucks, Wells Enterprises, ConAgra, Dean Foods, Mondelez, Walgreen's, JM Smucker, Del Monte, Church & Dwight, Kellogg, Rich Products, Red Bull, Bimbo Bakeries, MillerCoors, Topco, Constellation Brands, Coca-Cola, L'Oreal, Johnson & Johnson, Shopko, Energizer, Musco Family Olive Co., Windsor Foods, Hormel, PepsiCo, Kimberly-Clark,Hy-Vee Stores,  Edgewell, Eagle Family Foods, Ainsworth Pet, Pinnacle Foods, Unilever, Meijer, and more.  The POI 2015 Spring Summit was sold out,

please register early

, as we'd love to see you advance with us!

Last Chance to be Included in The POI Annual TPx and Retail Execution Survey

All results will be reported in the aggregate; please see additional details on the research goals via the link. Thank you in advance for completing the survey this week.

Why Shoppers Will Be Looking Beyond Low Prices Post-Brexit
Source: (The Drum December 2, 2016)

 For retailers, an increased focus on improved services, coupled with easier ways to shop and find products, will

encourage shoppers to remain loyal to them. For brands, added value can be provided through traditional means such as free gifts with purchase or competitions, as well as through a proposition that is aligned to shoppers' needs. 

Learn more

Starbucks Shultz Shifts from Daily Grind
Source: (Bloomberg Dec. 2, 2016)

 With more and more shopping done online, Howard Schultz, Chairman and CEO has said he wants to emulate the brick-and-mortar retail experiences offered by innovators like Nike and Apple. 

Learn more

View the Full Calendar of POI Events for 2017, and Make Plans Early

The Promotion Optimization Institute International Events for 2017 are:

>POI Spring Annual Summit Chicago.

April 5-7

>European Summit, Amsterdam. 9-11, May

>POI Retail Execution Summit, NY/NJ

Sept. 26-28

>POI Fall Annual Summit, Dallas,Westin

November 1-3

.

Kroger Finds Inspiration in Deflation

Source: (FoodBizNews Dec. 2, 2016)

"We don't change our strategy based on quarterly swings and results," Mr. McMullen said. "We remain committed to delivering on our long-term earnings per share growth rate target of 8% to 11%, plus an increasing dividend on a three- to five-year time horizon. We will continue to try to win every customer meal by driving our strategy and reacting appropriately to the environment."  Natural, organic and health and wellness remain top trends and areas of priority for Kroger.

Learn more

"Using Downstream Data to Put the "M" in TPM"

Summary: The consumer goods industry continues to struggle with the promotion and distribution of its products despite many years or focusing time and resources. New ways of utilizing downstream data can improve the execution of better trade promotions from the creation of a "smarter" offer to ensuring monitoring how it is performing along the way, and finally to ensuring that there is ample product on the shelf to meet demand. Thus, downstream data and vastly improve the entire cycle of managing promotions.

You may ask how big the problem is. It is widely known that most trade promotions do not achieve positive ROI and that spending on such promotions comprises and average 25% of revenues across the industry. But to dimensionalize the problem/opportunity we surveyed the most appropriate critics, the consumer goods companies that are engaged in the trade promotion process. Here is what we found:

Of the 75 consumer goods companies of various sizes and geographic scopes that we surveyed in 2015 only 21% are satisfied. It is very telling that none said they are very satisfied. And since, we would argue that "somewhat satisfied" has room for improvement there is still much to be done and money to be made by putting the M in TPM.

And furthermore, these numbers are not improving. The POI is executing the same survey for 2016 and preliminary data based on 61 responses has zero being extremely satisfied and only 12 being satisfied. But the dissatisfied total has now gone up from 43% in 2015 to 52% as of this writing and before the survey has finished. It will certainly be interesting to see how it nets out but this is not a good sign!

Here we explore how downstream data plays a significant role in improving the entire promotional cycle from planning to executing to monitoring to evaluating and optimizing promotions. To reserve a copy of the complete report, manufacturers and retailers can write to

mkantor@p-o-i.org

.  To be included in the 2017 POI TPx Retail Execution Survey access and complete the survey this week.

Dale and I thank you in advance (you'll get a complete copy of the report, plus other benefits), and look forward to working together to improve all aspects of the promotion and distribution of consumer goods.

Save the date:

April 5-7

for the POI Spring Annual Summit – Fusing Digital and Trade Strategies to Drive Mutual Growth. Downtown Marriott, Chicago, IL

View more here

Have a Sensational Week!

 Michael Kantor, CEO and Founder,POI
Save the Date 9-11, May 2017 Amsterdam!
 Career Opportunities
If you have a relevant opportunity, list it in POI Pulse, reach us at
info@p-o-i.org
Church & Dwight
Manager, Pricing Analytics
The successful candidate will support the development of a best practice approach to maximizing profit/sales across the Church & Dwight portfolio through price analyses and recommendations that will achieve identified objectives by Brand. The Manager, Pricing Analytics will work internally across C&D functional groups to support the development of a sustainable model for Pricing Excellence. Learn more