POI Pulse November 28, 2016 PUBLISHED BY PROMOTION OPTIMIZATION INSTITUTE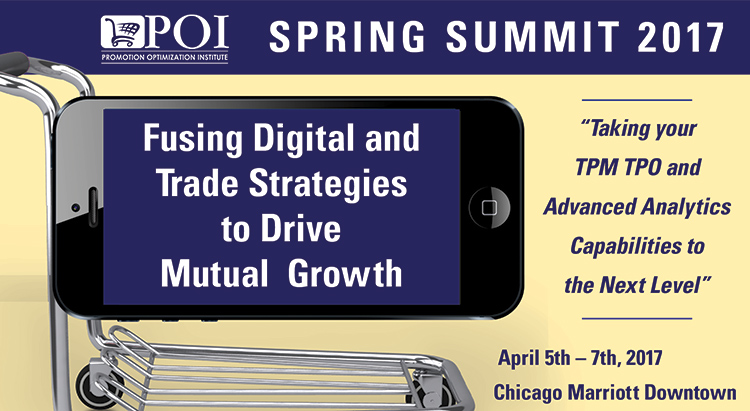 Last Year's Spring Summit was Sold Out – Reserve Your Spot Now!
Hormel Growth Includes More Deals
Source: (Star tribune, Nov. 27, 2016)

Hitting the gas on growth – Hormel's long-term goal is for regular annual gains of 5 percent in sales and 10 percent in profits – isn't easy for a firm that's already large and whose best-known products, like Spam and Black Label bacon, are well-established. 

Learn more

P&G Cutting Agencies to Optimize Marketing Spend
Source: (Marketing Week Nov. 21, 2016)

P&G has reduced the number of PR and advertising agencies it works with by around 50%, as it looks to make further efficiencies around its promotional spending. P&G is now looking to tailor the ads to be more effective in creating brand and benefit awareness based on how consumers view the media.

Learn more

Make plans to join over 300 of your CPG and Retailer Peers at the next progressive POI Spring Summit in Chicago at the Downtown Marriott.  Teams already registered include:
Dean Foods, Mondelez, Walgreen's, JM Smucker, Del Monte, Church & Dwight, Kellogg, Rich Products, Red Bull, Bimbo Bakeries, MillerCoors, Topco, Constellation Brands, Coca-Cola, L'Oreal, Johnson & Johnson, Shopko, Energizer, Musco Family Olive Co., Windsor Foods, Hormel, PepsiCo, Kimberly-Clark, Edgewell, Eagle Family Foods, Ainsworth Pet, Pinnacle Foods, Unilever, and more.  The POI 2015 Spring Summit was sold out, please register early, as we'd love to see you advance with us!

The POI Annual TPx and Retail Execution Survey

All results will be reported in the aggregate; please see additional details on the research goals via the link. Thank you in advance for completing the survey this week.

HEB's President on Investing in People
Source: (MIT Sloan School News)

Craig Boyan, President and COO at HEB aims for a feeling of "restless dissatisfaction," he said. "Think about the teachers you've been inspired by-they weren't the nicest or the sweetest-they set the bar really high and gave you hard problems to solve," Boyan said. "We have some very happy people, but our culture is restless dissatisfaction."

Learn more

Shoppers Curb Spending as They Chase Discounts
Source: (Bloomberg News November 27, 2016)

The weekend was characterized by heavy markdowns and a shift toward e-commerce, meaning there were smaller crowds at the mall. Forty-four percent of consumers did their shopping online, compared with 40 percent at brick-and-mortar stores. In either case, many of them were looking for just one thing: a good deal.

Learn more

View the Full Calendar of POI Events for 2017, and Make Plans Early

The Promotion Optimization Institute International Events for 2017 are:

>POI Spring Annual Summit Chicago.

April 5-7

>European Summit, Amsterdam. 9-11, May

>POI Retail Execution Summit, NY/NJ

Sept. 26-28

>POI Fall Annual Summit, Dallas,Westin November 1-3.

Smart & Final as a Destination, and Holiday Push
Source: (Supermarket News Nov. 23, 2016)

In support of stores anticipating their second biggest food shopping day of the year, around 200 employees at Smart & Final's corporate offices reported to work at its stores

Wednesday

, including its top executives. He noted the top selling item at Smart & Final would likely be five-gallon containers of peanut oil, a unique bulk item typically stocked for the company's business customers that becomes a destination buy with consumers shopping for special occasions.

Learn more

 Black Friday, and all the benchmarks, metrics, and sales (online vs Bricks) are proliferating the headlines this morning.  Of course the real measures around profitability will not be out for a few more days. I spend a lot of time in stores this past week, away from the reports, analysis, and trends, and count, observe, and delight in walking the stores. Every great experience in our industry that results from planning, forecasting, sales, marketing, pricing, promotions, finance, supply chain excellence, etc. including all the math, science, and psychology we do results in people enjoying great meals and times together, along with this – "At the East Avenue Wegmans (insert most any other), the parking lot was packed with cars coming in and out. Inside, the store is just as busy. Some people were there to just get that dessert they forgot to pick up. But others were there to get the entire dinner and the store isn't out of turkeys yet."

 Second Annual POI TPx and Retail Execution Survey to Close. 

First of all my heartfelt thanks to those who took the time to complete this year's survey. Also, a nudge of encouragement to those who didn't or had intended to but got caught up in the recent U.S. holidays. The POI is delighted to have completed this 2nd iteration of a survey that we remain confident will yield additional substantial insights over many years to come. Here is the link if you can take 9 minutes and complete the survey now. 

What the survey is telling us is that there are several topics where improvement has occurred, yet more is needed relative to the promotion and distribution of consumer goods in the marketplace (here is a summary of a few examples from the inaugural survey that should you complete the survey, you may compare against):

1.  Manufacturers are still not positioned where they need to be to be good collaborative partners to their retailers.

2. Another very telling finding of the survey is that solutions focused on managing trade promotion or retail execution are often being deployed but solution or service providers are not necessarily facilitating the transfer of best practices.

3. The third major factor that we are seeing has to do with change management. The issue is that before, during, or after a technology appointment there is not a sufficient focus on change management. As a result, users of the technology, which in this case often means the field force, may not feel like they fully understand how to use it.

4. The fourth significant finding from the survey is that manufactures are experiencing challenges justifying or building a business case for investment either to deepen their trade promotion capabilities or to acquire new ones.

Over the course of this past year we have touched on each of these topics deeply with you, and have included quantitative data, charts and details to help you better understand the depth and significance of some of these opportunities. This is the stated purpose of the POI – and more specifically the reason why we are doing this annual survey. So, please take a moment to complete the survey by going here.

Dale and I thank you in advance (you'll get a complete copy of the report, plus other benefits), and look forward to working together to improve all aspects of the promotion and distribution of consumer goods.
Here's to putting in place everything required for a more profitable and successful 2017!

Save the date:

April 5-7

for the POI Spring Annual Summit – Fusing Digital and Trade Strategies to Drive Mutual Growth. Downtown Marriott, Chicago, IL

View more here

Michael Kantor, CEO and Founder,POI

POI Pulse is read by over 5,200 Retail Merchandising and CPG Marketing Executives.
Sponsors of this week's issue of POI Pulse –
To advertise, reach us at: mkantor@p-o-i.org or call 914-319-7309
 Career Opportunities
If you have a relevant opportunity, list it in POI Pulse, reach us at
info@p-o-i.org
Church & Dwight
Manager, Pricing Analytics
The successful candidate will support the development of a best practice approach to maximizing profit/sales across the Church & Dwight portfolio through price analyses and recommendations that will achieve identified objectives by Brand. The Manager, Pricing Analytics will work internally across C&D functional groups to support the development of a sustainable model for Pricing Excellence. Learn more