E-Commerce Filing Reveals Perils of Third-Party Food Dealers Source:(Winsight Grocery Biz Jan 19,18)The company describes being at the mercy of having its authorization to sell revoked by its partners, which they may do if Tal Depot cannot meet any number of performance metrics including limiting defects, late shipments, cancellations and customer interactions. Learn more
Report: Kroger Edge and the In-store Shopping Exp
Source: (Retail Insights Jan 18, 2018)
Myxx's proprietary and sophisticated algorithm translates online food recipes into dynamic shopping lists while promoting retailers and key CPG brands, enabling online and in-store shopping via one customized site, myxxrecipes.com.Myxxrecipes.com is free for users and allows filtering for food preferences and dietary restrictions. Learn more
View the Preliminary Agenda – POI Spring Annual Summit April 11-13, Chicago – Collaborative Marketing Success via Next Generation Trade and Revenue Optimization
"Winning with TPx, Retail Execution, and Advanced Analytics Capabilities Across Channels"
For information, contact Mike Kantor at mkantor@p-o-i.org or (914) 319-7309
Register for this next world-class agenda,
Attendees already registered include:
Nestle, Mondelez, Mrs. T's, Wells Enterprises, Starbucks, Kimberly-Clark, Mars, Barilla, SCJ, VitaminShoppe, Organic Valley, Delicato Vinyards, Del Monte, Daisy Brand, CLIF Bar,Clorox, SCA, Pinnacle Foods, Hershey, Coca-Cola, Brookshire Grocery, Ahold, Pacific Foods, Marzetti, Johnsonville Sausage, Califia Farms, Ventura Foods, RXBAR, Tyson Foods, FLNA, Edgewell, Grupo Lala, Whirlpool, Dole Foods, Unilever, Bush Bros., Tree Top Foods, Welch's, Snyder's-Lance, Farmer John, General Mills, Kraft-Heinz, Diageo, Pernnod-Ricard, Sargento, PepsiCo, Windsor Foods, Deoleo, L'Oreal, ACH Foods, Colgate-Palmolive, Walgreen's, Hormel, Dean Foods, Constellation Brands, Blue Buffalo, Energizer, Borden Dairy, Bellisio Foods, Bimbo Bakeries, Sysco, Nestle, Kimberly Clark, Johnson & Johnson, Perfetti Van Melle, Kellogg's, JM Smucker, Church & Dwight, Keurig Green Mountain, Musco Family Olive, ConAgra, Ainsworth Pet Nutrition, Rich Products, and many others. By now you should have received your invitation. If not, reach me today at mkantor@p-o-i.org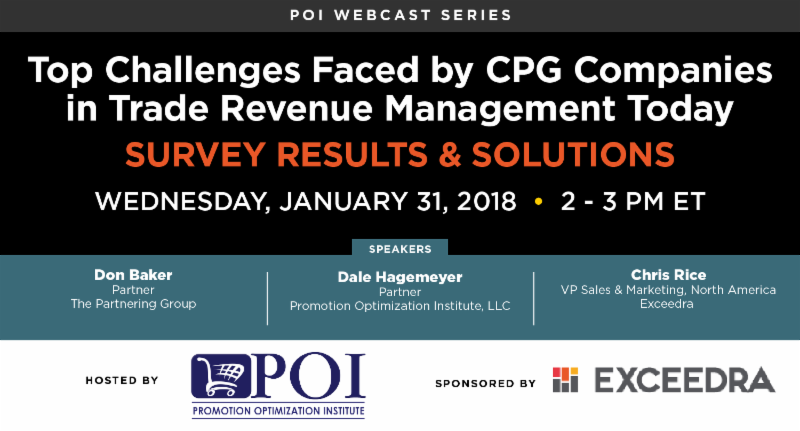 POI Webinar – Gain insights on practical solutions to the "The Top Challenges in Trade Revenue Management" faced by Consumer Goods companies based on a recent survey conducted by The Partnering Group and Exceedra.
In this one hour webinar, we will review the results of the survey, identify the top challenges, and offer practical solutions seen from client engagements including:
Improving post event analysis
Using Customer Segmentation within Trade Investment decision making.
Better managing funds allocation across segments
Arm teams to better deal with retailer mandates
Register today for this informative session, and clear takeaways
C-Stores are Now competing with Promotions, Pricing, and Loyalty
Source: (Chron News, January 21, 2018)
Convenience stores have responded to competition with price cuts, rewards and private-label products. Casey's is offering a discount on gas to customers who buy pizza, while Couche-Tard is doing "strategic promotions" at stores. Meanwhile, Murphy USA Inc., is launching a pilot loyalty program. Learn more
Presentations from the just concluded POI Fall Annual Summit are available to Attendees and POI Members now at http://bit.ly/Dallas17Presos
Whole Foods OOS Crisis-System or Strategy?
Source: (Business Insider Jan 18, 2018)
Under OTS, employees largely bypass stock rooms and carry products directly from delivery trucks to store shelves. It is meant to help Whole Foods cut costs, better manage inventory, reduce waste, and clear out storage. But its strict procedures are leading to storewide stocking issues, according to several employees. Learn more
Kind Challenges Competitors with Taste Test
Source: (Chief Marketer, Jan 17,2018)
The promotion was marketed to the brand's community through its online communication channels and was also shared through various broadcast and online channels, as well through YouTube, Twitter, Instagram etc. "We're so certain that KIND Protein wins on taste that we're inviting people who are fans of competitor products to not only receive a bar of their choice, but also a free sample of ours," says Drew Nannis, VP of Integrated Communications at KIND. Learn more
Sponsors of this week's issue of POI Pulse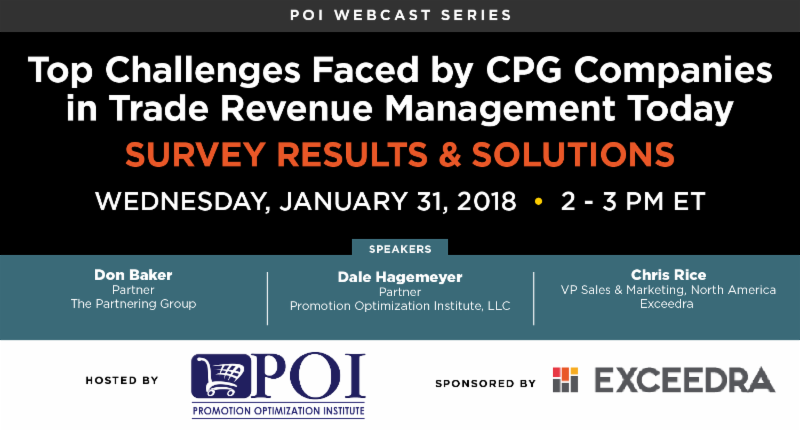 Career Opportunities
If you have a relevant opportunity, list it in POI Pulse, reach us at info@p-o-i.org
Director of Revenue Management
Del Monte
PRIMARY RESPONSIBILITIES:
Partner with Sales and Finance leadership to establish promotional spend strategies and evaluate customer and program level spending to support the achievement of the AOP and LRP.
Responsible for developing and implementing portfolio Revenue Management objectives of ideal product/ business mix, achieving trade rate efficiency targets and forecasting accuracy.
Lead the development of regional/ channel financial goals. Communicate and clarify targets to Sales management and teams. Learn more
CPG Project Manager
Looking for a project manager in the Chicago area. Must be highly experienced in change management, TPM processes, and project management. Moderate level of experience in technology. Having previously implemented TPM would be necessary; same for experience with SAP systems. Forward resume to Joanie Hampton at jhampto@p-o-i.org
Senior Director, Revenue Management (Neenah, WI)
Kimberly-Clark:
Serve as working center of excellence to support pricing and trade strategies. Team collectively would have expertise in key areas that would be leveraged by Brand and internal Sales teams as they develop pricing strategies. Team would also conduct diagnostics and monitor overall market pricing to help identify new opportunities and / or mitigate emerging competitive threats. Contact megan.madge@kcc.com
From the POI 2018 TPx and Retail Execution State of the Industry Report
New Findings: The Dawning of Artificial Intelligence
Right away we need to provide a definition of AI to avoid confusion. We aren't talking about robots or cyborgs taking over your workspace and making you redundant. What we are talking about is a set of capabilities that help you be smarter by:
-Looking at data, spotting patterns or relationships, and answering questions that you haven't thought to ask. Example: "Did you know that 5 days before the local sports team has a game there is a spike in the purchase of these products? It only happens in these two metro areas, but there is a significant correlation."
-Learning about the kinds of questions you are asking and anticipating them with answers. Example: "You always start your Thursday morning by querying any
uncleared trade deductions. Would you like me to have those already rounded up and waiting for you?"
-Being more predictive about anything for which you currently have historical data. Example: "How much more could I earn in sales commissions next week if I were to
spend one more hour each day visiting stores in my territory?"
-Evaluating how you are working a system and recommending ways to configure it for you on the fly to make it more ergonomic. Example: "You consistently do X followed
by Y. Would you like me to change the flow of the system and its chevron navigation to accommodate a smoother click-through?"
-Advanced logic tied to voice recognition to literally make queries instead if drilling into a system. Example: "How do sales revenues for December 2017 compare to prior year for X, Y, and Z soup brands in my canned soup category?"
Since we are big believers in the power of AI to take analytics to the next level, we thought it appropriate to ask our panel of CG industry practitioners for their perspective as it relates to TPx and Retail Execution. Here is what we found:
Right away we see that 13% are already working on it. You may have heard people talking about "machine learning," "advanced analytics," or "pattern recognition" in your organization. These may be proxies for AI, depending on how they are used. Thus, AI may be happening in your organization already. It certainly has a following.
Next, we see the 38% that recognize the value but don't want to bleed on the cutting edge
of that technology until it is affordable. This is very typical for CG companies of all sizes. We
see it all the time. You need look no further than the advanced Retail Execution capabilities we highlighted in Implication 8 to see how steadily adoption is taking place – and over several years.
Those who see it happening 3-5 years out may be speaking to their own organizations, not the broader market. This is also a viable answer because we can see many categories and tiers of CG companies waiting and watching for that long. We still see companies that have not adopted a server-based TPM solution because they prefer spreadsheets, so this will definitely happen as it relates to AI. Learn more, access the complete report here http://bit.ly/POI2018TPxRE.
Write to Mike Kantor at Promotion Optimization Institute mkantor@p-o-i.org for your copy of this leading compendium on Trade Promotion, Retail Execution, Collaborative Marketing, and Advanced Analytics.
Reach us with any needs, questions, or requests to further engage with POI at: MKantor@P-O-I.org
Have a sensational week!
Michael Kantor, CEO and Founder
Promotion Optimization Institute, LLC
mkantor@p-o-i.org