Report: Lidl Pressures Chains to Cut Prices
Source: (Forbes Jan. 11, 2018)Essentially, Lidl and Aldi have such low prices that other grocers have to lower theirs just to stay in business-and a new study from the University of North Carolina at Chapel Hill shows just how much of an effect that has on their competition.
Learn more
Diet Coke Unveils Massive Brand Relaunch
Source: FoodBizNews Jan 10,2018)"We set out to demonstrate progressive change and innovation with a look that would appeal to a consumer seeking bolder flavors, but without alienating the loyal Diet Coke fan base," said James Sommerville, vice-president of Coca-Cola Global Design.
Learn more
View the Preliminary Agenda – POI Spring Annual Summit April 11-13, Chicago
–
Collaborative Marketing Success via Next Generation Trade and Revenue Optimization
"Winning with TPx, Retail Execution, and Advanced Analytics Capabilities Across Channels"
For information, contact Mike Kantor at mkantor@p-o-i.org or
(914) 319-7309
Register for this next world-class agenda,
Attendees already registered include:
Mars, Barilla, SCJ, VitaminShoppe, Organic Valley, Delicato Vinyards, Del Monte, Daisy Brand, CLIF Bar,Clorox, SCA, Pinnacle Foods, Hershey, Coca-Cola, Brookshire Grocery, Ahold, Pacific Foods, Mars, Marzetti, Johnsonville Sausage, Califia Farms, Ventura Foods, RXBAR, Tyson Foods, FLNA, Edgewell, Grupo Lala, Whirlpool, Dole Foods, Unilever, Bush Bros., Tree Top Foods, Welch's, Snyder's-Lance, Farmer John, General Mills, Kraft-Heinz, Diageo, Pernnod-Ricard, Sargento, PepsiCo, Windsor Foods, Deoleo, L'Oreal, ACH Foods, Colgate-Palmolive, Walgreen's, Hormel, Dean Foods, Constellation Brands, Blue Buffalo, Energizer, Borden Dairy, Bellisio Foods, Bimbo Bakeries, Sysco, Nestle, Kimberly Clark, Johnson & Johnson, Perfetti Van Melle, Kellogg's, JM Smucker, Church & Dwight, Keurig Green Mountain, Musco Family Olive, ConAgra, Ainsworth Pet Nutrition, Rich Products, and many others. By now you should have received your invitation. If not, reach me today at mkantor@p-o-i.org

Kroger and Rivals in Talks To Buy Startup Boxed
Source: (Forbes Jan 12, 2018)
Kroger, the $25 billion market cap chain based in Cincinnati, is one of the most likely candidates to acquire Boxed and one of the first to make an offer, the people familiar with the situation said. Costco, Target and Germany's Aldi have also been mentioned as possible bidders among others, the people said, adding that initial offers likely range from $325 million to $500 million. Learn more
POI Webinar – Gain insights on practical solutions to the "The Top Challenges in Trade Revenue Management" faced by Consumer Goods companies based on a recent survey conducted by The Partnering Group and Exceedra.
In this one hour webinar, we will review the results of the survey, identify the top challenges, and offer practical solutions seen from client engagements including:
Improving post event analysis
Using Customer Segmentation within Trade Investment decision making.
Better managing funds allocation across customer segments
Arm customer teams to better deal with retailer mandates
Register today for this informative session, and clear takeaways
Stunning Innovations from CES 2018
Source: (Chief Marketer Jan. 11, 18)
Amazon is making headway getting into the car business as more car companies integrate the online retailer's Alexa voice-activated personal assistant into their in-car connected services. The latest is Toyota. Samsung outlined its future plans for artificial intelligence, improving the smart home, and 5G-connected cars. It showed off new products including TVs, washing machines, and a digital whiteboard. Learn more
Presentations from the just concluded POI Fall Annual Summit are available to Attendees and POI Members now at http://bit.ly/Dallas17Presos
The Lactalis Group to Acquire Siggi's
Source: FoodBusNews Jan 2018)
Lactalis is a global dairy company with total sales of €17 billion ($20.5 billion). Cheese manufacturing is the company's largest market and makes up 34% of sales. Yogurt and chilled dairy make up 12% of sales. The Americas make up 21% of the company's sales.
Siggi's joins a portfolio of brands, including Président, Parmalat, Stonyfield Farm, Rachel's Organic, and others. Learn more
B&M Grocery Sales Soar New Stores/Cheap Groceries Source: (The Telegraph January 12, 2018)
Group sales climbed 23pc to £970m in the three months to Dec 23, up from 20.5pc growth in the same period last year, with Heron adding £80m to the top line. Sales at UK stores open more than one year were up 3.9pc, which B&M said underlined "continued robust performance of our grocery and FMCG ranges". Learn more
The Supreme Court to Decide on Online Purchases Being Taxed Source: (Vox January 13, 2018)
The US Supreme Court on Friday said it will consider whether businesses have to collect sales taxes on online transactions – a case that will affect how consumers are charged for their purchases on major e-commerce sites such as Wayfair, Overstock, and Amazon. The case, South Dakota v. Wayfair, will revisit a 1992 decision, Quill Corp. v. North Dakota, in which the court ruled remote sellers would have to collect state sales taxes only if they had a physical presence in a state, like a warehouse or an office. Learn more
Sponsors of this week's issue of POI Pulse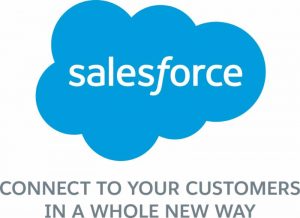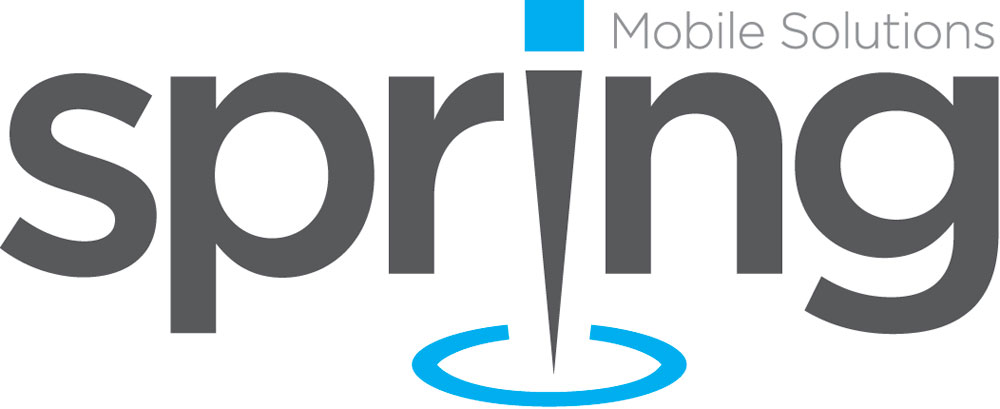 Career Opportunities
If you have a relevant opportunity, list it in POI Pulse, reach us at info@p-o-i.org
Director of Revenue Management
Del Monte
PRIMARY RESPONSIBILITIES:
Partner with Sales and Finance leadership to establish promotional spend strategies and evaluate customer and program level spending to support the achievement of the AOP and LRP.
Responsible for developing and implementing portfolio Revenue Management objectives of ideal product/ business mix, achieving trade rate efficiency targets and forecasting accuracy.
Lead the development of regional/ channel financial goals. Communicate and clarify targets to Sales management and teams. Learn more
CPG Project Manager
Looking for a project manager in the Chicago area. Must be highly experienced in change management, TPM processes, and project management. Moderate level of experience in technology. Having previously implemented TPM would be necessary; same for experience with SAP systems. Forward resume to Joanie Hampton at jhampto@p-o-i.org
Senior Director, Revenue Management (Neenah, WI)
Kimberly-Clark:
Serve as working center of excellence to support pricing and trade strategies. Team collectively would have expertise in key areas that would be leveraged by Brand and internal Sales teams as they develop pricing strategies. Team would also conduct diagnostics and monitor overall market pricing to help identify new opportunities and / or mitigate emerging competitive threats. Contact megan.madge@kcc.com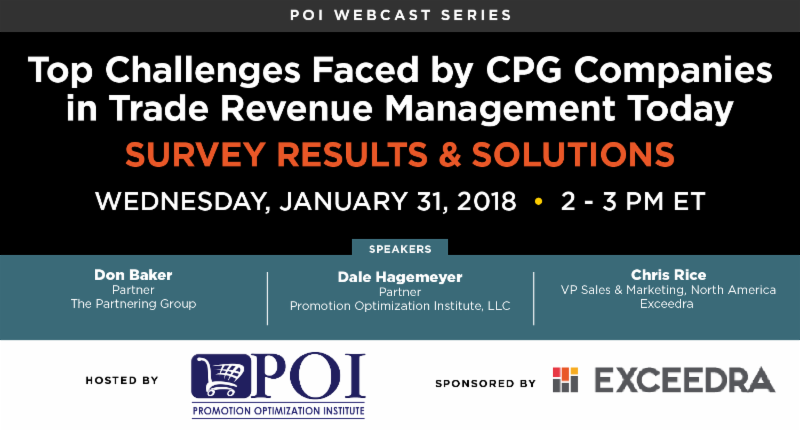 Upcoming Events
New York, New York, – January 15, 2018- The Promotion Optimization Institute (POI), the leading resource for trade marketing and merchandising executives, today released the POI 2018 TPX and Retail Execution Report during NRF 2018. The POI report found that 82 percent of consumer products manufacturers are concerned about Amazon and other ecommerce major players -such as Tabao and Alibaba-and the perceived threat these ecommerce players pose to their own businesses. In addition, the report found that 50 percent of consumer products manufacturers reported that they lack ecommerce capabilities and strategy.
The annual POI 2018 TPX and Retail Execution Report http://bit.ly/POI2018TPxRE focuses on the intersection of the people, processes and technologies required to be a suitable collaboration partner in the promotion and distribution of consumer products. This report utilizes the data and insights from the POI 2018 Trade Promotion and Retail Execution Survey executed in late 2017 and early 2018 to discuss where consumer goods manufacturers are succeeding and struggling. The POI's survey analyzes 1) trade promotion management –particularly, how manufacturers sell at the headquarters level of retailers-and 2) retail execution –which focuses on selling and executing programs at the individual store level.
"We are excited once again to have this deep insight into the market through the annual POI survey. We saw some improvement in key metrics in areas related to trade promotion, while retail execution slipped slightly," said POI Partner Dale Hagemeyer.
"We also saw progress in efforts to combine digital with traditional trade promotion. We believe that perhaps the biggest net finding of the survey is that there has never been a time when manufacturer/retailer collaboration has been so paramount."
Key Findings:
* Eighty two percent of those surveyed are concerned about their ability to profitably do business with Amazon and this far outstrips their concerns related to doing business with Walmart. This is an increase of eight percent over 2017.
* The lack of linkage between digital and traditional promotion is still substantial but improving over 2017. Fifty-one percent of those surveyed in 2018 reported they
were lagging behind compared to 58 percent in 2017. POI now has the data to show where consumer goods companies are on their journey to 'fully integrated'.
* Thirteen percent of those surveyed reported they are already working on Artificial Intelligence (AI) in TPx and retail execution and 25 percent expect to be working on AI within two to three years. A full 17 percent of respondents don't see AI happening at all.
* Data is still king. The survey results show that retailers are looking for more ways to make money by charging for their scanner data, or else denying access altogether.
* User organizations continued to select the wrong tools for the job with only 35 percent reporting that their off-line needs are met. Fifty-four percent do not have the option to bring their own devices in retail execution.
* Shortfall in analytical capabilities (both on the people and tool aspects). Ninety percent reported having challenges moving capabilities from transactions to analytical compared to 90 percent in 2017. Sixty-three percent reported that post-event analytics are not automated which is a four percent drop from 2017.
* Sixty-eight report they have challenges selling profitably to Walmart and 82 percent reported they have concerns about doing business with Amazon.
"Since our inception, POI has been passionately committed to developing and continuously improving educational and research excellence as we strive to ensure our research links to our members' initiatives for profitable growth, collaboration with industry and the subject matter experts that make and execute business decisions, and delivers strong outputs and advancement activities," said Michael Kantor, CEO and Founder, POI. "This POI Annual "State of the Industry" report builds on these principles, and we believe will serve our members and constituents in building their business case for change."
Write to Mike Kantor at Promotion Optimization Institute mkantor@p-o-i.org for your copy of this leading compendium on Trade Promotion, Retail Execution, Collaborative Marketing, and Advanced Analytics.
Reach us with any needs, questions, or requests to further engage with POI at:
DHagemeyer@P-O-I.org
MKantor@P-O-I.org
Have a sensational week!
Michael Kantor, CEO and Founder
Promotion Optimization Institute, LLC
mkantor@p-o-i.org