POI Pulse July 11, 2016 PUBLISHED BY PROMOTION OPTIMIZATION INSTITUTE
Visit www.POInstitute.com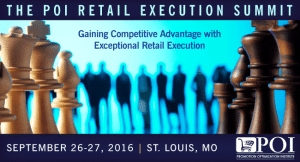 Registration is open for Retailers, Manufacturers, and Distributors!

Trends & Developments

Strategic Thinking-the Coca-Cola Zero Sugar Launch


Source: (Marketing Week July 8, 2016)

Coca-Cola rolls out its biggest marketing investment in a decade with the Coca-Cola Zero Sugar campaign launchOur ambition strategically is to grow the trademark. We no longer want people to drink more coke, but have people drink more [different types of] coke. There is an important distinction there because clearly we do have a portfolio [of variants]. It's about not only offering that choice, but also shaping that choice. Learn more

Marsh Signs Supervalu as Primary Supplier
Source: (Indi Business Journal July 5, 2016)

Under the agreement, Supervalu will supply Marsh with general grocery products, produce, meat, seafood, frozen foods, and dairy, deli and bakery items. Also, Marsh will begin carrying Supervalu's private brand offerings, including Wild Harvest, Culinary Circle and Essential Everyday.

In addition, Supervalu said it will provide some professional services and merchandising support to Marsh, including advanced merchandise planning, retail pricing analysis and shelf-management programs.

Learn more

The POI 2016 Retail Execution Vendor Panorama – Report

Source: (Promotion Optimization Institute 6-27-16)

POI today released its POI 2016 Retail Execution Vendor Panorama, a detailed analysis of the Retail Execution market and the technology vendors that support it. The POI also identified eleven best in class vendors across eleven functional areas that are helping Retailer and CPG executives improve their in store execution. Learn moreand join our webinar on July 13


New Products Boost PepsiCo Profit

Source: (Food Biz News July 7, 2016)

"We have ramped up our innovation engine and as a result, new products comprise approximately 9% of sales or over $5 billion. We've achieved this by leveraging our global scale while simultaneously tailoring products to appeal to local tastes; addressing consumers' evolving demands for convenience, taste and variety from the occasional treat to nutrition by transforming our product portfolio.

Learn more




Publix Teams Up with Instacart on Grocery Delivery

Source: (Drug Store News July 6, 2016)"We chose Instacart because we believe the experience they provide aligns well with the needs of our company, associates and customers."Items excluded from purchase at Publix through Instacart are alcohol, tobacco, gift cards, prescriptions and age-restricted items. Printed and digital coupons are not redeemable through Instacart at this time. All orders must be at least $10 and delivery fees may apply.

Learn more

Report – Online Grocery Shopping Growth, & Hurdles
Source: (Business Insider July 7, 2016)

Overall 31% of U.S. Shoppers had bought groceries online "in the past six months. The survey was conducted in late June 2016. Furthermore, 10% of those who bought groceries online said this habit replaced some or all of their trips to traditional stores.

Learn more

Join us for a free webinar on 7 13 at

2:00PM

Eastern

Time US to review the key insights from the POI 2016 Retail Execution Panorama.

Register Now

POI Perspective

Several factors need to be considered when evaluating, and selecting Retail Execution Software. These factors are covered in the POI 2016 Retail Execution Vendor Panorama. Here we focus on one key factor – Product Vision

The ability to articulate future product needs and have them included in the product as early adopters in the market are prepared to embrace them. Special consideration will be given to capabilities that enhance user productivity and enable decision making while at the retail outlet. We refer to these as the "sell more" capabilities and they are as follow:

–Retail Activity Optimization (RAO). This uses recent (daily or more frequent) point of sale (POS) data to determine which stores to visit, what to do while there to drive the greatest return on resources, and the best sequence for reducing drive time. RAO not only optimizes in-store execution, but also reduces cost factors, such as fuel and the personnel costs associated with visiting locations where there is low or no need.

–Image recognition. This captures an image of the store shelf and transmits it into the cloud where images of manufacturers' and competitors' brands are analyzed to determine compliance to approved schematics, compliance to some promotional agreement, key performance indicators (KPIs), such as share of shelf, and so forth. This drives the activities the salesperson will engage in at that store after the few minutes it takes for the results to come back to that person's mobile device.

–Guided selling. This utilizes branching logic, store-specific data, fact-based selling, and graphical delivery to direct activities and maximize impact at the individual store level.

–Social capabilities. This harnesses the power of social networks

Social capabilities. This harnesses the power of social networks between peers and from managers to peers to give immediate feedback, solve problems, and share best practices from within the retail execution solution without having to resort to a separate tool.

Gamification. This utilizes leader boards, compensation simulation, embedded games, as well as daily/weekly contests as motivators for the field force.

Voice recognition. This enables a field salesperson to speak into a Bluetooth headset for taking orders or entering observations about the store shelf, rather than keying the information into a mobile device.

In-flight analytics. These are capabilities that provide insights that can be harnessed immediately by a field salesperson to improve results. We refer to this area as "in-flight analytics" because it provides a stream of insight about performance and opportunities.

Surprisingly, many solutions we have evaluated cannot do this because they cannot work offline or must send transactional data to the central server and back to the device to provide these insights.

Receive a complimentary copy of the report, and register here to learn more with Dale Hagemeyer during our webinar review on Wednesday July 13, at

2PM

Eastern time.

Have a sensational Week!


POI Pulse is read by over 4,500 Retail Merchandising and CPG Marketing Executives.

Sponsors of this week's issue of POI Pulse –

To advertise, reach us at: mkantor@p-o-i.org or call 914-319-7309


Career Opportunities
If you have a relevant opportunity, list it in POI Pulse, reach us at
info@p-o-i.org
Nestlé Waters North America


Trade Promotion Optimization Manager
In order to optimize NWNA trade spend efficiency we are looking for managers who will support the financial analyses at the pack, account, and channel level. Data from a variety of sources is fed into an Excel-based Trade Spend Optimization tool and will require analytical insight and recommendations on optimizing efficiencies. Managers will work primarily in Excel to develop insights and recommendations and will develop strong relationships with the Sales Finance team and Sales Account Managers to ensure positive optimal performance of Trade Spend.
Learn more
Upcoming Events
"Gaining competitive advantage through exceptional retail execution"