POI Pulse July 18, 2016 PUBLISHED BY PROMOTION OPTIMIZATION INSTITUTE
Visit www.POInstitute.com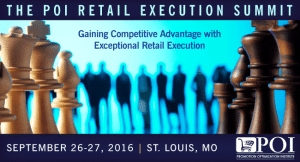 Registration is open for Retailers, Manufacturers, and Distributors!
Trends & Developments

The Secret of Managing Marketing Teams Across Borders Source: (Marketing Week July 15, 2016)

The scale of the Diageo-owned Baileys business, which spans more than 50 global markets, means it is not always feasible to have marketers based locally in each country, explains Baileys' Europe marketing director Anna MacDonald. The global brand team, which is based in Dublin, runs brand strategy, creative development and brand governance.

Learn more

Why Consumers Delete a Retailer's Mobile App
Source: (emarketer July 14, 2016)

In fact, 92% of iPhone owners said that they had deleted a retailer's mobile app was because it crashed or froze. Slowness was also a bigger turnoff than the simple fact of not using the app. Separate research from comScore looked at the number of mobile retail apps that smartphone owners currently have on their device, and found 37% of respondents said they had between at least six retail apps on their smartphone as of April 2016, up 4% from October 2015.

Learn more

POI Gaining Competitive Advantage with Exceptional Retail Execution Summit

September 26-27

, Saint Louis, Mo.

Join your peers, and invite your sales force enablement, merchandising, pricing execution, retail marketing, and Distributor colleagues to join POI in Saint Louis, MO. at the Retail Execution Summit on

September 26-27

.  Leaders joining us include:

Edgewell, Mondelez, 7-Eleven, Energizer, Mars, Cargill, Starbucks, Kellogg, ABInbev, Coca-Cola, Deoleo, Kimberly-Clark, RB, P&G, Biscotti Bros. Schnucks Grocery, PepsiCo, and more.

View the preliminary agenda here, and register today

The POI 2016 Retail Execution Vendor Panorama – Report

Source: (Promotion Optimization Institute)

POI today released its POI 2016 Retail Execution Vendor Panorama, a detailed analysis of the Retail Execution market and the technology vendors that support it. The POI also identified eleven best in class vendors across eleven functional areas that are helping Retailer and CPG executives improve their in store execution. 

Learn more and access our webinar from July 13

Cashing in on Cards with Millennials
Source: (Grocery HQ July2016)

Shoppers consider many factors when mulling the card aisle looking for the perfect fit, but to the surprise of some industry observers, price is not the most important one. Officials from Kansas City, Mo.-based

Hallmark

say that only one-third of consumers will check the price of a card before buying it. "In fact, the premium card category is seeing the fastest growth out of any card category," says James Melton, Hallmark's vice president/general manager.

Learn more

General Mills Getting its Yogurt on Trend
Source: (Food Dive, July 14, 2016)

Yogurt is General Mills' third-largest category behind cereal and snacks. It makes up 16% of the company's total business, or about $2.8 billion annually. So these changes are necessary for sustainable revenue growth for the company as a whole, especially as General Mills continues to work on turning around the cereal category.

Learn more

Access the free webinar from 7 13

 to review the key insights from the POI 2016 Retail Execution Panorama.

View Now

POI Perspective

Join us in Saint Louis to Improve your retail execution capabilities. POI designed the Retail Execution Summit to help consumer goods companies and their distribution partners execute at the individual store level because if the product is not available, merchandised correctly, and promoted effectively, the consumer will likely purchase from a competitor.

In a POI 2015 TPx and Retail Execution Survey of 75 consumer goods companies of varying sizes, one third of those surveyed said they did not execute at the store level well. Only 20 percent responded that they were executing at the store level well.

Leading companies doing business around the globe are beginning to understand the benefits of exceptional Retail Execution, and the components of successful collaboration.

At the POI Retail Execution Summit, these leaders come together around the critical HQ Strategy, field force execution, and merchandising collaborative skills to create and optimize: on shelf availability; pricing and promotional execution, digital, and in-store execution that drives brand/category/store sales and profits. If you are charged with sales force enablement, pricing execution, brand marketing, category management, merchandising, IT, sales leadership, promotions, or shopper marketing this specialized event is for you. You will network around the most current practices, research, proven strategies and actionable advice.

Global retail Execution sessions include:
New and Innovative Ways to Extend Sales Reach While Minimizing Cost-to-serve.
Learn how Cargill was able to put simple, yet effective tools in the hands of stores (of all sizes, including "mom and pop" via van sales) to effectively manage the ordering process. This resulted in improved inventory, reduced stock outs, and optimized their revenues.
Presented by: Rodolfo Leiton, Commercial Lead, Cargill

Receive a complimentary copy of the report, and register here to learn more with Dale Hagemeyer during our webinar review on Wednesday July 13, at

2PM

Eastern time.

 

Have a sensational Week!


POI Pulse is read by over 4,500 Retail Merchandising and CPG Marketing Executives.

Sponsors of this week's issue of POI Pulse –

To advertise, reach us at: mkantor@p-o-i.org or call 914-319-7309


Career Opportunities
If you have a relevant opportunity, list it in POI Pulse, reach us at
info@p-o-i.org
Nestlé Waters North America


Trade Promotion Optimization Manager
In order to optimize NWNA trade spend efficiency we are looking for managers who will support the financial analyses at the pack, account, and channel level. Data from a variety of sources is fed into an Excel-based Trade Spend Optimization tool and will require analytical insight and recommendations on optimizing efficiencies. Managers will work primarily in Excel to develop insights and recommendations and will develop strong relationships with the Sales Finance team and Sales Account Managers to ensure positive optimal performance of Trade Spend.
Learn more
Upcoming Events
"Gaining competitive advantage through exceptional retail execution"