POI Pulse July 25, 2016 PUBLISHED BY PROMOTION OPTIMIZATION INSTITUTE
Visit www.POInstitute.com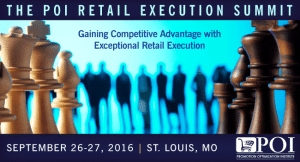 Registration is open for Retailers, Manufacturers, and Distributors!
Walmart Next Move to Compete with Amazon
Source: (Business Insider July 22, 2016)

Walmart Marketplace, Walmart's third-party seller service, has added roughly 250 new merchants to its online marketplace since the beginning of May, according to Internet Retailer. Walmart Marketplace now has about 550 third-party vendors, whose products are sold on its website alongside existing Walmart merchandise.

Learn more

UK Price War is 'More Real than Ever', Says Unilever

Source: (The Telegraph July 21, 2016)Unilever's finance boss Graeme Pitkethly said that Brexit has pushed up the consumer giant's costs in its home UK market, but that it has little room to increase prices as competition is "more real than it has ever been".

Learn more

POI Gaining Competitive Advantage with Exceptional Retail Execution Summit

September 26-27

, Saint Louis, Mo.

Join your peers, and invite your sales force enablement, merchandising, pricing execution, retail marketing, and Distributor colleagues to join POI in Saint Louis, MO. at the Retail Execution Summit on

September 26-27

. Leaders joining us include:

Diageo, Nestle Purina, Edgewell, Mondelez, 7-Eleven, Energizer, Mars, Cargill, Starbucks, Kellogg, ABInbev, Coca-Cola, Deoleo, Kimberly-Clark, RB, P&G, Biscotti Bros. Schnucks Grocery, PepsiCo, and more.

View the preliminary agenda here, and register today

AB InBev and SABMiller Deal Goes Through


Source: (Chicago Tribune July 20, 2016)

"With today's agreement, we have taken a significant step forward on the transaction, which will create the world's first truly global brewer," AB InBev Chief Executive Officer Carlos Brito said in a statement. "Our combination with SABMiller will bring more choice to more beer drinkers – and extend the global reach of our iconic American brands, such as Budweiser – in markets outside of the U.S." Learn more


The POI 2016 Retail Execution Vendor Panorama – Report

Source: (Promotion Optimization Institute)

POI today released its POI 2016 Retail Execution Vendor Panorama, a detailed analysis of the Retail Execution market and the technology vendors that support it. The POI also identified eleven best in class vendors across eleven functional areas that are helping Retailer and CPG executives improve their in store execution.

Learn more and access our webinar from July 13

Utz to Acquire Golden Flake Snack Foods
Source: (Food Biz News July 21, 2016)

"We are excited about the opportunity to partner with Golden Flake," said Dylan Lissette, chief executive officer of Utz. "The two companies are very similar both in mission and values, and each has a team of dedicated associates. Golden Flake's product line, market coverage, and manufacturing facilities blend well with Utz's desire to expand and grow our markets in the south."

Learn more

7-Eleven w Flirtey First Ever FAA-Approved Drone Delivery to Customer's Home
Source: (PR Web Newswire July 22, 2016)

7-Eleven, the world's largest convenience retailer, and Flirtey, a leading independent drone delivery service, announced they have completed the first fully autonomous drone delivery to a customer's residence to advance research toward integrating drones into the National Airspace System. This delivery is the first time a U.S. customer has received a package to their home via drone. Learn more

Access the free webinar from 7 13

to review the key insights from the POI 2016 Retail Execution Panorama.

View Now

Retail Execution Guide

Market requirements have not changed significantly in the last 3 years. Bring your own device (BYOD) is not so prevalent and has given way to broader requirements around device types such as Android, Windows, and iOS as opposed to which devices are supported.

[JS1]

However, we note the following market trends:

More solution options exist than ever before. There has not been any significant consolidation among vendors in the last year. In this inaugural Panorama we will be evaluating 21 solutions from 20 vendors[1].Other solutions that are largely development or mobile platforms are discussed at the end of the document.
There are no efforts around developing home-grown solutions. The market is relatively mature and the various vendors offer: solutions-plus-services such as asset management, monthly pay-by-user arrangements as opposed to lump sums up front, best practices baked in from years of experience with multiple manufacturers, more attractive upgrade paths.

Retail execution in its various forms is a relatively mature space that offers relatively low risk for CG companies that are looking to adopt it. The options run from solution only to having all sorts of services options and architectures from on-premise to cloud. And, they are available from vendors with local expertise and presence. Our overarching recommendation, however, continues to be that CG companies seek out the solution(s) that will move their field sales personnel beyond transactional and enable them to "sell more", thus creating a competitive advantage.

Join us in Saint Louis

September 26-27

to Improve your retail execution capabilities. POI designed the Retail Execution Summit to help consumer goods companies and their distribution partners execute at the individual store level because if the product is not available, merchandised correctly, and promoted effectively, the consumer will likely purchase from a competitor.

Receive a complimentary copy of the report, and register here to learn more with Dale Hagemeyer from our

Have a sensational Week!

POI Pulse is read by over 4,500 Retail Merchandising and CPG Marketing Executives.
Sponsors of this week's issue of POI Pulse –
To advertise, reach us at: mkantor@p-o-i.org or call 914-319-7309


Career Opportunities
If you have a relevant opportunity, list it in POI Pulse, reach us at
info@p-o-i.org
Nestlé Waters North America


Trade Promotion Optimization Manager
In order to optimize NWNA trade spend efficiency we are looking for managers who will support the financial analyses at the pack, account, and channel level. Data from a variety of sources is fed into an Excel-based Trade Spend Optimization tool and will require analytical insight and recommendations on optimizing efficiencies. Managers will work primarily in Excel to develop insights and recommendations and will develop strong relationships with the Sales Finance team and Sales Account Managers to ensure positive optimal performance of Trade Spend.
Learn more
Upcoming Events
"Gaining competitive advantage through exceptional retail execution"