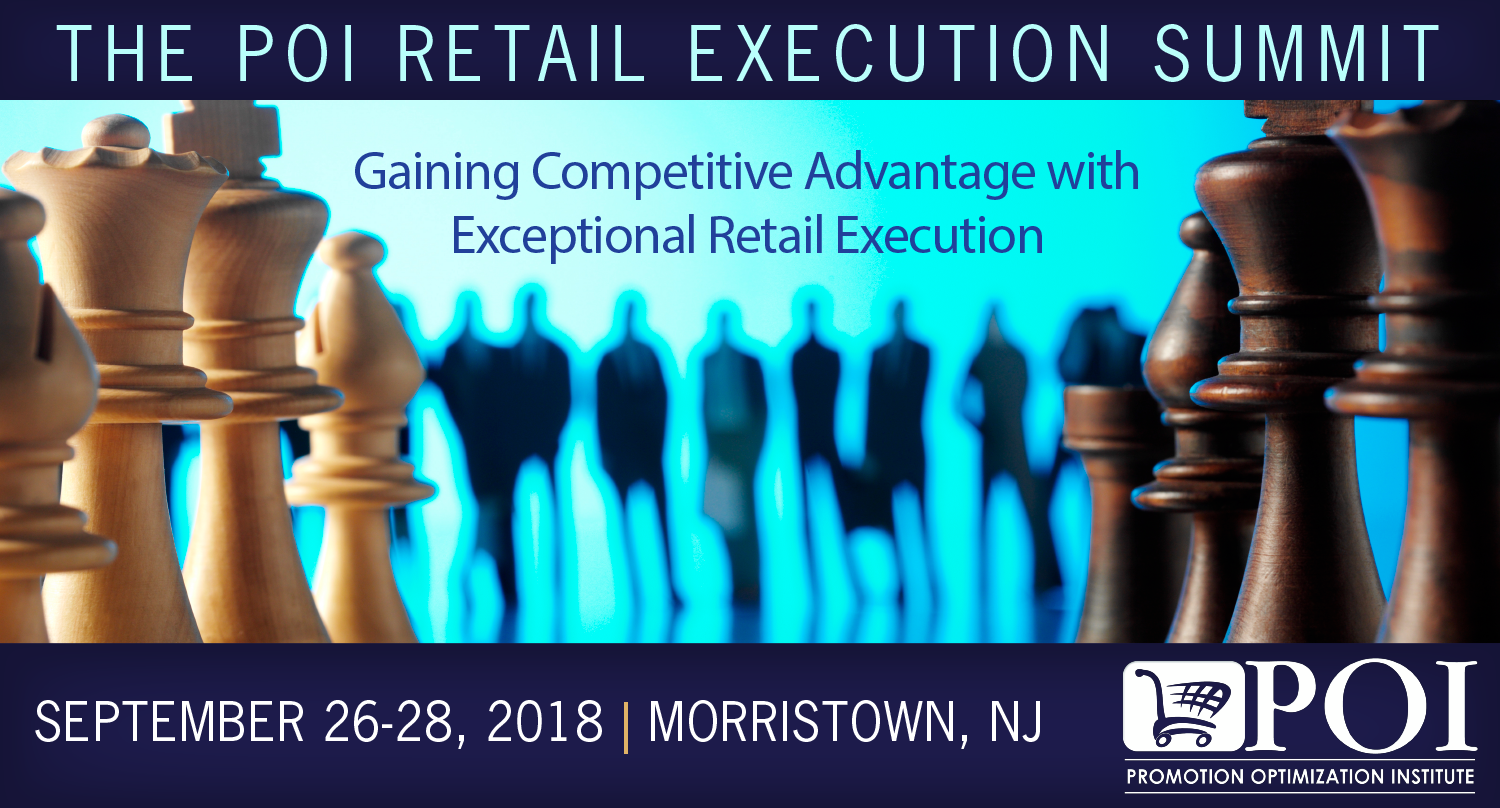 As we at the POI continue to identify innovative areas for profitable growth, including the POI eCommerce Business Leadership Council, we also continue to identify new areas for growth at physical retail stores. One area where we see trading partners are succeeding is better execution at retail, how it relates to revenue management, and optimization, plus the enabling solutions.
When considering solutions, the strongest capabilities, whether proprietary or embedded through a partnership, are those which enhance user productivity and enable decision making while at the retail outlet. POI refers to these as the "sell more" capabilities and they are as follow:
– Retail Activity Optimization (RAO) – This uses recent (daily or more frequent) point of sale (POS) data to determine which stores to visit, what to do while there to drive the greatest return on resources, and the best sequence for reducing drive time. RAO not only optimizes in-store execution, but also reduces cost factors, such as fuel and the personnel costs associated with visiting locations where there is low or no need.
– Image recognition – This captures an image of the store shelf and transmits it into the cloud where images of manufacturers' and competitors' brands are analyzed to determine compliance to approved schematics, compliance to some promotional agreement, key performance indicators (KPIs) such as share-of-shelf, and so forth. This drives the activities the salesperson will engage in at that store after the few minutes it takes for the results to come back to that person's mobile device.
– Guided selling – This utilizes branching logic, store-specific data, fact-based selling, and graphical delivery to direct activities and maximize impact at the individual store level.
– Social capabilities – These harness the power of social networks between peers and from managers to peers to give immediate feedback, solve problems, and share best practices from within the retail execution solution without having to resort to a separate tool.
– Gamification – This utilizes leader boards, compensation simulation, embedded games, as well as daily/weekly contests as motivators for the field force.
– Voice enablement – This enables a field salesperson to speak into a Bluetooth headset for taking orders or entering observations about the store shelf, rather than keying the information into a mobile device. Conversely, it enables the solution to "speak" to the user to share instructions from managers that come in via social, share insights about an upcoming store visit, and anything else that would allow a user to multitask by have a device speak as opposed to reading from it.
– In-flight analytics – These are capabilities that provide insights that can be harnessed immediately by a field salesperson to improve results. We refer to this area as "in-flight analytics" because it provides a stream of insight about performance and opportunities. Surprisingly, many solutions we have evaluated cannot do this because they cannot work off-line or must send transactional data to the central server and back to the device to provide these insights.
– Virtual reality – This allows the visualization of an image such as a display module or cooler within the context of an individual retail outlet to provide the best possible understanding of appearance and fit.
– Predictive analytics/ optimization and pattern recognition – Enable a user to understand probable outcomes that are not within the realm of the human mind to understand. Examples include the optimal time to bring product to a store before it becomes unavailable or the best route between 15 stores that have been chosen for a visit today so as to reduce drive time. Pattern recognition, on the other hand, is the ability to identify relationships between variables and answer questions that people have not thought to ask. Examples include identifying that a store consistently sees an increase in sales during the first 3 days after a merchandising visit despite no product availability issues or identifying social triggers that impact sales that nobody ever thought to consider. These capabilities are often provided under the banner of machine learning or artificial intelligence interested in learning more? See the full report here. Reach me at mkantor@P-O-I.org
Colgate's Investment in Online
Source: (Forbes July 7, 2018)
Colgate knows it has to act now to start planning for the day when its products, like so many grocery and health and beauty products, will be bought online. It knows it has to be talking to consumers now to learn how to adapt.
Learn more
US and UK Grocery Shopping Comparison
Source: (Bus Insider July 6, 2018)
We looked at how different it is to go grocery shopping in London versus New York. We disregarded Whole Foods, as it's known to be a more premium store, and instead looked at two stores where customers would typically do a shopping trip in their neighborhood. 
Learn more
Join Colgate, L'Oreal, DPSG, Mars, New Belgium, Kellogg's, J&J, Mondelez, Kimberly Clark, Conagra, DSM Brands, Giant Eagle, Red Bull, Pinnacle Foods,  Starbucks, Hormel, Del Monte, PepsiCo,Church & Dwight, Colgate-Palmolive, Coca-Cola, Constellation Brands, Ajinomoto Windsor Foods, Rich Products, Sprout Foods, Meijer, Deoleo Bertolli, Nature's Bounty, Blue Buffalo, Bellisio Foods, and more!
McCormick Bucks Consumer-Goods Trends
Source: (Motley Fool July 5, 2018)
McCormick's data reveals that it's selling French's at a much higher rate than Heinz mustard. The company is willing to push back on Heinz's shelf space by having the conversation above with retailers throughout its distribution system — a process that will take several quarters, if not a few years, to complete.
Registration is Open! POI Fall Annual Summit in Dallas, TX,"Collaborative Marketing Driven By Data Analytics",
November 7-9, 2018
We're back at the Westin Galleria! Join us and 300+ CPG and Retailer peers! Attendees include: Pepsico, Sargento, Rich Products, Bellisio Foods, Massimo Zanetti, DPSG, Deoleo Bertolli, Musco Family Olive, Daisy Brand, AAFES, Johnsonville, Kimberly Clark, Ajinomoto Windsor, Walgreen's, Blue Buffalo, Pinnacle Foods, Del Monte Foods, Mondelez, ConAgra, Ainsworth Pet Nutrition, Red Bull, Hormel, and more!
View Preliminary Agenda & Register here
Bacardi Tests Instagram Stories Source (DigiDay June 28, 2018)
 Laila Mignoni, director of creative excellence for Bacardi, took the interactive approach to draw attention to the company's new IGTV channel and chose influencers because they already have followings there. Bacardi saw more room to be creative and get more viewer response with IGTV's long format. 
Learn more
How L'Oréal Drives Marketing Effectiveness Source: (Marketing Week July 3, 2018)
 The decision to build the tool came about because as digital marketing becomes "more complex", L'Oréal wanted quick ways to experiment and test campaigns and the capability to scale what works. 
Learn more
General Mills Prime Day Promotion Source: (Yahoo Finance 7-5-18)
Now through July 31, Amazon Prime members who purchase $40 or more on Prime Pantry can add a family-size box of Honey Nut Cheerios to their cart for free and receive $10 off their order. Fans of the honey nut deliciousness can go to this 
Amazon product page
 to redeem their free Honey Nut Cheerios. There is a limit of one free box per order. 
Learn more
In case you missed the POI live webinar on June 14th, you can access the on-demand copy of the recorded event 
here.
 Kantar predicts e-commerce will remain the fastest-growing channel over the next few years. The firm projects online sales will reach 7.2% of global FMCG sales by 2020, up from 5.8% in 2017.
 Learn more
E-commerce Giant JD.com Heads for the U.S. Source: (DigitalCommerce360 July 2, 2018)
 Google's recent $550 million investment in JD.com this June made headlines, as it represents the latest addition to JD.com's borderless retail alliance, which includes players like Baidu, Tencent, Vipshop, and Walmart. 
Learn more
Scholarship opportunities available!
"I truly enjoy meeting as a group and learning from the professors and colleagues at the POI Certified Collaborative Marketer program at Saint Joseph's University.
Thanks for putting this certification program together, it's fantastic!"
-Veronica Escalante, Customer Development Manager
Sprout Foods, Inc.
Dr Pepper & Keurig Merger Nears Completion Source: (Nasdaq July 3, 2018)
 The merged entity is likely to gain from Dr Pepper Snapple's distribution network while Keurig's online presence will boost sales through digital platforms like Amazon.com, Inc. In fact, analysts are of opinion that the combined company can pose tough competition to beverage giants, including The Coca-Cola Company. 
Learn more
Lidl USA: What Went Wrong And What It Can Do  Source: (Forbes Mag July 8, 2018)
Retailers like Kroger and Walmart are utilizing a strategy known as 
Strategic Entry Deterrence
 whereby they lower prices to match or beat the prices on products sold in Lidl stores, effectively eliminating a price advantage for Lidl. Without a price advantage, Lidl has been unable to attract and retain customers on a large scale. 
Learn more