POI Pulse November 14, 2016 PUBLISHED BY PROMOTION OPTIMIZATION INSTITUTE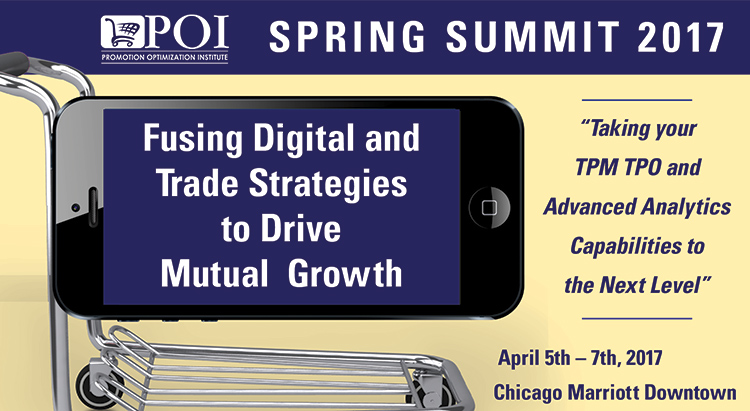 Last Year's Spring Summit was Sold Out – Reserve Your Spot Now!
General Mills Surprise Growth Star -Totino's
Source: (Minneapolis Star Tribune 11-12-16)

To reach these skeptical young buyers, the marketing team has pushed many boundaries at General Mills a 150 year-old company fiercely protective of its products' reputations.

Learn more

Costco Secrets Revealed – Execution
Source: (Investopedia Nov. 11, 2016)

When Craig Jelinek, CEO, of Costco  was asked about Amazon, Inc. (AMZN) as a retail threat, he replied, "You don't lose sleep over Amazon, you don't lose sleep over Walmart, you just do what you do and you do it better. Where you lose sleep is when you start thinking you're not executing the way that you should be. Learn more

Enroll Today and Become Certified as a Collaborative Marketer  w/ POI at Saint Joseph's University 

Source: (POI-Next Orientation is

December 15-16, 2016

)During this 16-week self directed program, expert faculty expose participants to the key management levers that drive organizational success. The program begins by exploring how organizations develop and implement strategy.

Then, core functional areas of business are explored – from sales to marketing, to supply chain and finance -teaching candidates a solid understanding of each function and how it contributes to trading partner collaboration success. 

Learn more and enroll today

View the Full Calendar of POI Events for 2017, and Make Plans Early

The Promotion Optimization Institute International Events for 2017 are:

>POI Spring Annual Summit Chicago.

April 5-7

>European Summit, Amsterdam. 8-10, May

>POI Retail Execution Summit, NY/NJ

Sept. 26-28

>POI Fall Annual Summit, Dallas, November 1-3.

A Survival Plan for Bricks-and-Mortar Starbucks

Source: (FoodBizNews Nov.8, 2016)Web sites, e-commerce and what he described as the Amazon effect could lead both large and small companies to close retail stores in the coming years, said Howard Schultz, chairman and chief executive officer for the Starbucks Coffee Co.

Learn more

The POI Annual TPM and Retail Execution Survey

All results will be reported in the aggregate; please see additional details on the research goals via the link.  Preliminary results will be presented at the Dallas Summit, where attendees will get a first-view.

Five Takeaways from Alibaba's Single's Day
Source: Ad Age November 11, 2016)

Called Singles Day or Double 11, it has grown into the world's biggest shopping day, and has just smashed its own record, with sellers on its platforms logging nearly $17.8 billion in transactions in 24 hours. Over 11,000 foreign brands joined in, including first-timers Apple, Sephora, Target, Victoria's Secret and Maserati. Learn more

Scoring the Worst Quarter Ever
Source: (SN, Nov. 11, 2016)

In a report initiating coverage of publicly traded food retailers released in late September, Barclays analyst Karen Short remarked that the third quarter was "set to be the most challenging for food retailers in well over a decade."

Learn more

Mintel Global Food and Drink Trends for 2017
Source: (Grocery HQ November 11, 2016)

The coming year will be a year of extremes, from "ancient" products including grains, recipes, practices and traditions to the use of technology to create more and better tasting plant-enhanced foods, according to Mintel's research. 

Learn more

Presentations from the recently concluded POI Fall Summit in Dallas Tx are available on the POI Website now.  More will be added, to the POI resource library.  This POI Summit's presentations were some of the highest rated sessions to date, and include:

"And the 2016 Survey Says" – Five Key Differentiators that are Improving Promotional Outcomes
In this session, Dale will present preliminary results from the 2016 POI TPx and Retail Survey that is currently underway. We will look at year-over-year trends as well as some new implications for best practices in data centered collaboration. This research is a mainstay in POI research and will give attendees an early look at what we see improving these promotional outcomes.
Presented by: Dale Hagemeyer, Partner, Promotion Optimization Institute, LLC

Important – As a CPG Manufacturer, If you have not yet taken and submitted the 2016 POI TPx Survey, we need your help now.

"Dismantling Pricing and Promotion – Real Actions to Improve ROI"

Each year, CPG manufacturers and retailers devote hundreds of billions of dollars to price and promotion – a figure which continues to magnify each year.  And, despite well-intentioned attempts, industry practitioners still struggle to achieve, to define, and drive greater ROI. To address this, EY – in partnership with POI and Sequoya – conducted detailed analysis of nearly 3,000 promotional events across a variety of categories and channels to provide unique insight on what truly drives profitable price and promotion actions.  In this session, EY will share the learnings and identify 5 steps companies can take to grow revenue and profitability.
Presented by:  Gary Singer, Principal, America's Advisory Practice, Retail & Consumer Products Sector, Ernst & Young LLP
Jacob Qualls, Manager, Ernst & Young LLP

Committing to eCommerce for Insights and Brand Growth
To stay competitive, companies must move beyond experimenting with digital and commit to transforming themselves into a full digital business geared for ecommerce wins. Critical to success is a strategy that includes benchmarks and analytics to understand the impact of digital. Learn how the J&J team operates across multiple platforms and multiple regions, creating a view of the world and consumer behavior that is very different, in order to deliver actionable consumer insights, and growth opportunities across channels.
Presented by: Sri Rajagopalan, VP, eCommerce, Johnson & Johnson

Leveraging Competitive Market and Media Data to Understand Your Marketing Performance 
Beiersdorf the manufacturer of global skin care brands – NIVEA, Eucerin, and La Prairie – operating across different markets: mass market, dermocosmetics, and premium skincare. This session focuses on how to solve challenges around the combination of global competitive market data from Nielsen, IRI and others with competitive Media Spend information leveraging the SAP Demand Signal Management. All the way to intuitive analytics that provide the collective insights your users need to understand the marketing performance and improve the marketing spend.
Presented by: Martin Böhm, Global Head of Marketing/Sales Technology & Analytics, Beiersdorf GmbH

Take The POI Annual TPx and Retail Execution Survey

Save the date:

April 5-7

for the POI Spring Annual Summit – Fusing Digital and Trade Strategies to Drive Mutual Growth. Downtown Marriott, Chicago, IL

View more here

Promotion Optimization Institute, LLC
POI Pulse is read by over 5200 Retail Merchandising and CPG Marketing Executives.
Sponsors of this week's issue of POI Pulse –
To advertise, reach us at: mkantor@p-o-i.org or call 914-319-7309
 Learn more, and enroll now for the next orientation –  

December 15-16, 2016
 Career Opportunities
If you have a relevant opportunity, list it in POI Pulse, reach us at
info@p-o-i.org
Church & Dwight
Manager, Pricing Analytics
The successful candidate will support the development of a best practice approach to maximizing profit/sales across the Church & Dwight portfolio through price analyses and recommendations that will achieve identified objectives by Brand. The Manager, Pricing Analytics will work internally across C&D functional groups to support the development of a sustainable model for Pricing Excellence. Learn more
Upcoming Events