POI Pulse November 21, 2016 PUBLISHED BY PROMOTION OPTIMIZATION INSTITUTE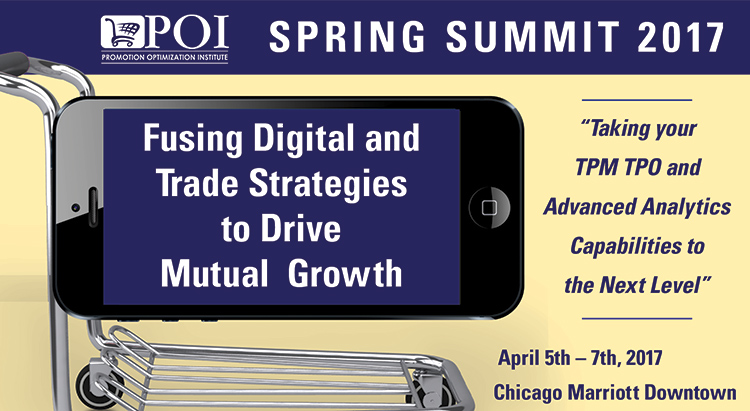 Last Year's Spring Summit was Sold Out – Reserve Your Spot Now!
Big Data at Tesco: Real Time Analytics
Source: Forbes November 17, 2016)

Where data is very much at the forefront is sales forecasting. Modelling trends in customer behavior has thrown up some surprising insights. "It can be something like how will people shop in a store over a week?" says Tesco head of forecasting and analytics, Mike Moss, "And not just how they shop in each store – but how they shop for each product.

Learn more

Coca-Cola's Big Bet on Small Strategy is Expanding
Source: The Drum November 16, 2016)

"We still have a lot of growth opportunity to capture, the transaction packs only make up 15% of our portfolios. "We are focused and capturing the full potential of these brands [Fanta and Sprite] as well by executing that same occasion price package strategy and innovating with both new flavours and new package sizes."

Learn more

The POI Annual TPx and Retail Execution Survey

All results will be reported in the aggregate; please see additional details on the research goals via the link. Thank you in advance for completing the survey this week.

Hormel's Ready-made Foods for Chemo Patients
Source: (Minneapolis Star Tribune Nov. 20, 2016)

The full line launched in July and is being sold online. Hormel, through the Hormel Institute – a nonprofit cancer research center located across the parking lot from

Hormel's headquarters that receives considerable funding from the food company – and the consortium are relying on their contacts in health care to spread news of the product by word of mouth.

Learn more

View the Full Calendar of POI Events for 2017, and Make Plans Early

The Promotion Optimization Institute International Events for 2017 are:

>POI Spring Annual Summit Chicago.

April 5-7

>European Summit, Amsterdam. 9-11, May

>POI Retail Execution Summit, NY/NJ

Sept. 26-28

>POI Fall Annual Summit, Dallas, November 1-3.

Thanksgiving Note – All of us at the Promotion Optimization Institute thank everyone for your support.

We have a lot to be thankful for this year. Here are a few things of the many things we're grateful for:

Inspiring Members.

Our members are among the best and brightest (full disclosure: we're biased). We're continually inspired by the work they do – both inside inside the walls of their companies, with their trading partners, and out in their communities. This year, we are about to celebrate our 8th anniversary, and we are thankful for the opportunity to serve many of you who have applied POI Research, learnings', and services to your processes, skills, and tools to add millions of dollars to your top and bottom lines. Our members are integral to our research efforts, plus we thank the retailer and manufacturer candidates and graduates who enroll through POI at Saint Joseph's University to lead as Certified Collaborative Marketers.  We're thankful for members like Mark Horner who take on new challenges as a result of our efforts…"Congratulations on a great conference!  I thought the content from the podium was some of the best I've seen!  It was a great chance for me to re-connect with many contacts of mine in the industry and I made several new contacts at the conference."
Mark Horner
Director, Trade Marketing
Eagle Family Foods Group LLC

Super sponsors.

Our solution provider sponsors are integral to helping our members advance globally, and in part, supporting our efforts with you at the POI Summits. We're thankful for them, who help keep trade marketing, retail execution, and collaborative marketing at the forefront of our global community, as well as their dedication to continuously improve enabling technologies.

Pioneering Practices.

One of the great things about working for a 8-year-old start-up is that we're always looking to the actionable future. Whether we're creating resources that describe necessary steps, or re-envisioning what it means to improve upon collaborative marketing, we're thankful that many of you around us are always testing out new ideas and pushing the boundaries of what's possible.

Meaningful Foundation.

We're incredibly lucky to have such an amazing heritage that's so well captured in the everyday activities of the POI. It remains a great honor and privilege to work with Dr. John L. Stanton and Dr. Ron Klimbers at Saint Joseph's University, and the POI Education Advisory Board. The Certified Collaborative Marketer CCM™ is designed for continuing education, including mastery of the collaborative skills necessary to succeed with trading partners. The POI Education Advisory Board considers education and advocacy the top priorities for our organization.

Important – As a CPG Manufacturer, If you have not yet taken and submitted the 2016 POI TPx Survey, we need your help now.

Save the date:

April 5-7

for the POI Spring Annual Summit – Fusing Digital and Trade Strategies to Drive Mutual Growth. Downtown Marriott, Chicago, IL

View more here

The POI Team wishes everyone a warm and peaceful Thanksgiving Holiday with family!

Michael Kantor, CEO and Founder

Promotion Optimization Institute, LLC
POI Pulse is read by over 5200 Retail Merchandising and CPG Marketing Executives.
Sponsors of this week's issue of POI Pulse –
To advertise, reach us at: mkantor@p-o-i.org or call 914-319-7309
 Save the Date 9-11, May 2017!
 Career Opportunities
If you have a relevant opportunity, list it in POI Pulse, reach us at
info@p-o-i.org
Church & Dwight
Manager, Pricing Analytics
The successful candidate will support the development of a best practice approach to maximizing profit/sales across the Church & Dwight portfolio through price analyses and recommendations that will achieve identified objectives by Brand. The Manager, Pricing Analytics will work internally across C&D functional groups to support the development of a sustainable model for Pricing Excellence. Learn more
Upcoming Events