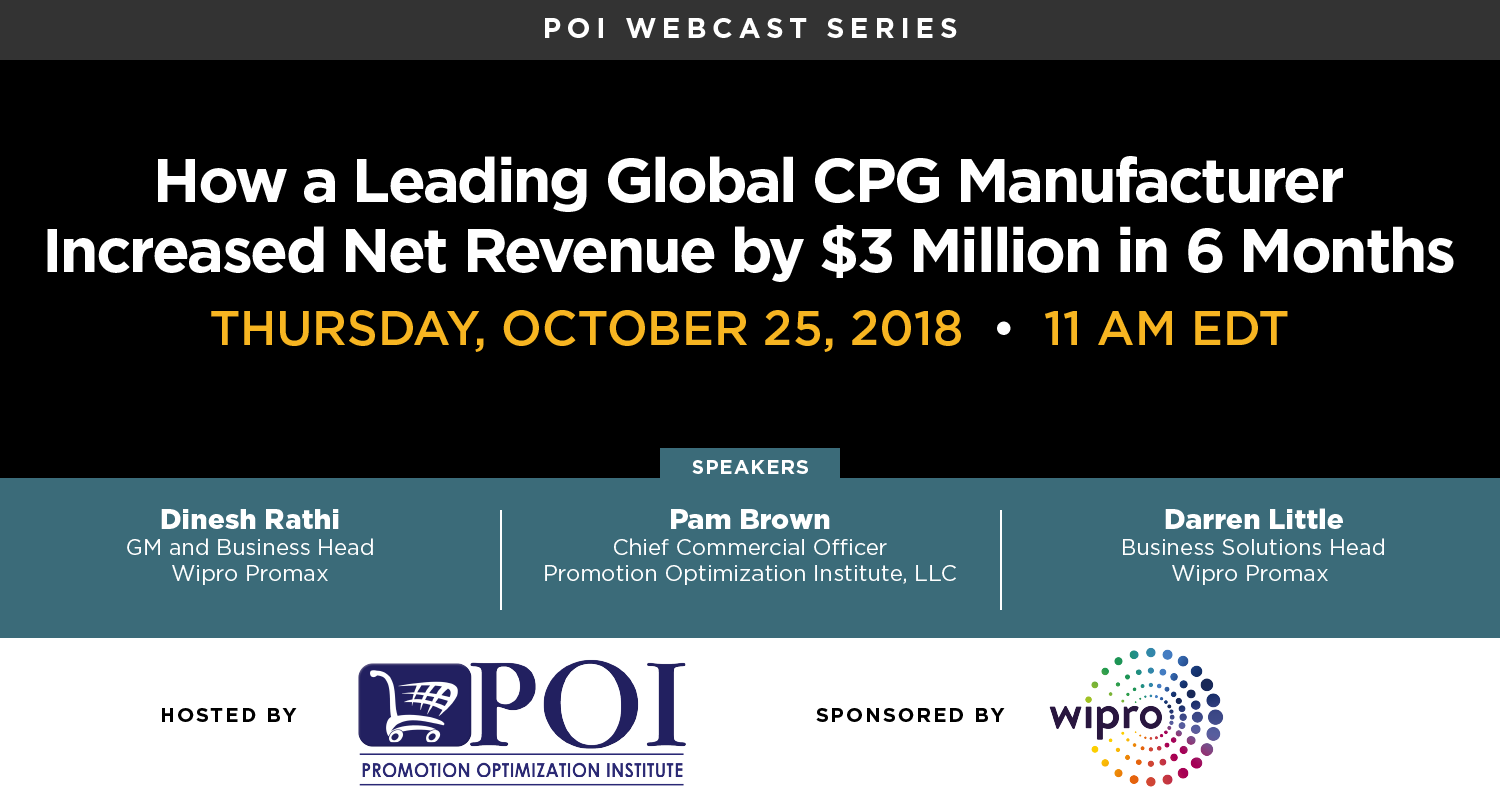 Some of the most important takeaways from this year's POI TPx Vendor Panorama POI's research and evaluation of Trade Management and Optimization technologies are as follows:
–          Data quality and integration are big challenges to the promotional cycle. This manifests itself particularly in the areas of post event analysis, gleaning macros insights, and performing predictive analytics about promotions. In the 2018 POI survey, 80% of respondents stated that they do not have issues with integrating 3rd party data such as POS. We continue to see a strong correlation between companies that are satisfied with their promotions and their ability to bring external data into the process. While many TPx offerings include data management, many do not. This is a key differentiator in vendor support and, ultimately, in the quality of promotional outcomes.
–          There is modest differentiation among TPM solutions at the trans-actional level for planning and executing promotions. What differentiation there is typically can be found in the user experience and ability to evaluate promotions before and after they are executed. Greater differentiation can be found in the ability to predict promotional outcomes and generate insights to improve the overall promotional cycle.
–          TPx is becoming more of a subset of emerging revenue growth management (RGM) initiatives. We applaud this trend and the role of these types of analytics across multiple disciplines within CG.
–          Artificial intelligence (AI) has considerable interest among vendors, and we are beginning to see instances where it is being brought to bear in a way that impacts promotions and promotion effectiveness. We believe that AI has tremendous potential and look forward to it having a greater impact in the future.
–          Issues persist relative to true collaboration. 90% of survey respondents said that they have issues with getting retailers to execute agreed upon promotional plans. This percentage remains unchanged from last year. Predictive tools available in this space today that show promotional outcomes and their financial impacts on both parties can help to reduce this level of noncompliance by increasing retailer "buy-in."
This is a critical time in the marketplace because many ongoing issues like effectively managing trade promotions still persist. Additionally, there are changes in market dynamics with blurring channels and ecosystems. We note some of the following trends, which merit focus from CG manufacturers:
–          More solution options exist than ever before. In this report, we have evaluated a total of 23 vendor solutions. We continue to see more "localized" solutions that focus on specific geographies such as Europe or North America. We have not seen any consolidation among vendors in the last year, which is largely a good thing for users of these solutions because of the tendency to force adoption due to unsettling of technologies or merging of platforms.
–          Deeper analytics, better user experience, and capabilities for optimizing promotions through predictive models are key differentiators that are highly sought after. We consistently see this in case studies of success.
–          Post event analysis is often overlooked or an afterthought when considering the entire trade promotion cycle. However, we have seen this addressed more recently as either something requiring a specialty tool or as having higher weight in the selection process. Because most CG companies are only able to evaluate the top 2-3 promotions at their key 5 vendors, you have an opportunity to gain a competitive advantage by evaluating a greater number of your promotions.
Access the complete report here!
Prepare for POI Dallas by attending this week's complimentary Webinar on Thursday, October 25 at 11AM EDT.
Attendees will get a first look at impressive early results of the 2018/2019 POI TPx and Retail Execution Survey, with Pam Brown!
Industry News
P & G Pursuing Data Sharing Collaboration with Retailers
Source: (Digi Day October 18, 2018)
E-commerce is worth $4.5 billion in sales to P&G, which is 6 percent of its sales. P&G expects that figure to jump to $10 billion in 2021, when Pickford, P&G's director of e-business for Europe, India, Middle East and Africa, said e-commerce would account for around 30 percent of its sales.
Learn more
Join POI in Dallas to Learn with Leaders – Last Chance
Source: (Promotion Optimization Institute, Oct. 19, 2018)
Learn
RGM
, Promotional
ROI
, eCommerce, and
Omnichannel
Strategies for growth now with: Bimbo Bakeries, Maple Leaf Foods, Kellogg, Church and Dwight, Mariano's/Kroger, Mondelēz, Walgreens, JM Smucker, Blue Buffalo, Ventura Foods, California Olive Ranch, InnovAsian, Spectrum Brands, Del Monte Foods, Sysco Corp. and many others  
http://bit.ly/POIDallas2018
Attendees at this POI Summit will network, and learn with Boston Beer Co., JM Smucker, Casey's General Stores, P&G, General Mills, Unilever, Keurig Dr. Pepper, Spectrum Brands,  Clorox, Tito's Homemade, Duracell, Colgate-Palmolive, Pernod Ricard, Maple Leaf Foods, Nestle, Starbucks, Church & Dwight, Kellogg,  Mars, Tree House Foods, Pfizer,  Hershey, Pharmavite, Energizer, Keurig, Dr. Pepper, 7-Eleven, Tillamook, Constellation Brands, Bimbo Bakeries, PepsiCo, Bush Brothers, Sargento, Rich Products, Bellisio Foods, Massimo Zanetti, Deoleo Bertolli, Musco Family Olive, Daisy Brand, AAFES, Ajinomoto Windsor, Walgreen's, Blue Buffalo, Pinnacle Foods, California Olive Ranch, Del Monte Foods, Mondelez, ConAgra, Palmero Villa, Novartis, J&J, Red Bull, Hormel, Clif Bar, Crayola, Cargill, Brown Forman, Campbell Soup, Abbott Nutrition,  Johnsonville, Kimberly Clark, Southern Glazers Wine & Spirits BIC, Coca-Cola, Tyson Foods, Ventura Foods, Atkins Nutritionals, Kroger/Mariano's,
Spectrum Brands, T-Pro, Accenture, Cornerstone Capabilities, Antuit, visualfabriq, EY, Nielsen,  Mindtree, Strategy &,  SAP, AFS, Exceedra, Sequoya, Wipro, Switchboard,and more!
.
Don't miss your opportunity to learn the details necessary to invest in yourself, and your company for ROI. View the complete, world-class agenda, and register here
Contact Joanie at jhampto@p-o-i.org for a Complementary Event Pass
Dollar Shave Club's Data & Platform for Growth
Source: (Mktg Week October 18, 2018)
Dollar Shave Club is still gaining subscribers at a rate of 10% a year and now has 3.9 million subscribers. But it is facing increased competition as P&G's Gillette and disruptors such as Harry's battle it out for market share. The brand has had to "fundamentally rewrite" its data management platform and change its business model, according to Graeme Pitkethly, CFO at its parent Unilever.
Learn more
Dawn Foods Writes its Own Destiny through Digital
Source: (Baking Biz October 15, 2018)
Dawn is looking into this year and next for developing new initiatives that revolve around digital interactivity. "Digital is not something that's going to happen all at once," said Serhat Unsal, Dawn Foods co-CFO. "It's going to happen over the next 10 to 20 years. This is where the industry is headed, and Dawn has to be at the forefront of driving this transformation. "
Nestle's Pricing Actions Pay Off in Americas Zone
Source: (Food Biz News October 19, 2018)
Pricing actions paid off for Nestle S.A. in its Americas zone and its Waters business through the first nine months of the year…. Growth came in Purina pet care, Coffee-mate creamers and coffee, particularly in e-commerce.
Learn more
Heineken on Collaboration and eCommerce Ambitions
Source: (Mktg Week October 17, 2018)
Heineken admits it is struggling to keep pace with the shift to online, held back by a lack of data, not enough collaboration and marketers not investing in the right places… "We need to look at the ecommerce-ready supply chain and global e-retailers and see if we can do global work together in key markets to test", Ghislaine Prins-Evers, Heineken's global head of ecommerce.
Learn more
Kellogg's Taps Amazon for Digital Push
Source: (Mktg Dive October 16, 2018)
As more brands are ramping up their focus on cause- and purpose-led marketing initiatives, Amazon aims to show how they can leverage its platform to bolster those efforts. Kellogg's is tapping the e-commerce giant to handle web hosting, donation and shipping services around World Food Day, allowing Amazon to do a lot of the heavy logistical lifting on a platform where many visitors are already primed to make a purchase.
Learn more
Scholarship opportunities available!
"I truly enjoy meeting as a group and learning from the professors and colleagues at the POI Certified Collaborative Marketer program at Saint Joseph's University.  Thanks for putting this certification program together, it's fantastic!" said Veronica Escalante, Customer Development Manager, Sprout Foods, Inc   
Learn more 
L'Oréal CMO on Growth from eCommerce
Source: (Mktg Week October 19, 2018)
Now the majority of growth comes from ecommerce. Stéphane Bérubé, CMO, urged marketers to integrate tech into every aspect of their thinking, arguing: "There is now a tech aspect to being a marketer and if you're a marketer who has no opinion on AI and think that digital people should take care of digital things that is a big mistake."
Learn more
Mars "Bite-Size" Films Target Gen Z & Millennials
Source: (FoodBev October 18, 2018)
Although not a launch as such, Mars is one of the strongest recent examples of Halloween-linked creativity, last year teaming up with Fox to produce four 'Bite-Size Horror' films. The shorts promoted Skittles, M&Ms, Starburst and Snickers, helmed by up-and-coming horror directors and aired across Fox networks throughout October. The films generated huge social media engagement and were later screened at the Cannes International Series Festival.
Learn more