POI Pulse September 12, 2016 PUBLISHED BY PROMOTION OPTIMIZATION INSTITUTE
Visit www.POInstitute.com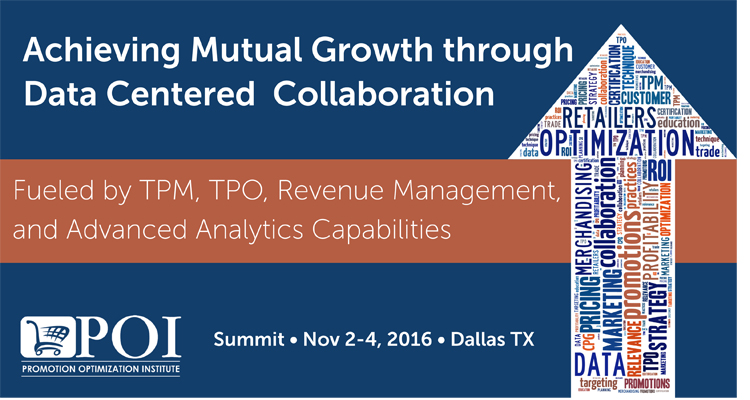 View the preliminary agenda with Meijer, Georgia Pacific, Bimbo Bakeries, Plated.com, etc. here, and Register Today!
Sprouts Sales Fall Short as Conventional Promotions Popped, CEO Says
Source: (Supermarket News Sept. 8, 2016)

Sprouts Farmers Market CEO Amin Maredia

on Thursday

blamed the company's sudden sales shortfall on having cautiously reacted to deepening promotional price activity from conventional supermarket competitors spooked by sustained price deflation.

Learn more

What is PepsiCo Innovating These Days

Source: (FoodBiz News Sept. 8, 2016)

What do Generation Z and millennial moms have in common? These two consumers groups are helping guide PepsiCo, Inc.'s product development, said Al Carey, chief executive officer, North America. A trend among millennial moms, for example, inspired a forthcoming product launch from PepsiCo's Quaker business.

Learn more

Register now to join Coca-Cola, Mondelez, Kimberly-Clark, Michael Foods and Others to Gain Competitive

Advantage with Exceptional Retail Execution at POI Summit

September 25-27

, Saint Louis, MO.

Join your peers, and invite your sales force enablement, merchandising, pricing execution, retail marketing, and Distributor colleagues to join POI in Saint Louis, MO. at the

Retail Execution Summit

on

September 25-27

. Leaders joining us include:

General Mills, Wells Enterprises,Michael Foods, Bimbo Bakeries, Galderma, Pinnacle Foods, Hershey's, Colgate Palmolive, Acosta, Evolution Fresh, Rich Products, Diageo, Nestle Purina, Edgewell, Mondelez, 7-Eleven, Energizer, Mars, Cargill, Starbucks, Kellogg, AB Inbev, Coca-Cola, Deoleo, Kimberly-Clark, RB, P&G, Biscotti Bros. Schnucks Grocery, PepsiCo, and more.

View the preliminary agenda here, and register today

Macys and Apple Join Forces to Increase Sales


Source: (Fortune September 8, 2016)

Macy's signed a deal with Apple to open an Apple store within its 1 million square-foot flagship at Herald Square in New York. Not only is Macy's the first department store to host one of the tech giant's emporia, but it will also be able to sell the Apple Watch at more than 180 stores in time for the Thanksgiving to Christmas rush. "It will be in all of our top buildings for the holiday season," Learn more


POI Research – Strategies for Improving Trade Promotions and Retail Execution
Source: (Mercury News August 25, 2016)

Seek to enable all of your trade promotion related processes. We still see a large number of activities that are done in spreadsheets instead of through a system. Evaluate all of your processes when choosing a TPx solution. Adding spreadsheets to compensate for inadequacies in your system of choice only adds cycle time, complexity, and the possibility for errors. A great resource…

Learn more, and access the research

B&G Foods Unveils Green Giant Innovation
Source: (FoodBiz News Sept. 7, 2016)

"Since the acquisition of this iconic brand, we have been working tirelessly to meet consumer desire for new, delicious ways to incorporate more vegetables into their daily lives," said Robert Cantwell, chief executive officer of B&G Foods. "This consumer desire has inspired the creation of new Green Giant frozen innovations, as well as the brand's modernized persona, with the intention of bringing back the Green Giant with a purpose – adding more vegetables to America's plates."

Learn more

Access the free webinar

to review the key insights from the POI 2016 Retail Execution Panorama.

View Now

Lowe's Tests 3D-Printed, Personalized Products

Source: (Forbes September 8, 2016)According to

Accenture research

, 40% of retailers say a personalized customer experience is their top priority, and 61% expect personalization technologies to generate a meaningful return on investment.

Learn more

Registration is Open!! POI Fall Summit

– Achieving Mutual Growth through Data Centered Collaboration, Dallas TX. Make your plans now, as we are building another world-class agenda, including Meijer, Bimbo Bakeries, Georgia-Pacific, Johnson & Johnson, Plated.com, and more.

Learn more

Enroll Today and Become Certified as a Collaborative Marketer

w/ POI at Saint Joseph's University

Source: (POI-Next Orientation is

December 16-17, 2016

)During this 16-week self directed program, expert faculty expose participants to the key management levers that drive organizational success. The program begins by exploring how organizations develop and implement strategy.

Then, core functional areas of business are explored – from sales to marketing, to supply chain and finance -teaching candidates a solid understanding of each function and how it contributes to trading partner collaboration success.

Learn more and enroll today

Food for Though, and Action…

Those of you attending the upcoming POI Retail Execution Summit in Saint Louis on

September 25-27

are in for a unique and tremendous learning and networking experience!

Here is a glimpse of some of the questions our presenters will be answering throughout the POI Summit,

so you and your organization can profit from this exceptional experience: Register today at

http://bit.ly/29Cgrxq

How has the emergence of retailer POS data changed the traditional methods of retail execution (store audits, surveys, call frequency, etc.).

a. How to embrace the opportunity and break old habits.

b. How POS data can influence store call priorities and potentially call frequency

Every store-item combination leads to a lot of data points.
How do you present data-driven insights to Field Sales personnel in an effective manner?

Including: balancing between retail efficiency and effectiveness; use of alerts to guide retail actions; the potential for Augmented Reality to present data at the shelf; and addressing behavior change and change management.

How has the availability of retailer data changed your metrics?

a. The evolution to On Shelf Availability

b. The metrics that matter to retailers and to manufacturers. How do they align?

c. How Data sharing has delivered transparency and encouraged collaboration between retailer and manufacturer.

How will the growth of ecommerce impact the Retail Execution process?

a. The virtual equivalent of a retail store call

b. The use of data to monitor sales trends and promotions

Each company finds itself in the throes of transformation

What was your situation / what were the drivers to change?

What did you set out to achieve?

What were the challenges and how did you overcome these?

What were some key learnings?

Growing customer pressure / influence over most aspects of execution. For example, CGO / CAO. What other examples are there and how do you deal with that?

How do you enable retail teams to focus on selling more?

What is the business case for emerging technologies?

What efforts are you undertaking to understand the customers' priorities and key issues.

How can we customize promotional execution plans for our customers?

How are you educating your organization about customer nuances to help them prepare for the customizations?

Get answers to these questions and more at the Promotion Optimization Institute. There is still time to register to attend the POI Retail Execution Summit. Contact Michael Kantor at

mkantor@p-o-i.org

to inquire if you (or a team member) are eligible for a complimentary pass to the event.

Have a sensational Week!

POI Pulse is read by over 4,500 Retail Merchandising and CPG Marketing Executives.
Sponsors of this week's issue of POI Pulse –
To advertise, reach us at: mkantor@p-o-i.org or call 914-319-7309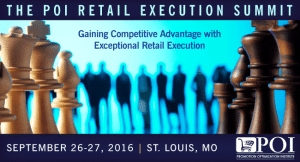 Register Today to join 150 Manufacturers and Retailers!<
If you have a relevant opportunity, list it in POI Pulse, reach us at
info@p-o-i.org
Business Analyst
Sequoya Group, Inc.
Develop and document the project scope, objectives, and research approach for large-scale, custom research studies based on interviews with managers and subject matter experts, secondary research, and an evaluation of the business situation
Establish research methodology, study specifications, procedures, timelines, and necessary tools for effectively and efficiently meeting research objectives. Learn more

Nestlé Waters North America


Trade Promotion Optimization Manager
In order to optimize NWNA trade spend efficiency we are looking for managers who will support the financial analyses at the pack, account, and channel level. Data from a variety of sources is fed into an Excel-based Trade Spend Optimization tool and will require analytical insight and recommendations on optimizing efficiencies. Managers will work primarily in Excel to develop insights and recommendations and will develop strong relationships with the Sales Finance team and Sales Account Managers to ensure positive optimal performance of Trade Spend.
Learn more
Upcoming Events
"Gaining competitive advantage through exceptional retail execution"