Part 7 of a several part series based on the Promotion Optimization Institute TPx and Retail Execution Survey published in January 2016. Click here to read Part 6.
We see an increasing interest in an on-demand workforce (often referred to as "crowdsourcing") of the data collection component of the store visit. This means checking for:

Product availability, both current items as well as in a new item launch.
Presence of a shelf tag.
Presence of a promotion or display and its location.
Presence of point of sale (POS) materials.
Capturing pricing, both promotional or every day.
Details about assortments.
It can also take photos and upload them to support the facts represented by the data.
Responses to the statement, "you believe that merchandising activities can be crowdsourced.":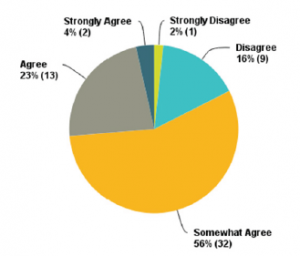 Do you want to learn more? Join us at the POI Retail Execution Summit September 26-27 in St.Louis.

Learn more at the Retail Execution September 26-27, 2016
"Gaining Competitive Advantage with Exceptional Retail Execution"