POI Pulse September 19, 2016 PUBLISHED BY PROMOTION OPTIMIZATION INSTITUTE
Visit www.POInstitute.com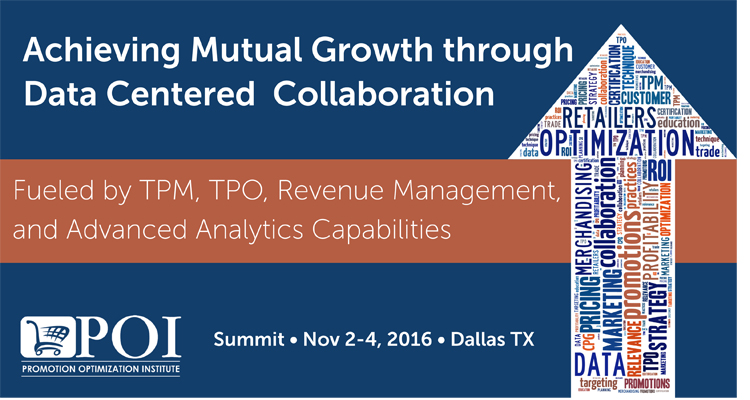 View the preliminary agenda with Meijer, Georgia Pacific, Bimbo Bakeries, Plated.com, etc. here, and Register Today!
Last Chance to Register-POI Retail Execution Summit
Source: (POI Saint Louis, MO Sept. 25-27)

Register now to join, Mondelez, Kimberly-Clark, Michael Foods and Others to improve selling strategies leading to Exceptional Retail Execution at POI Summit September 25-27, Saint Louis, MO.  Join your peers, and invite your sales force enablement, merchandising, pricing execution, sales, and distributor colleagues to join POI in Saint Louis, MO.

Learn more and register here

Barilla – New Merchandising & Marketing Programs
Source: (Grocery HQ September 2016)

Tim Knuettel VP Sales is quick to point out that Barilla is sensitive to concerns about profitability of the category. While promoted prices have increased recently, he noted that, "At the same time, we are doing all we can to bring the consumer back to the pasta aisle. We are educating them on the benefits of pasta, we are offering more recipes and we are giving them more reasons to buy pasta."

Learn more

 

Poster Sessions are Back for POI Dallas!

 

Do you have a story to tell but don't have the time to prepare for a 45-minute presentation?  Why not submit a poster to be included for the 2016 POI Fall Summit in Dallas, TX

Nov 2 – 4

  A poster is a simple way to share an interesting topic or experience and stimulate discussion with Summit Attendees.  Posters should demonstrate a business problem or opportunity related to TPM, TPO, Revenue Management, Collaboration or Analytics capabilities. At POI Chicago, Mondelez, Red Bull, and Rich Products submitted posters.  Posters will be on display throughout the Summit.  Contact Mike Kantor (

mkantor@p-o-i.org

) for more information

Buy at Amazon – Collect at Morrisons
Source: Int'l Supermarket News 9/15/16)

In May, Morrisons began to supply thousands of grocery items that are now available to Amazon customers through AmazonFresh in London, Amazon Pantry nationwide and Amazon Prime Now, the company's ultra-fast delivery service available to more than 30 per cent of the UK population.

Learn more

POI Research – Strategies for Improving Trade Promotions and Retail Execution
Source: (Mercury News August 25, 2016)

Seek to enable all of your trade promotion related processes. We still see a large number of activities that are done in spreadsheets instead of through a system. Evaluate all of your processes when choosing a TPx solution. Adding spreadsheets to compensate for inadequacies in your system of choice only adds cycle time, complexity, and the possibility for errors. A great resource…

Learn more, and access the research

Target Focusing More on Price & Less on FreshSource: (Chicago Tribune Sept. 18, 2016)

The retailer might have featured items on so-called end caps that came with a number of different price tags, rather than showing off a suite of items that all cost $11.99. The company hopes that will make its prices simpler to understand. Target has also changed up its circulars to put a spotlight on low-priced household essentials. Learn more

Access the free webinar

 to review the key insights from the POI 2016 Retail Execution Panorama.

View Now

Registration is Open!!  POI Fall Summit

– Achieving Mutual Growth through Data Centered Collaboration, Dallas TX. Make your plans now, as we are building another world-class agenda, including Meijer, Chicken of the Sea, Bimbo Bakeries, Georgia-Pacific, Johnson & Johnson, Plated.com, and more.  

Learn more  

Lessons from the Strategy Crisis at Netflix

Source: (Strategy & Business September '16)

As the Netflix subscriber base grows, the "personalization" algorithms that power its recommendations engine become ever more sophisticated. But there isn't much evidence that consumers will ever be willing to pay a premium for such a feature. 

Learn more

Enroll Today and Become Certified as a Collaborative Marketer  w/ POI at Saint Joseph's University


Source: (POI-Next Orientation is

December 16-17, 2016

)During this 16-week self directed program, expert faculty expose participants to the key management levers that drive organizational success. The program begins by exploring how organizations develop and implement strategy.

Then, core functional areas of business are explored – from sales to marketing, to supply chain and finance -teaching candidates a solid understanding of each function and how it contributes to trading partner collaboration success.

Learn more and enroll today

 Guest Column – Next Gen Store Execution: Keep Your Store Relevant with Image Recognition

 

The retail industry isn't facing disruption. It's already disrupted. Shoppers today have more choice, are more empowered by technology, better informed, and more frugal than ever. Retailers today are putting an unprecedented premium on delivering the best possible shopping experience in pursuit of increasing customer loyalty and lifetime value.

One of the biggest challenges that stands in the way of this is shelf visibility. Many blind spots exist that keep retailers from knowing which products are moving, ensuring that products are always on the shelf, and staying on top of compliance, marketing and merchandizing execution. According to Oliver Wyman, 60% of stockouts at an average grocery retail store are caused by defective shelf execution issues, rather than supply chain problems. And this is just the tip of the iceberg.

Existing store monitoring methods are still manual, often relying on store-walks and spot-based surveys that are not only time-consuming and resource-intensive, but also ad-hoc and rarely linked to corporate objectives focused on improving efficiencies. To deal with the complex problems of shelf space management, merchandizing compliance, price and promotion execution, retailers need a new robust system of insight driven by technology.

Image recognition analytics is among the hottest innovations in retail technology that enables retailers and brands to see the store the way the shopper does. Computer Vision systems run complex image processing algorithms that turn digital images of the shelf (taken via a smartphone or auto-captured by fixed cameras or robots) into meaningful information and analytics around out of stocks, planogram compliance and much more in real-time.

Trax technology recognizes 250 million products every month, and digitizes store shelves in over 45 countries with high levels of speed, scale and accuracy. Retailers leverage Trax to evolve from a 'tracking' mind-set to build a strategically managed store execution discipline and culture in four steps:

1. MEASURE your in-store execution in real-time
2. UNCOVER in-store gaps & category opportunities
3. EMPOWER your teams to make data-driven decisions
4. IMPLEMENT the right shelf strategies in every store

With quick, accurate and timely data, everybody wins:

Shoppers will experience an improved in-store look and feel because store shelves will be better organized with less chance of out-of-stocks. Retailers will gain absolute visibility and control of shelves to better manage store operations, augment store staff productivity, and drive more trips and bigger baskets. Manufacturers will get quick, quantitative data to facilitate better relationships with retailers, and maximize brand awareness and sales.

Access the full article and learn more

Food for Thought, and Action…

Those of you attending the upcoming POI Retail Execution Summit in Saint Louis on September 25-27 are in for a unique learning and networking experience!  

Register today at http://bit.ly/29Cgrxq  

Have a sensational Week!
POI Pulse is read by over 4700 Retail Merchandising and CPG Marketing Executives.
Sponsors of this week's issue of POI Pulse –
To advertise, reach us at: mkantor@p-o-i.org or call 914-319-7309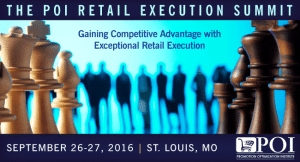 Register Today to join 150 Manufacturers and Retailers!
If you have a relevant opportunity, list it in POI Pulse, reach us at
info@p-o-i.org
Business Analyst
Sequoya Group, Inc.
 Develop and document the project scope, objectives, and research approach for large-scale, custom research studies based on interviews with managers and subject matter experts, secondary research, and an evaluation of the business situation
Establish research methodology, study specifications, procedures, timelines, and necessary tools for effectively and efficiently meeting research objectives. Learn more

Nestlé Waters North America


Trade Promotion Optimization Manager
In order to optimize NWNA trade spend efficiency we are looking for managers who will support the financial analyses at the pack, account, and channel level. Data from a variety of sources is fed into an Excel-based Trade Spend Optimization tool and will require analytical insight and recommendations on optimizing efficiencies.  Managers will work primarily in Excel to develop insights and recommendations and will develop strong relationships with the Sales Finance team and Sales Account Managers to ensure positive optimal performance of Trade Spend.
Learn more
Upcoming Events
"Gaining competitive advantage through exceptional retail execution"