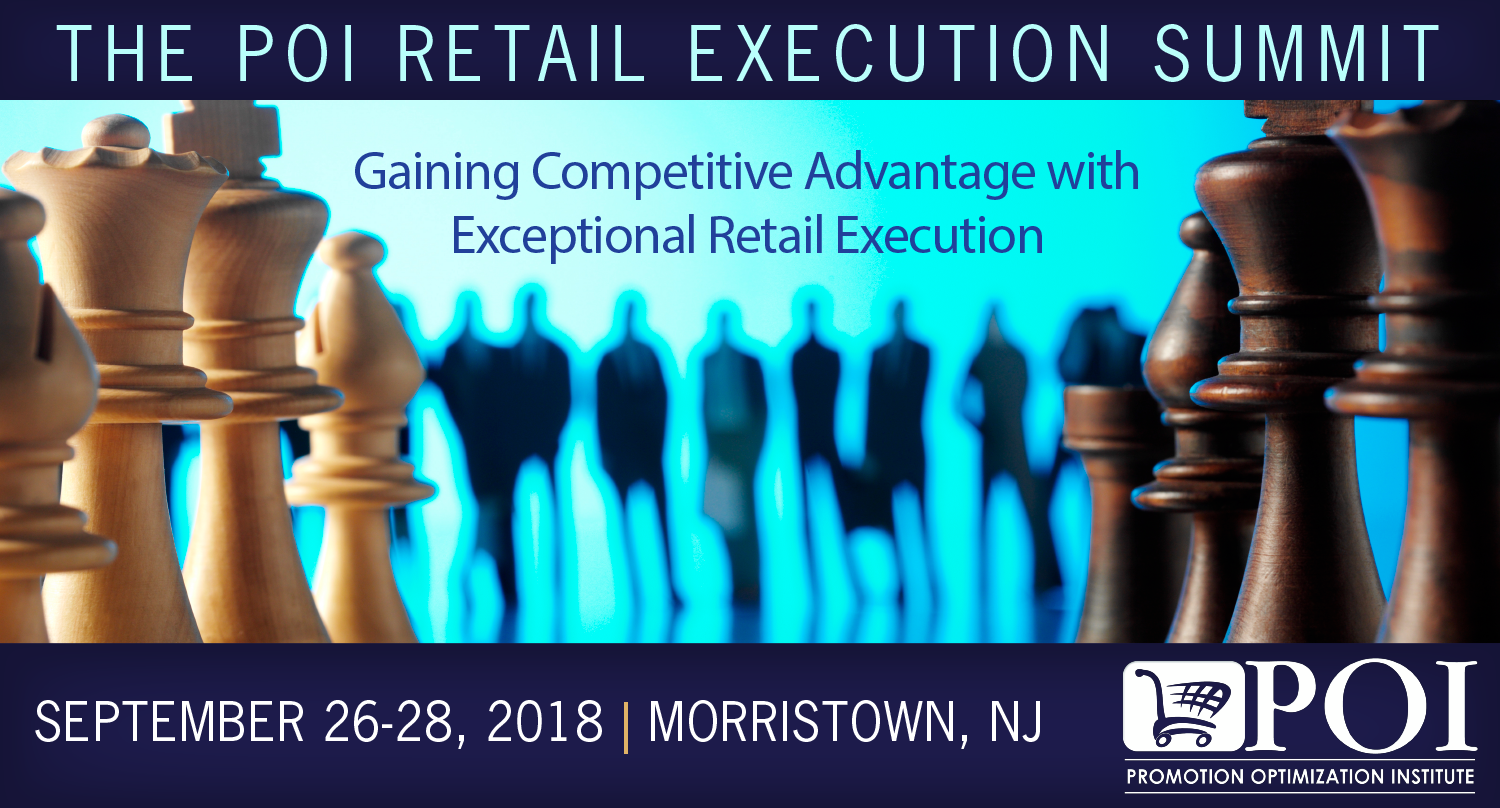 POI Leadership is meeting with the POI eCommerce Business Leadership Council today to collaborate as retailers and suppliers to jointly design and execute eCommerce strategy that is focused on shopper loyalty building and drives ROI for both manufacturer and retailer. We are committed to greatness!
Our goal is to evaluate and define eCommerce and omni-channel strategy to address eCommerce challenges in the Consumer Products Industry and develop standards of success. Through our engagement we will develop and share best practices, develop and test standards & generate KPI's for the industry.
It was a year ago now on June 19, 2017 when Amazon Acquired WFM, and I put forth this call to action…
If Not Now, Never! AZN, WFM, and Priorities   
Is the Amazon Acquisition a game changer? It absolutely is.  Therefore, there has never been a greater time in history to change YOUR game.  Every three years or so (in recent times) e.g. the great recession, the shift to healthier choices, the term 'New Normal" has been thrown around. Now the term game changer is used with the AZN WFM combination.  We actually have about 2-3 years before that integration has the opportunity to bring about the "New Normal" term.  In fact, as I have said back in 2009, there is no "New Normal", only an ever-changing environment for which we need to continuously adapt our strategies, and execution to.  The best in our industry will continue to create, improve, shift, innovate, and compete using their people, processes, and tools to better collaborate, and execute to serve their shopper/consumer.
I see this more of a rallying cry, for manufacturers and retailers to now, more than ever shift their sales, marketing, and merchandising (Collaborative Marketing) efforts to the top priority on the strategic agenda.  Beyond sustainability, alongside food safety, where existing efforts, and new plans for planning, executing, analyzing pricing, promotions, Loyalty, Click and Collect, (along with the enabling technology) and actually making targeted use of the data, information, and insights to get closer to, and better serve your customers.
The great recession was a defining moment, which necessitated manufacturers, and retailers could not go it alone, and needed to better collaborate.  Today, the difference is a hard timeline to get these initiatives, and capabilities shored up.  It is analogous to the 30 year old roof on your house.  On a calm sunny day, the roof serves its purpose, however, when there are high winds, ice, or rain, there are a few leaks, and sub-optimal performance.  It's taken a back seat to other priorities (new car, kid's education, healthcare, etc.) You just got news that a hurricane is coming in 3 weeks…Now is the time to change YOUR roof. The timeline for this is about 3 years before Amazon fully integrates, and leverages physical retail.
So, we now pay greatest attention to the good data we have, brush up on (and consistently and timely use) the analytics capabilities, shore up our people skills, understand and better collaborate with trading partners to initiate/improve pricing strategies, BOPIS capabilities, and get substantially closer to our shared shoppers/ consumers to exceed their needs.
Amazon has clearly told us that physical stores are necessary to compete now, and into the future. That IS our business, and we have home court advantage.  The POI has the resources, advice, members in the community (Retailers, Manufacturers, Solutions Providers, Academia, etc.), including the POI eCommerce Business Leadership Council, who are succeeding in the face of adversity, and available to enable your action-oriented success.  Reach me via phone, mkantor@p-o-i.org, and at our world-class events (where our recent event in April highlighted these keys to success), where we delve deep into best practices for success in any changing environment.  Let's compete, and win!
How E-Com is Evolving AB InBev and Alcohol Category Source: (Grocery Biz June 13, 2018)
 Determining the right product selection is imperative for success in e-commerce. Anheuser-Busch's research and insights on the online beer shopper information can help to inform what products and SKUs are most attractive to online customers.  Learn more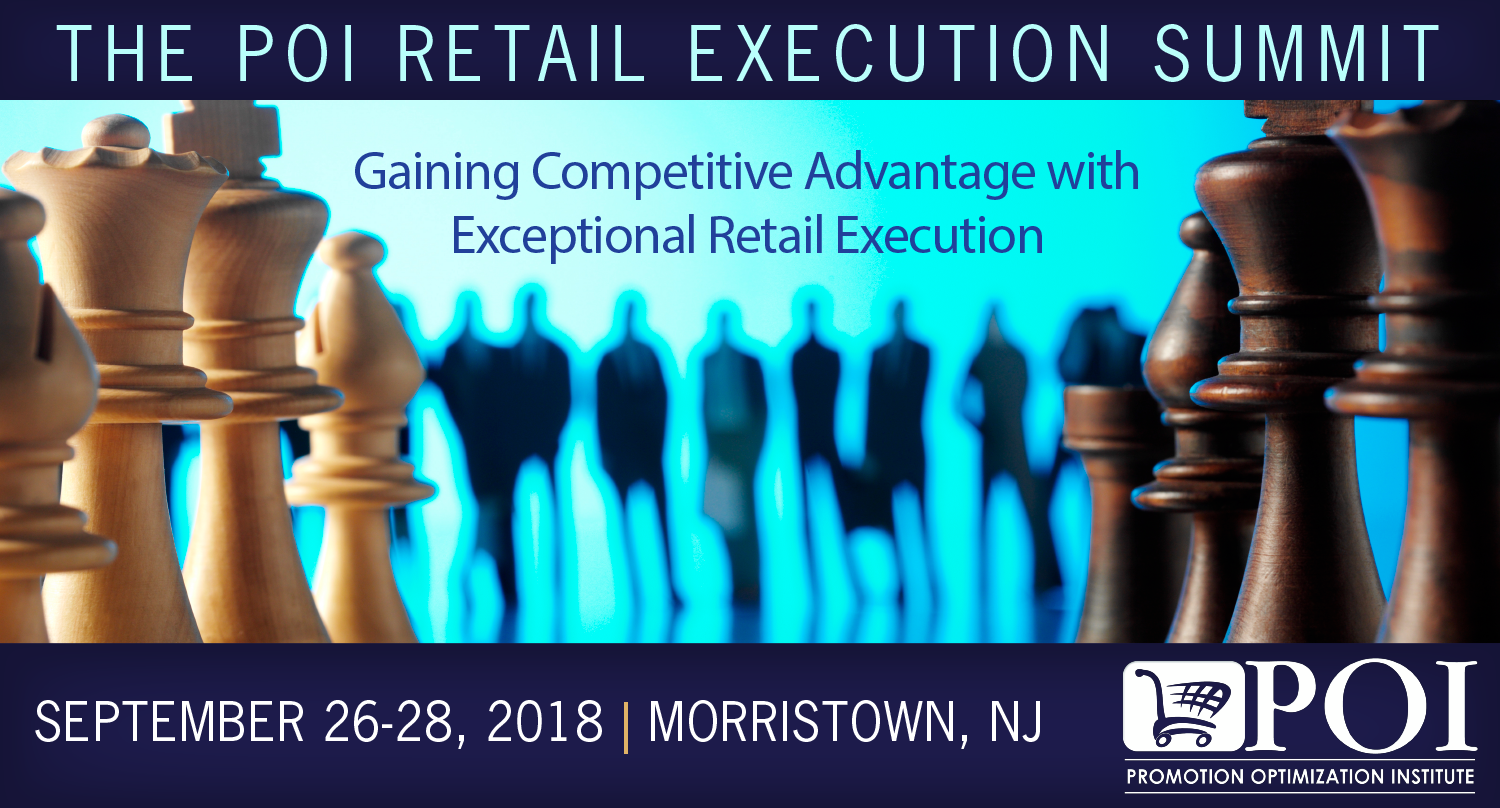 The 3rd Annual POI Retail Execution Summit in NY/NJ September 26/28 –   Registration is open!  View the Preliminary agenda!  
Join Kellogg's, J&J, Kimberly Clark, Conagra, Giant Eagle,
Red Bull, Pinnacle Foods,  Starbucks, Hormel, Del Monte, Mondelez, PepsiCo,Church & Dwight, Colgate-Palmolive,
Coca-Cola, Constellation Brands, Ajinomoto Windsor, Bellisio, Rich Products, Sprout Foods, Food Lion, Nature's Bounty, Blue Buffalo and more.  Manufacturers and Retailers can follow the links and register here
Clorox VP eCommerce: Doing Digital Source: (Clorox Blog June, 2018)
"Many online shoppers come to a site already knowing the brands they want to buy, which helps us. And because we were online early, we have a long history of consumer clicks and purchases, which also helps. Another element of the digital shelf is consumer reviews, and because people love Clorox products, those tend to be positive", Lyné Brown, VP,eCommerce . Learn more

Save the Date!  We're back at the Westin Galleria.
Join us and 300 CPG and Retailers peers for the POI Annual Fall Summit in Dallas, "Collaborative Marketing Driven By Data Analytics", November 7-9, 2018   Attendees include: Kimberly Clark, Ajinomoto Windsor, Olive's, Walgreen's, Blue Buffalo, Pinnacle Foods, Del Monte Foods, Duane Reade, ConAgra, Ainsworth Pet Nutrition, Red Bull, Hormel, and more. Register here
Mondelez' Growth & Expansion in Europe Source: (Food Biz June 14, 2018)
Looking ahead to the next three years, Mr. Weber, EVP and President of Europe at Mondelez. said Central and Eastern Europe stand out as the growth engines for Mondelez and most likely will be the focus areas where the company plans to invest from a value-generation perspective. Learn more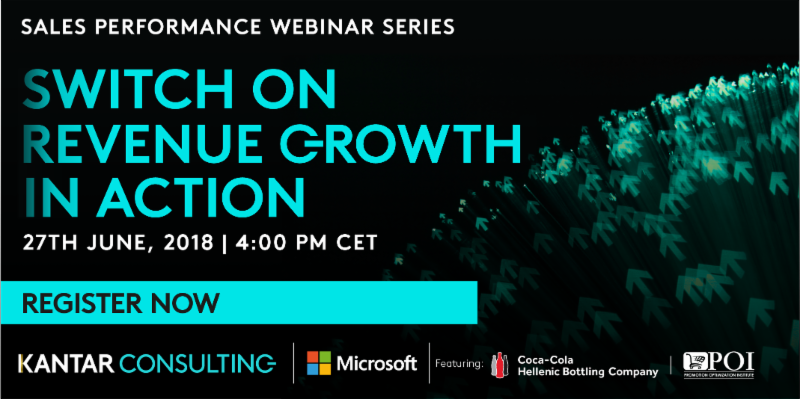 Webinar: Switch on Growth in Action
June 27th, 4:00 PM CET Join Complimentary here
Heineken's First e-Commerce Push in the US Source (Digiday June 11, 2108)
For Heineken, offering e-commerce is a way to stand out in a market it does not dominate. In the U.S., domestic beers Budweiser, Bud Light, Miller Lite and Coors Light are consistently the top-selling beer brands.  Learn more 
Don't miss the next POI Summit!
Presentations from the Recently Concluded POI European Summit are available to POI Members 
Mars' Chairman on The Future of Mars Inc. Source: (Biz Insider June 13, 2018)
"In terms of digital, one of the biggest opportunities, and the thing that we're most proud of in terms of what we have, is our brands. Our brands are known around the world, loved around the world, and used by people on a daily basis," Mars chairman Stephen Badger said.  Learn more

In case you missed the POI live webinar on June 14th, you can access the on-demand copy of the recorded event here.
Danone a Catalyst in Food Revolution Source: (Food Biz June 13, 2018)
"Retailing is taking place more and more through online and on-the-go," she said. "And purchase decisions are now more and more made through recommendation. This is why we are increasing our presence in local and single-serve products. It is why our branding emphasizes health and nutritional benefits.", Cécile Cabanis, EVP and CFO, IS/IT, Cycles and Procurement, said. Learn more
Shiseido's Digital Transformation Ambitions Source: (CMO June 14, 2018)
Shiseido is building a global customer data platform, investing in omni-channel marketing automation and driving real-time engagement capability as part of a major transformation program aimed at providing more relevant experiences to customers. Learn more
Unilever's Stand Against Digital's Fake Followers Source: (Reuters June 17, 2018)
Keith Weed, will pledge on Monday that Unilever will never buy followers or work with influencers who buy followers. It will also prioritize social media platforms that take action to stamp out fraud and increase transparency.  The practice of buying followers risks eroding trust and therefore damaging one of the fastest-growing areas of advertising – the billion-dollar-a-year market now known as "influencer marketing" – and Unilever says it wants it to stop. Learn more