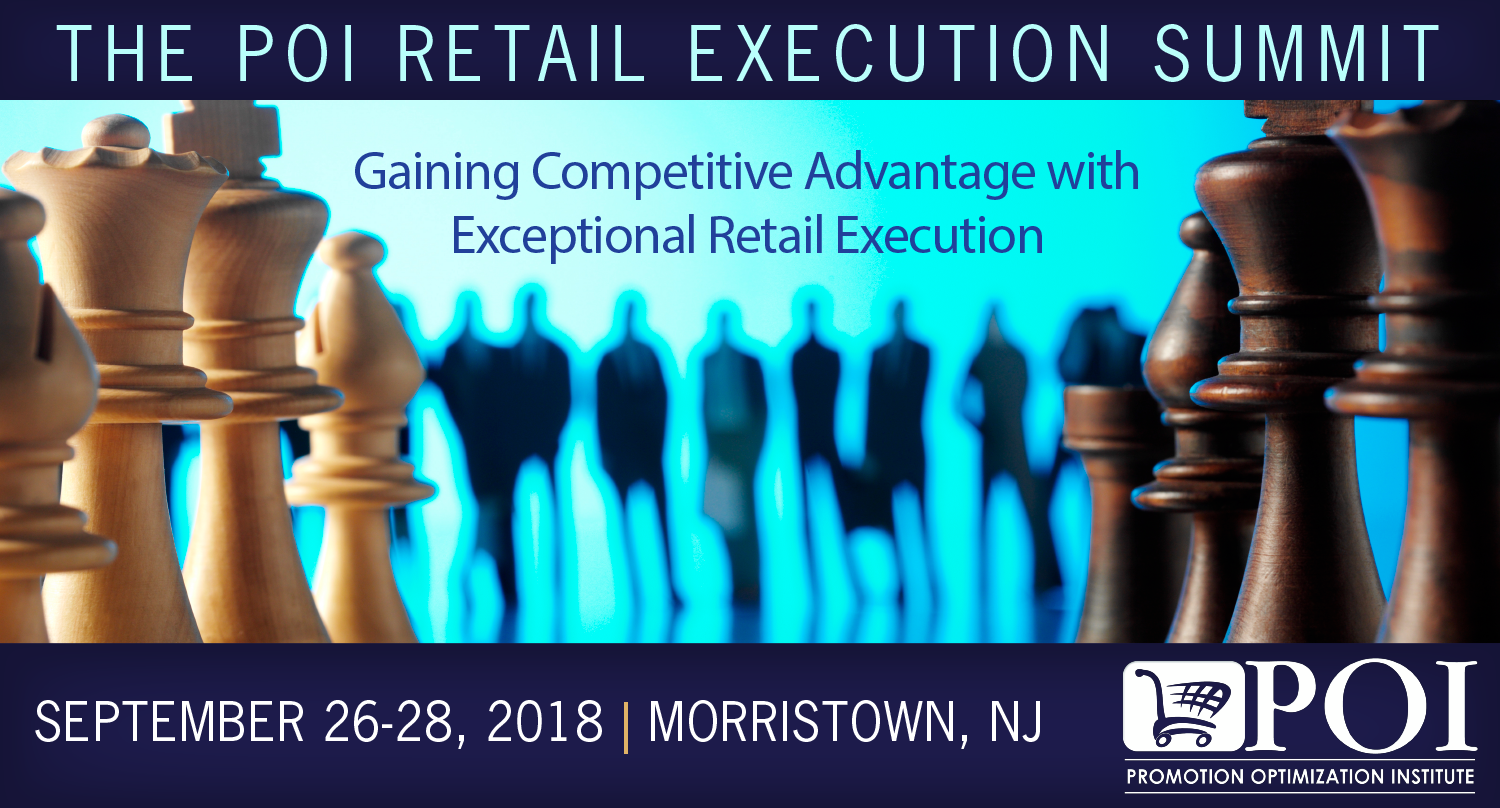 Here you will find new opportunities to advance your capabilities and grow your organization via sales effectiveness, retail execution, mobile and analytic capabilities for physical, eCommerce, and click & collect models for these changing times. This summit's theme recognizes, and addresses, evolving consumer habits, advanced analytics, utilizing data, and constant communications making this the most exciting and challenging time to be shaping brands, banners, and collaborating in new ways for profitable growth.
At POI we are celebrating our 10th Anniversary with you, and our mission to serve our members with the best research, processes, technologies, and develop talent that will keep you out ahead of challenges in-store, on-line, and thereby giving members a competitive advantage in the marketplace.
The POI Education Advisory Board considers continuing education, research, and advisory with best practices the top priorities for our organization, and we have constructed this unique program with learning and continuous improvement from keynote to closing remarks. We continue to lead by example, and express our gratitude to all POI Faculty, Members, Sponsors, and Attendees who share their time and talent to speak, engage with questions, or conduct sessions, with excellence and service in mind. It is our desire and hope that you take away solutions from this summit that help you from headquarters strategy through execution at retail to succeed with your trading partners in serving today's shoppers' and consumers'.
POI continues to lead the way, providing superior education and solid training ground for advancing Retail Execution Excellence. It remains my great honor and privilege to work with Dr. John L. Stanton at Saint Joseph's University, Pam Brown (POI Chief Commercial Officer), and the POI Education Advisory Board. You will experience first-hand, the
Certified Collaborative Marketer CCM
 through our candidates and graduates, and how it is designed for continuing education, including mastery of the collaborative skills necessary to succeed with teams and trading partners. Graduates and candidates are represented throughout retail and consumer goods companies.
POI continues to be a resource, and destination for your Retail Execution, Promotion, Pricing, Advanced Analytics, eCommerce, and Collaborative Marketing journey. You'll recognize how this is demonstrated through our leading research (please take our current
TPx and RE survey)
, and by the growing POI global community, including the many of you here who are new to the POI Summit experience.
Please make the time to personally engage with all in attendance, while creating at least 9-16 new relationships. I appreciate each of you for your support, continued learning, and choosing to continuously improve, and innovate at POI.
Industry News
Join us for a Celebration, POI's 10th Year Anniversary, with 300+ CPG and Retailer peers!  Attendees include: P&G, General Mills Spectrum Brands,  Clorox, Tito's Homemade, Colgate-Palmolive, Pernod Ricard, Maple Leaf Foods, Nestle, Starbucks, Church & Dwight, Kellogg,  Mars, Tree House Foods, Pfizer,  Hershey, Pharmavite, Duracell, Energizer, Keurig, Dr. Pepper, 7-Eleven, Tillamook, Constellation Brands, Bimbo Bakeries, PepsiCo, Bush Brothers, Sargento, Rich Products, Bellisio Foods, Massimo Zanetti, DPSG, Deoleo Bertolli, Musco Family Olive, Daisy Brand, AAFES, Ajinomoto Windsor, Walgreen's, Blue Buffalo, Pinnacle Foods, California Olive Ranch, Del Monte Foods, Mondelez, ConAgra, Palmero Villa, Novartis, J&J, Red Bull, Hormel, Clif Bar, Crayola, Cargill, Brown Forman, Campbell Soup,Abbott Nutrition,  Johnsonville, Kimberly Clark, Southern Glazers Wine & Spirits BIC, Coca-Cola, and more!  
Register here
Amazon Testing Machine Learning Technology Source: (CNBC September 19, 2018)
 It's the latest step in Amazon's effort to move consumers away from a world of traditional search while collecting more data on their habits and preferences…This innovative shopping experience is powered by Machine Learning. The result is a beautiful and inspirational image feed, which gives customers the ability to explore a wide range of products in a playful and personalized manner with just a few clicks
Learn more
Danone, Sonoma Brands invest in Meal Delivery Source: (FoodBev September 21, 2018)
 Yumble co-founder and CEO David Parker added: "Since launching, we've experienced overwhelming growth – more than 30% month-over-month during the first year. "Our new investors will help us capitalize on this initial success in a big way. 
Learn more
Heinz 'Mayochup' Social-Powered Campaign Source: (GrocBiz September 18, 2018)
 "After seeing the unprecedented passion surrounding this product, including the nearly one million votes on social media and 500,000 votes in favor of bringing it stateside, launching Mayochup in the U.S. was a no-brainer," said Nicole Kulwicki, director of marketing for Heinz, in a statement.
Learn more
POI 2018 TPx Panorama Released – Announces Best in Class! Source: (Crossroads – NBC News 8-27-2018)
"Consumer buying behavior and the market landscape have dramatically changed in the last few years, which is further fueling a necessary but profound paradigm shift in the CPG ecosystem that calls for manufacturers and retailers to understand not only the consumer but pricing, trade deals, and digital marketing offers in today's retail marketplace," said Pam Brown, Chief Commercial Officer of the POI. "What we have found and reported in this year's report is that vendors have upped their game and are offering predictive analytics, AI, machine learning, in-flight promotion tracking and other leading-edge capabilities that will help drive efficiency and trade." 
Learn more, and access the report here
Scholarship opportunities available!
"I truly enjoy meeting as a group and learning from the professors and colleagues at the POI Certified Collaborative Marketer program at Saint Joseph's University.
Thanks for putting this certification program together, it's fantastic!" said Veronica Escalante, Customer Development Manager, Sprout Foods, Inc   
Learn more 
Instagram Stories Rolls Out Global in-app Shopping Source: (The Drum September 17, 2018)
In addition to bulking up the e-commerce element of its 24-hour service, Instagram has also launched shopping in its Explore tab – a space that uses complex algorithms to serve up suggested content to users. This will come in the form of a dedicated Shopping 'topic channel' in explore that will be tailored to individual's own tastes.  
Learn more
Walmart's New Ways to Disrupt Grocery  Source: (Motley Fool September 18, 2018)
 Whether consumers want to pick up groceries from a giant vending machine remains to be seen. It also still needs to be proved that a market will exist for variations on curbside pickup once delivery becomes widely available. The company understands that people have choices about where to shop, so retailers must offer consumers exactly what they want, or risk losing them.
Learn more
Mondelez' Oreo Drives Sales with New Digital Content Source: (Marketing Dive, September 17, 2018)
 Oreo is tapping into a couple of influencer trends for its new campaign and clearly going after specific segments of younger consumers, with the hope that the novelty of the activations will stand out on social media, boost engagement and ultimately drive sales. More marketers are investing in influencer marketing to build emotional and authentic connections with millennial and Gen Z consumers, who find social media personalities more authentic than other types of marketing.
Learn more