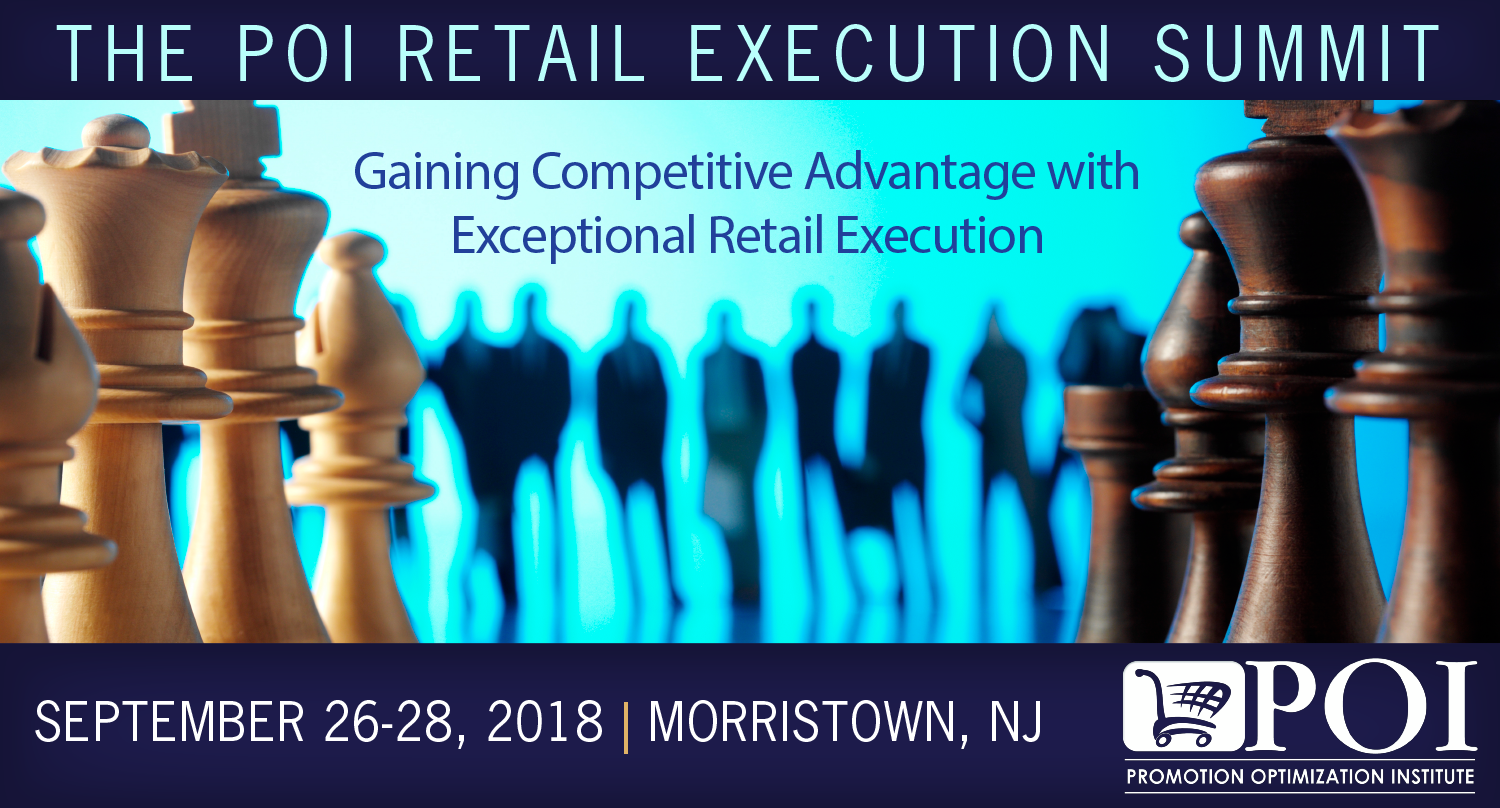 Invest in yourself! In the 10 years since…
Over $2 Million saved by identifying a change in process. 1320 past Attendees have advanced their careers, gaining the necessary skills at POI.
Here's what's in store for you, and your teams at the upcoming POI Summits in Morristown, NJ, and then Dallas, TX:
Best practices for achieving growth today, and into the next three years – practical examples, latest technologies, and advanced analytics leveraging AI. Sessions include:
How Data, Machine Learning, and AI Provide New Ways to Measure and Transform Retail Execution
Join this lively panel discussion with CPG Leaders to understand how data and technology are used to effectively impact sales, profits and retail execution through measurable KPI's that include; On Shelf Availability (OSA), Display Growth, Total Distribution Points (TDP), Average Items Carried, etc.
* Leveraging data to visualize retail conditions
* Leveraging AI to prescribe and prioritize retail activities
* Leveraging insights to deliver the Perfect Store
* Utilizing data in a virtual world
Moderated by: Andres Jejen, AFS Technologies
Panelists: Kyle Barz, Global Sales Functional Senior Manager, Strategic Functional Capabilities – Sales, MARS Global Services
Mike Marzano, Business Technology – Sales, Sysco
How Net Revenue Management Ties All the Pieces Together for Growth – the journey, the challenges, and the learning's!
Presented by: Richard Greenlees, Global Net Revenue Management Lead, Mondelēz International
Executing at the Shelf: How to Achieve In-Store Retail Excellence
In this interactive session, EY will share leading practices and new benchmarking research that shows why Sales organizations are struggling to execute at the shelf, and we will engage with the audience about specific challenges you and your peers are facing. You will be able to see how your company measures relative to others in Food, Beverage, Apparel, and Household Products across a set of core retail execution metrics. For those companies leading the way, you will also learn "what good looks like" and the steps you can take to improve your own performance. In doing so, we will address specific areas including:
· Store segmentation and workload modeling
· In-store retail priorities
· Retail communication and training
· In-store execution
· Measurement/compliance
Presented by: Gary Singer – Principal, EY Consumer Products & Retail Advisory Practice
Rodd Santo – Senior Manager, EY Consumer Products & Retail Advisory Practice
What Retailers want Most from their Suppliers to Execute Best at Retail
The battlefield for the shopper/consumer's attention has changed so dramatically that there is absolutely no other solution to keep bricks and mortar stores in business than to have manufacturers and retailers working together to ensure in-store strategies are consistently executed at retail. Be inspired by what can be done today
Presented by Jeff Martin Former EVP, Ahold USA and Utz Quality Foods
See the entire Retail Execution Summit agenda here, and register today!
The POI Fall Annual Summit in Dallas, TX begins with a pre-conference workshop:
POI Pre-Conference Workshop – Insight Delivery via Revenue Management Concepts and Analytical Platforms:
-The impetus for change that is driving Revenue Management within Fast Moving Consumer Products companies
-A look at the Benefits and value realized across all departments within the organization
-Redesigning business processes to leverage AI for profitable growth
-How to overcome data standing in the way of arriving at the key promotional insights
-Detail of the metrics necessary to make key brand, category plan and promotion improvements
Attendees in this pre-conference workshop will takeaway new skills, advanced concepts, and practical ideas to implement with their teams upon return to their teams. Space is limited to the first 35 CPG and Retailer Attendees.
Contact Joanie Hampton at jhampto@p-o-i.org to reserve your place at the session.
See the entire Dallas Summit agenda here, and register today!